Based on PostgreSQL, ApsaraDB for PPAS is a database service that has been jointly developed by Alibaba Cloud and EnterpriseDB, and is compatible with Oracle. The service enables easy data migration and supports Oracle PL/SQL, data types, advanced functions, and table partitioning.
Benefits
High Compatibility

Compatible with Oracle data types and PL/SQL.Lowers the workload by 90% compared with migrating to other databases.
Automated Deployment

Completes the deployment process in five minutes.The process is fully automated to avoid human errors.
Local Disaster Recovery

Enterprise level high availability with dual redundancy.Two zones in one region. Offers enhanced protection and availability.
Cost-efficiency

Offers a cost-efficient solution and reduces migration cost.Oracle database administrators and developers can use this service without much learning effort.
Features
Incremental Data Migration

With Alibaba Cloud Data Transmission Service, you can incrementally synchronize your on-premise Oracle database to ApsaraDB for PPAS, and shorten the downtime during system migration.

Downtime-free migration solution

The service first synchronizes all Oracle data to the cloud, and then performs incremental synchronization to update the data persistently. Developers can verify data integrity, test query performance in the cloud, and perform optimization tasks. After the integrity of the data has been verified and all system software has passed the debugging tests, you can migrate your service from the on-premise Oracle to ApsaraDB for PPAS in the shortest downtime.

High performance table partitioning

Provides high performance when implementing table partitioning and strong compatibility with Oracle. For tables with more than 100 partitions, the performance is 50 times higher than that of native PostgreSQL.

50 times better performance and Oracle compatibility

ApsaraDB for PPAS is built on the open source PostgreSQL database, whose table partitioning feature is based on triggers. You need to manually create triggers. ApsaraDB for PPAS offers a new solution for table partitioning, which supports the Oracle statement CREATE TABLE... PARTITION BY, and provides DBA_TAB_PARTITIONS and DBA_TAB_SUBPARTIONS catalog views.

Full-text Search and GIS Support

You can directly perform full-text searches and process GIS data using the same SQL engine. This simplifies the development process and avoids the complexity of interactions among multiple systems.

Custom features for the GIS industry

Full-text search allows you to query and select natural language documents, and sort these documents by relevance. The most common search is to find the documents that contain the specified keywords, sort them by similarity, and return the results. Meanwhile, PPAS also integrates PostGIS extensions, which enable you to easily manage the coordinates in the database, and perform relational queries on production data.

OSS Storage Expansion

Removes the storage limit in RDS systems. Provides unlimited OSS storage for external tables.

Readable, writeable, and unlimited storage

With external tables, you can use the CSV files stored in OSS as local data tables. The service also allows you to perform JOIN queries involving local tables, to read and write data directly, and to flexibly increase the database size to meet your needs for the management of hot and cold data lifecycles.

Data Warehousing

Supports OSS data exchange with HybridDB for PostgreSQL. Enables data warehousing with PostgreSQL-based OLAP databases.

Integration with HybridDB for PostgreSQL

After you have migrated your Oracle database system to Alibaba Cloud, you can easily integrate OLTP and OLAP systems based on the BI capability of OLAP data warehouses provided by HybridDB for PostgreSQL. This further enhances business performance and enables lower costs.
How it works
Migrate Oracle to the Cloud

Brings Together OLTP and OLAP
Migrate Oracle to the Cloud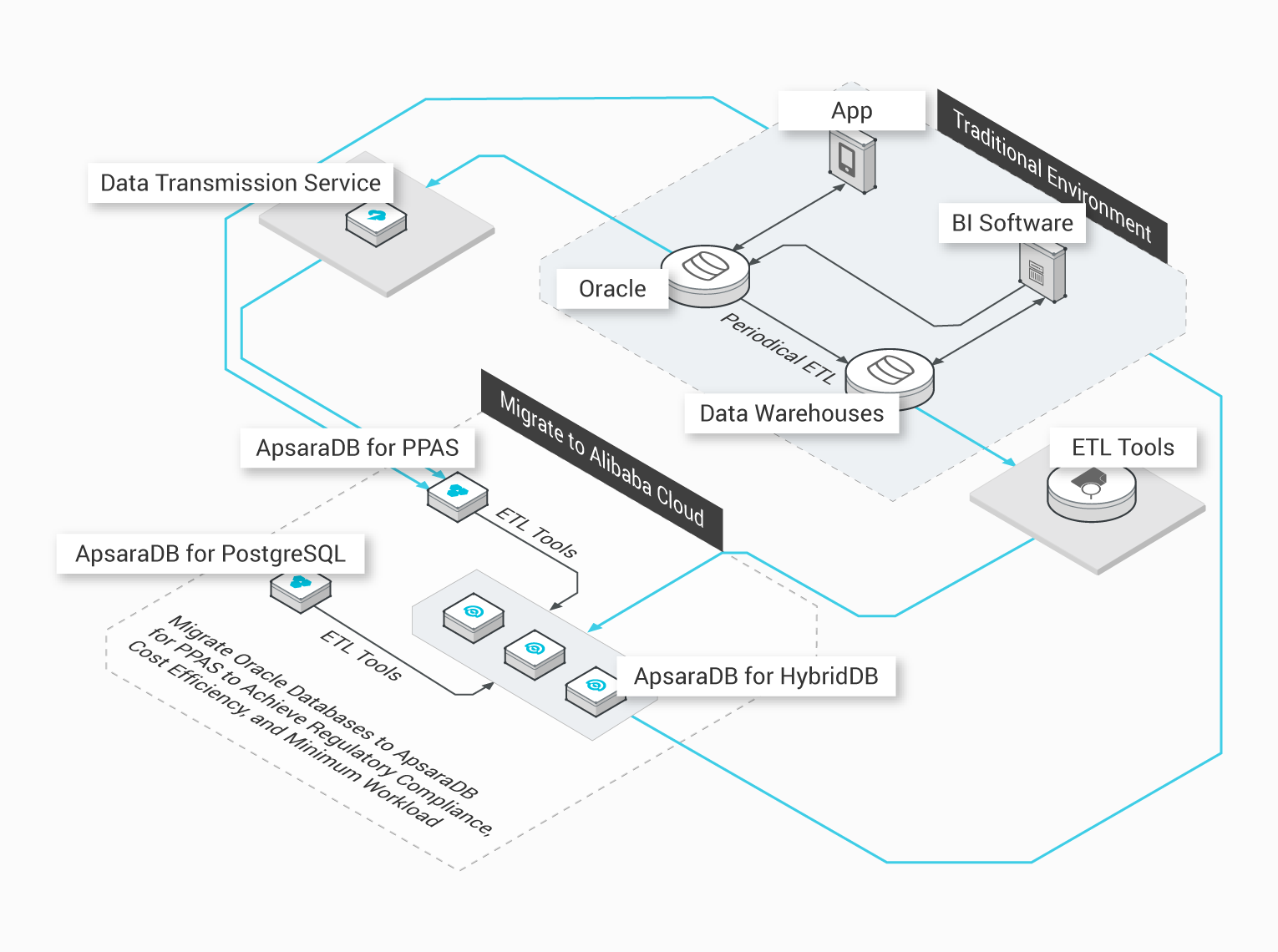 Migrate Oracle to the Cloud
Creates more values to cloud migration
Migrating Oracle databases to the cloud is the first step. The service provides enterprise level high availability and local disaster recovery, and can integrate with HybridDB for PostgreSQL to implement OLAP solutions that scale based on your needs.
Benefits
Easy Migration

Lowers the workload of changing application architecture by 90% compared with migrating to other databases.

More Values

Offers local disaster recovery and improves high availability with upgraded protection at the same cost.

OLAP Extensions

Integrates with HybridDB for PostgreSQL to provide real-time reporting and OLAP capabilities 100 times better than traditional solutions.
Related Products and Services
Brings Together OLTP and OLAP
Brings Together OLTP and OLAP
A Comprehensive Migration Solution
ApsaraDB for PPAS is highly compatible with Oracle and minimizes the changes to existing applications and reduces migration costs. You can use Data Transmission Service (DTS) to incrementally import data. This reduces the downtime during system cutover and enables you to perform parallel tests on the target system without affecting your service. You can also import BI and report data to HybridDB for PostgreSQL and use an MPP data warehouse to quickly analyze the data for better decision making.
Benefits
Data Migration

DTS supports incremental data migration, which makes it easy to perform system cutover and verify the functionalities of the system.

Unlimited Storage

Offers unlimited OSS storage and removes the storage limit in RDS.

OLAP Analysis

HybridDB for PostgreSQL provides 20 to 100 times performance enhancement in SQL analysis.
Related Products and Services
Upgraded Support For You
1 on 1 Presale Consultation, 24/7 Technical Support, Faster Response, and More Free Tickets.