Alibaba Cloud Elasticsearch is a cloud-based Service that offers built-in integrations such as Kibana, commercial features, and Alibaba Cloud VPC, Cloud Monitor, and Resource Access Management. With Pay-As-You-Go billing, Alibaba Cloud Elasticsearch costs 30% less than self-built solutions and saves you the hassle of maintaining and scaling your platform.
Benefits
Commercial Features


Commercial features provide access control, cluster monitoring, data visualization, and machine learning
Deployment Free


Deployment free service can be activated at any time.
Elastic Scale-Out


Elastic scale-out of clusters addresses growing business needs, without disrupting service
Search and Analytics


Fully compatible with ELK architecture and equipped with Kibana visual interactive data search and analysis
Features
Compatibility with the Open-Source Community

Open APIs

A wide range of RESTful APIs

Strong Integrations

Supports integration with Kibana and Logstash

Plug-Ins

Popular plug-ins for word segmentation and indexing are available

High Availability

Offsite Disaster Recovery

Offsite redundancy guarantees service availability and data security

Multiple shards and replicas

The default dual-shard and dual-replica system guarantees data indexing efficiency and stability

Constant Backend Monitoring

Constant cluster monitoring and reporting

Data Security Guarantee

VPC Networks

Connected to VPCs, rather than exposed to the Internet

Enterprise-Level Access Control System

Multi-level, fine-grained access control for enterprise scenarios

Tenant Isolation

Tenant isolation guarantees for data security

Elastic Configuration

Multiple Instance Specifications

Meet your business requirements by selecting from seven instance specifications

Elastic Scale-Out

Online scale-out, effective in seconds

High Performance SSD Storage

Uses SSD storage to boost search efficiency
Customer Scenarios
Log/Indicator Analysis

Security

Web Hosting
Log/Indicator Analysis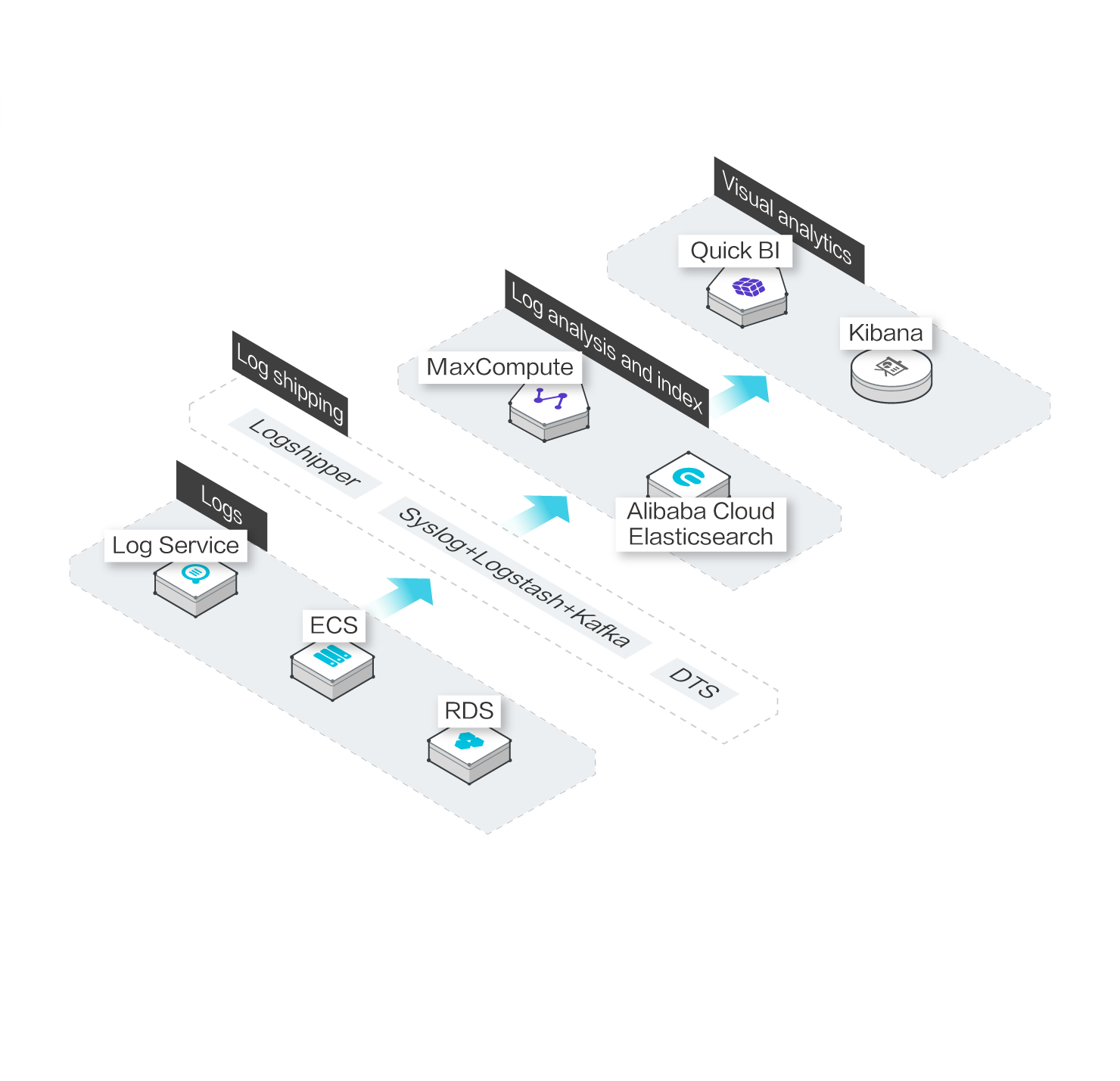 Log/Indicator Analysis
Analysis Scenarios
By analyzing access logs and behavior logs, you can quickly obtain relevant indicators and deliver them to business users
Security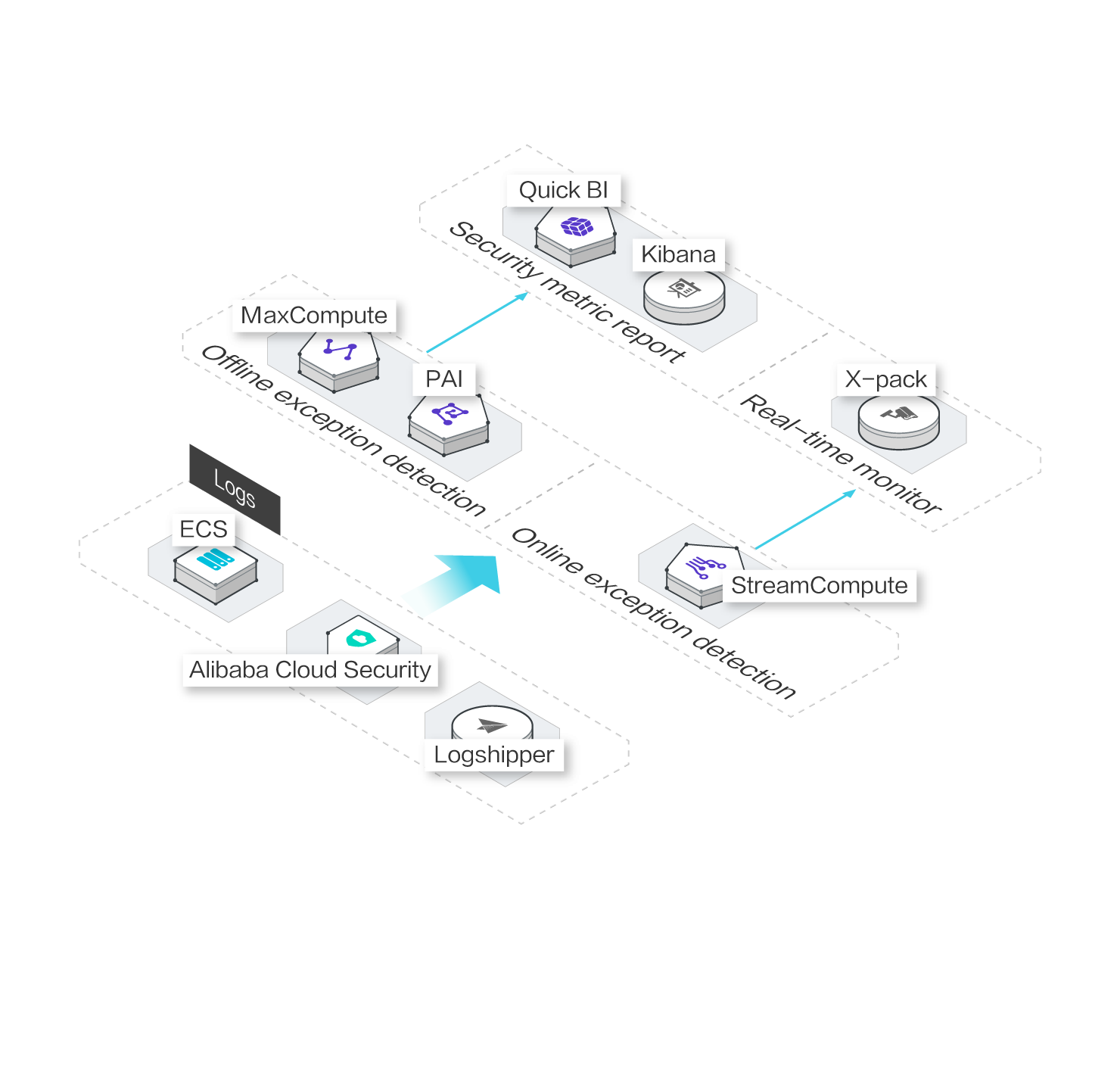 Alibaba Global Shopping Festival
Analysis Scenarios
For security business logs
Recommended Service Integration
Web Hosting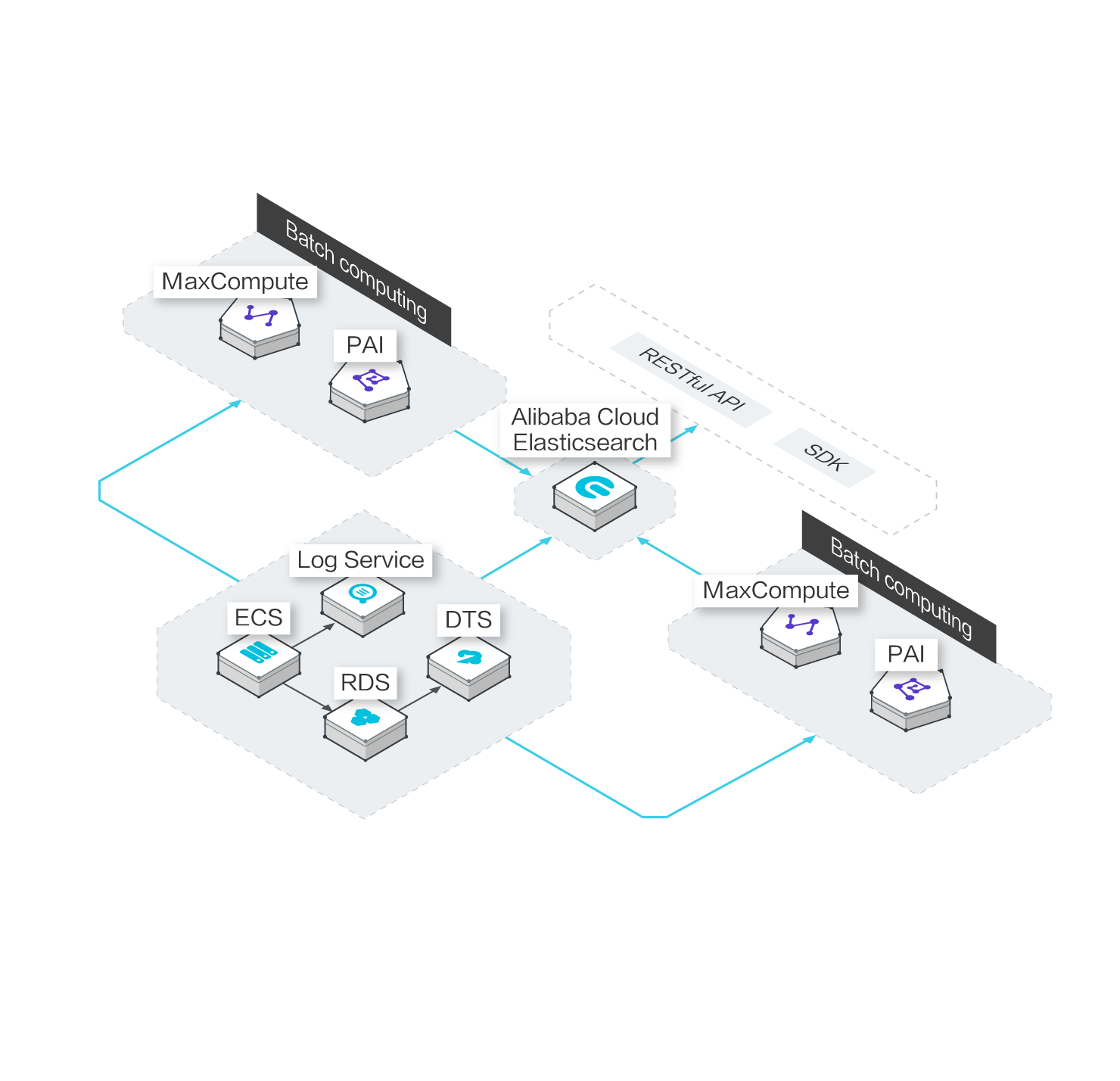 Alibaba Global Shopping Festival
Search Scenarios
Performs quick indexing of data on the site, helping with the quick indexing and precise searching of existing data
Recommended Service Integration
Billing Items
Instance
| | | | | |
| --- | --- | --- | --- | --- |
| Instance specification | CPU | MEM | Monthly subscription | Pay-per-hour |
| elasticsearch.n4.small | 1 | 2GB | USD 25 | USD 0.051 |
| elasticsearch.sn1ne.large | 2 | 4GB | USD 69 | USD 0.143 |
| elasticsearch.sn2ne.large | 2 | 8GB | USD 85 | USD 0.176 |
| elasticsearch.sn2ne.xlarge | 4 | 16GB | USD 168 | USD 0.350 |
| elasticsearch.sn2ne.2xlarge | 8 | 32GB | USD 337 | USD 0.702 |
| elasticsearch.sn2ne.4xlarge | 16 | 64GB | USD 673 | USD 1.401 |
| | | | | |
| --- | --- | --- | --- | --- |
| Instance specification | CPU | MEM | Monthly subscription | Pay-per-hour |
| elasticsearch.n4.small | 1C | 2GB | USD 17 | USD 0.057 |
| elasticsearch.sn1ne.large | 2C | 4GB | USD 45 | USD 0.160 |
| elasticsearch.sn2ne.large | 2C | 8GB | USD 65 | USD 0.236 |
| elasticsearch.sn2ne.xlarge | 4C | 16GB | USD 134 | USD 0.476 |
| elasticsearch.sn2ne.2xlarge | 8C | 32GB | USD 265 | USD 0.947 |
| elasticsearch.sn2ne.4xlarge | 16C | 64GB | USD 527 | USD 1.888 |
| | | | | |
| --- | --- | --- | --- | --- |
| Instance specification | CPU | MEM | Monthly subscription | Pay-per-hour |
| elasticsearch.n4.small | 1C | 2GB | USD 17 | USD 0.057 |
| elasticsearch.sn1ne.large | 2C | 4GB | USD 45 | USD 0.160 |
| elasticsearch.sn2ne.large | 2C | 8GB | USD 65 | USD 0.236 |
| elasticsearch.sn2ne.xlarge | 4C | 16GB | USD 134 | USD 0.476 |
| elasticsearch.sn2ne.2xlarge | 8C | 32GB | USD 265 | USD 0.947 |
| elasticsearch.sn2ne.4xlarge | 16C | 64GB | USD 527 | USD 1.888 |
| | | | | |
| --- | --- | --- | --- | --- |
| Instance specification | CPU | MEM | Monthly subscription | Pay-per-hour |
| elasticsearch.n4.small | 1C | 2GB | USD 17 | USD 0.057 |
| elasticsearch.sn1ne.large | 2C | 4GB | USD 45 | USD 0.160 |
| elasticsearch.sn2ne.large | 2C | 8GB | USD 65 | USD 0.236 |
| elasticsearch.sn2ne.xlarge | 4C | 16GB | USD 134 | USD 0.476 |
| elasticsearch.sn2ne.2xlarge | 8C | 32GB | USD 265 | USD 0.947 |
| elasticsearch.sn2ne.4xlarge | 16C | 64GB | USD 527 | USD 1.888 |
| | | | | |
| --- | --- | --- | --- | --- |
| Instance specification | CPU | MEM | Monthly subscription | Pay-per-hour |
| elasticsearch.n4.small | 1C | 2GB | USD 17 | USD 0.057 |
| elasticsearch.sn1ne.large | 2C | 4GB | USD 45 | USD 0.160 |
| elasticsearch.sn2ne.large | 2C | 8GB | USD 65 | USD 0.236 |
| elasticsearch.sn2ne.xlarge | 4C | 16GB | USD 134 | USD 0.476 |
| elasticsearch.sn2ne.2xlarge | 8C | 32GB | USD 265 | USD 0.947 |
| elasticsearch.sn2ne.4xlarge | 16C | 64GB | USD 527 | USD 1.888 |
SSD Storage
| | |
| --- | --- |
| Monthly subscription | Pay-per-hour |
| USD 0.178 | USD 0.0003 |
| | |
| --- | --- |
| Monthly subscription | Pay-per-hour |
| USD 0.153 | USD 0.0003 |
| | |
| --- | --- |
| Monthly subscription | Pay-per-hour |
| USD 0.153 | USD 0.0003 |
| | |
| --- | --- |
| Monthly subscription | Pay-per-hour |
| USD 0.153 | USD 0.0003 |
| | |
| --- | --- |
| Monthly subscription | Pay-per-hour |
| USD 0.153 | USD 0.0003 |
Dedicated Master