DataV is a powerful yet accessible data visualization tool, featuring geographic information systems allowing for rapid interpretation of data to understand relationships, patterns, and trends. All packed into a user-friendly interface.
By integrating live dashboards, DataV can present and monitor business data simultaneously. This data-driven approach enables for well-organized data mining and analysis allowing the user to seize new opportunities that otherwise might remain hidden.
Benefits
Presentation


Showcase business performance data in a variety of settings such as investor relation meetings, press releases, exhibitions, and quarterly reports.
Monitoring


Drive business growth with data. Tools such as real-time business and operation data monitoring can offer your business early warnings for a rapid response.
Decision-making


The live presentation of multi-dimensional data will enable you to discover the value of data and not miss any opportunities.
Easy to Use Interface


Create professional visualizations with limited programming skills courtesy of simple visual configuration widgets and interface that you can manage with the click of a mouse.
Features
Templates for Any Scenario

DataV provides a wide range of templates for all types of scenarios such as control centers, geographic analysis, real-time monitoring, and operation analytics, all of which require minimal customization, meaning you can design and render high-quality visual representations without the aid of a designer.

Diverse Visualization Widget Library

In addition to basic charts, DataV can recognize a wide range of spatial and non-spatial file formats and can represent data spatially for geographic points and locations, route and trip data as well as heat maps and scatterplots. Alongside 2D and 3D capabilities, third-party chart libraries such as ECharts and AntV-G2 also integrate flawlessly with DataV.

Wide Range of Databases and Data Formats

Connect to numerous databases including Alibaba Cloud's AnalyticDB, ApsaraDB for RDS and APIs with the support of dynamic requests. DataV also recognizes static data in CSV and JSON formats.

User-friendly Interface

With its visual interface and configuration widgets, users can create professional visualizations with a click of a mouse. Very little programming is required.

Interactive Data Analysis

Simple and efficient method to configure interactions between components, enabling interactive data analysis by transferring parameters from one component to another.

Simple Publishing and Editing

Projects can be published as web pages and secured with passwords or access tokens. For split-screen displays, rendering optimization improves display resolution.
How it works
Qin Cheng Li Smart Shopping Mall

Hong Kong Airport

Smart Factory

Analysis of School Districts in Hangzhou
Qin Cheng Li Smart Shopping Mall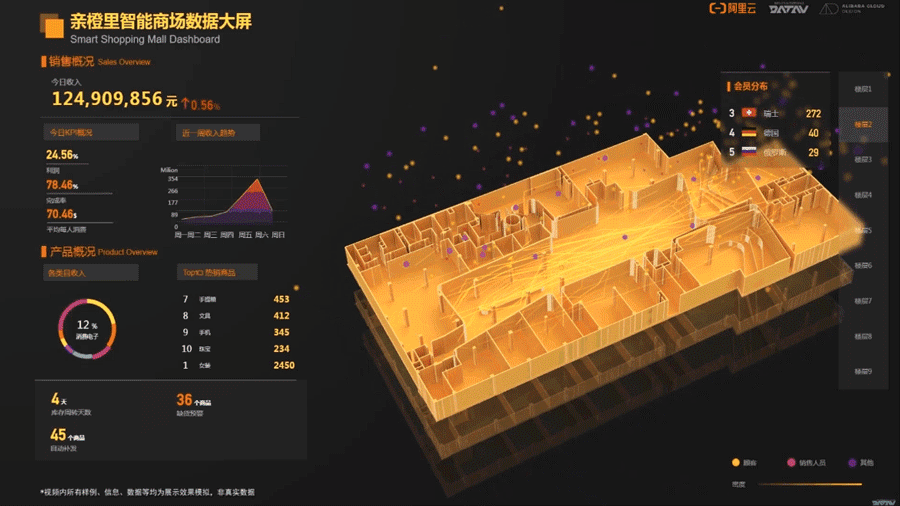 Qin Cheng Li Smart Shopping Mall
Data visualization for the smart shopping mall
This DataV visualization project is used by the Qin Cheng Li smart shopping mall to show real-time statistics about the shopping mall that are accurate to the second. The statistics include the total number of visitors, number of visitors on each floor, proportions of male and female visitors, number of vehicles, sales of each store, and environment data. This visualization project provides the management personnel with a comprehensive overview of areas, stores, time-specific actions, and even the popularity of various commodities among consumers in the shopping mall. Multi-dimensional data is presented live and in a user-friendly method, allowing management personnel to make, adjust, and implement operations and management plans in a simple and efficient way.
Hong Kong Airport
Hong Kong Airport
Real-time data visualization for the Hong Kong airport
The Hong Kong airport is one of the busiest cargo airports in the world and services over 74,000,000 passengers annually. This DataV visualization project shows people flows in the terminals and traffic on the tarmac at the airport in real time. Airport managers can monitor and tweak management strategies of the entire airport at any time to build a smart airport that is adapted to the changing times.
Smart Factory
Smart Factory
Data visualization for production in smart factories
This DataV visualization project provides a full representation of the production parameters in each phase of a smart factory. The system also collects work data of each production line or workshop to a centralized control center to implement production control. This project gives managers insight into operations of each production phase, minimizes potential errors in production procedures, and provides a graphical interface to facilitate remote monitoring and management.
Analysis of School Districts in Hangzhou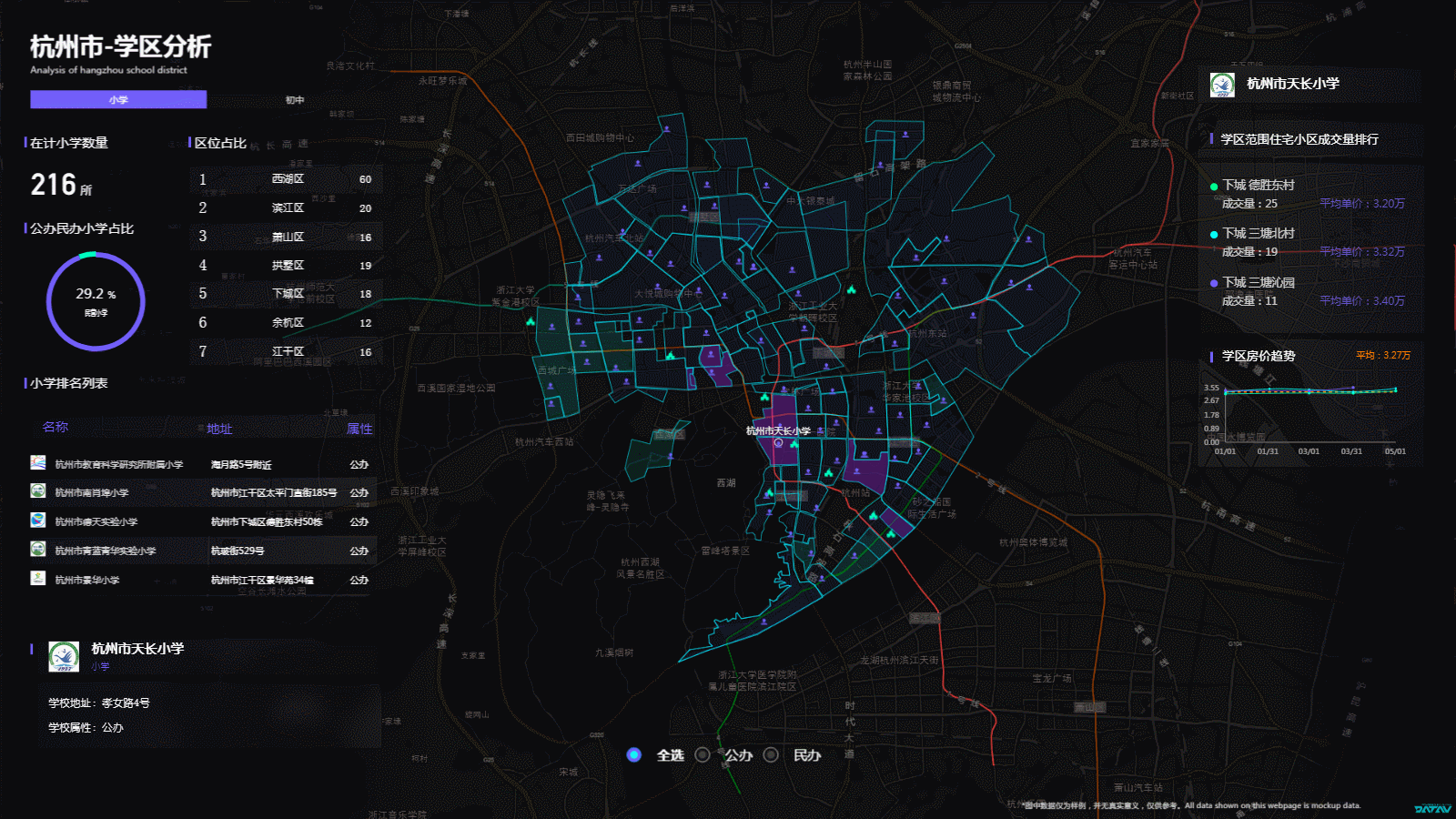 Analysis of School Districts in Hangzhou
Data visualization for school district analysis
This DataV visualization project displays the rankings and number of schools in each district of Hangzhou based on the distribution of primary and secondary schools. It also displays the prices and sales volumes of real estate assets of each school district. The project presents the data in a clear and graphical manner, which provides a user-friendly reference for both the real estate industry and people who want to purchase real estate assets in school districts. (The data used in this project is obtained from publicly available data. Alibaba Cloud shall not bear any responsibility for the accuracy or authenticity of the data.)
Pricing
DataV provides 3 editions for public cloud users: Basic Edition Enterprise Edition and Professional Edition. Prices and detailed features are listed as follows.
Feature Details

Publish
Encrypt and publish
Authenticate by dynamic token
Copy and transfer
Accept transfer

Template
Workspace
Project
Projects extensible

Basic data source
Advanced data source

Basic widget
Geographical widget
ECharts widget

Widget upload
Widget package authorization
Graphic developer tool

Callback ID
Bound variable
Basic interaction widget
Professional interaction widget

Group, hide, and lock widgets
Add widgets to favorites
Add widget groups to favorites or other groups
Node-based programming
Certification course: Quickly Generate Large Dashboards for Data Visualization
By using data visualization, data can be displayed through a dashboard intuitively and understandably. This course can help the data scientists learn how to create a large panel using Alibaba Cloud's DataV.
0.01 USD
Original price: USD 10.00
View Details
Upgraded Support For You
1 on 1 Presale Consultation, 24/7 Technical Support, Faster Response, and More Free Tickets.