City Brain Overview
Utilizing comprehensive real-time city data, ET City Brain holistically optimizes urban public resources by instantly correcting defects in urban operations. This has led to numerous breakthroughs in urban government models, service models, and industrial development.
Major Breakthroughs
Urban Government Model
City Brain improves government administrative capabilities by solving prominent problems that makes government more intelligent and responsible to citizens.
Urban Service Model
City Brain allows cities to better serve enterprises and individuals at any time and anywhere through efficient urban public services and conserving public resources.
Urban Industrial Development
Publicly available urban data is an important resource that serves as a catalyst for industrial development and promotes the transformation and upgrade of traditional industries.
City Brain Construction Principles
City Brain's Innovative Practices
City Event Detection and Smart Processing

Community Governance and Public Safety

Traffic Congestion and Signal Control

Public Transportation and Vehicle Dispatch
City Event Detection and Smart Processing
Results:
Intelligently detected more events and reduced average handling time
Implementation:
By recognizing traffic accidents and congestion from video footage, City Brain integrates Internet data and alarm data to instantly and comprehensively perceive traffic incidents throughout the city. Using smart vehicle dispatching technology, it achieves integrated dispatching commands for police, fire, rescue, and other vehicles. It also coordinates traffic lights to give emergency response vehicles priority passage to the sites of emergency.
Community Government and Public Safety
Results:
Improved the efficiency of criminal suspect tracking, allowing for preventative public security and safety measures
Implementation:
City Brain uses video analysis technology to index the entire city. It uses suspect description clues obtain from video segments to help the city's security cameras quickly track down suspects. It studies various features of criminals and their vehicles to configure multiple crime prevention algorithms that can predict and warn of criminal activity. This allows authorities to take preventive measures to ensure the safety and security of the city.
Traffic Congestion and Signal Control
Results:
Reduced congestion indicators in pilot area and shortened commute times
Implementation:
City Brain integrates data from AutoNavi, traffic police Weibo accounts, and video to comprehensively assess traffic conditions on highways and street roads. It precisely analyzes and determines the causes of congestion and optimizes traffic lights throughout the city in real-time to reduce overall congestion.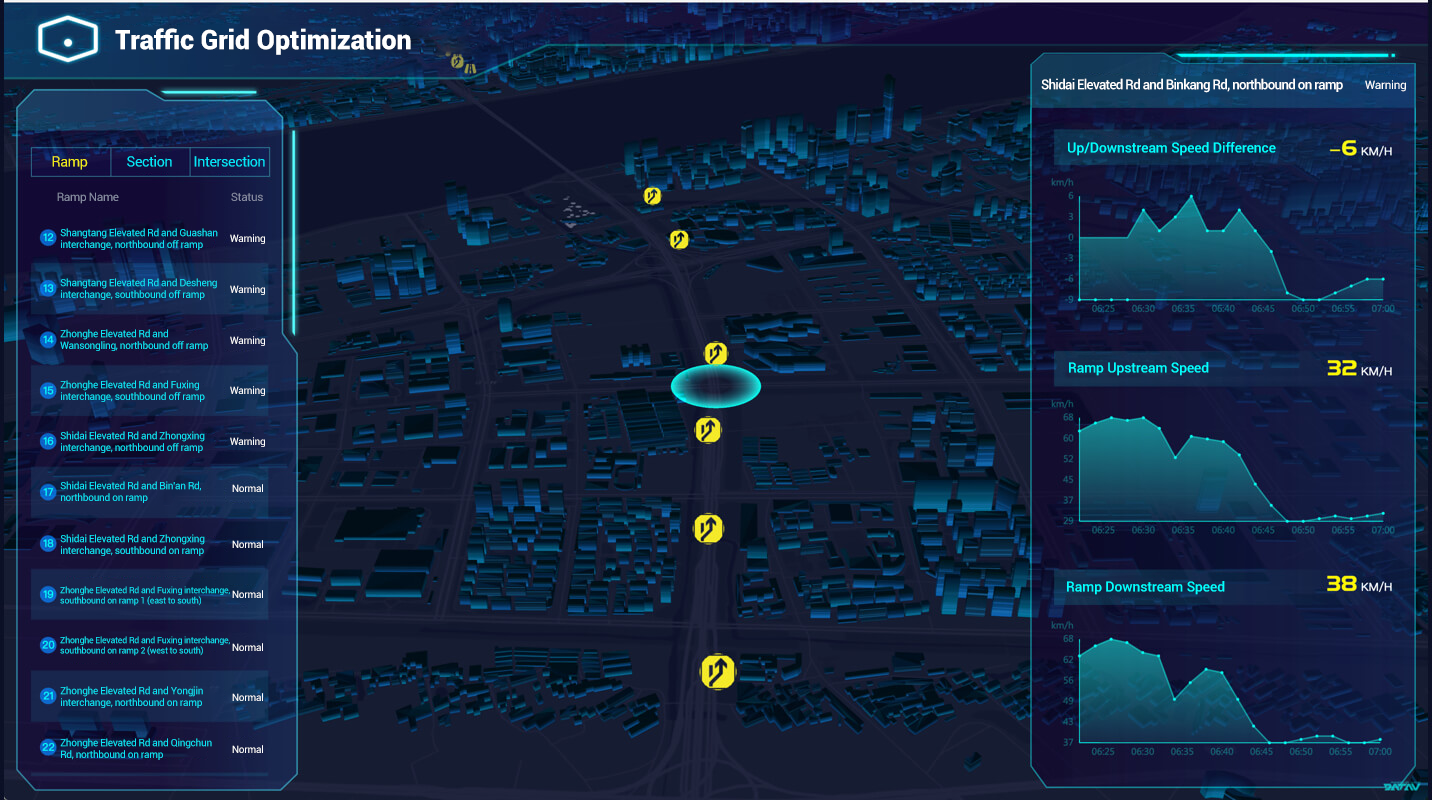 Public Transportation and Vehicle Dispatch
Results:
Decreased the passenger delay rate and increased utilization of public transport
Implementation:
City Brain draws on data from videos, AutoNavi, Wi-Fi probes, carriers, and other sources to effectively monitor passenger delay rates in certain areas and estimate capacity needs. It adjusts and plans bus frequencies based on travel supply and demand, determines shuttle routes, and controls taxi dispatches to minimize the delay rates at key venues and transportation hubs.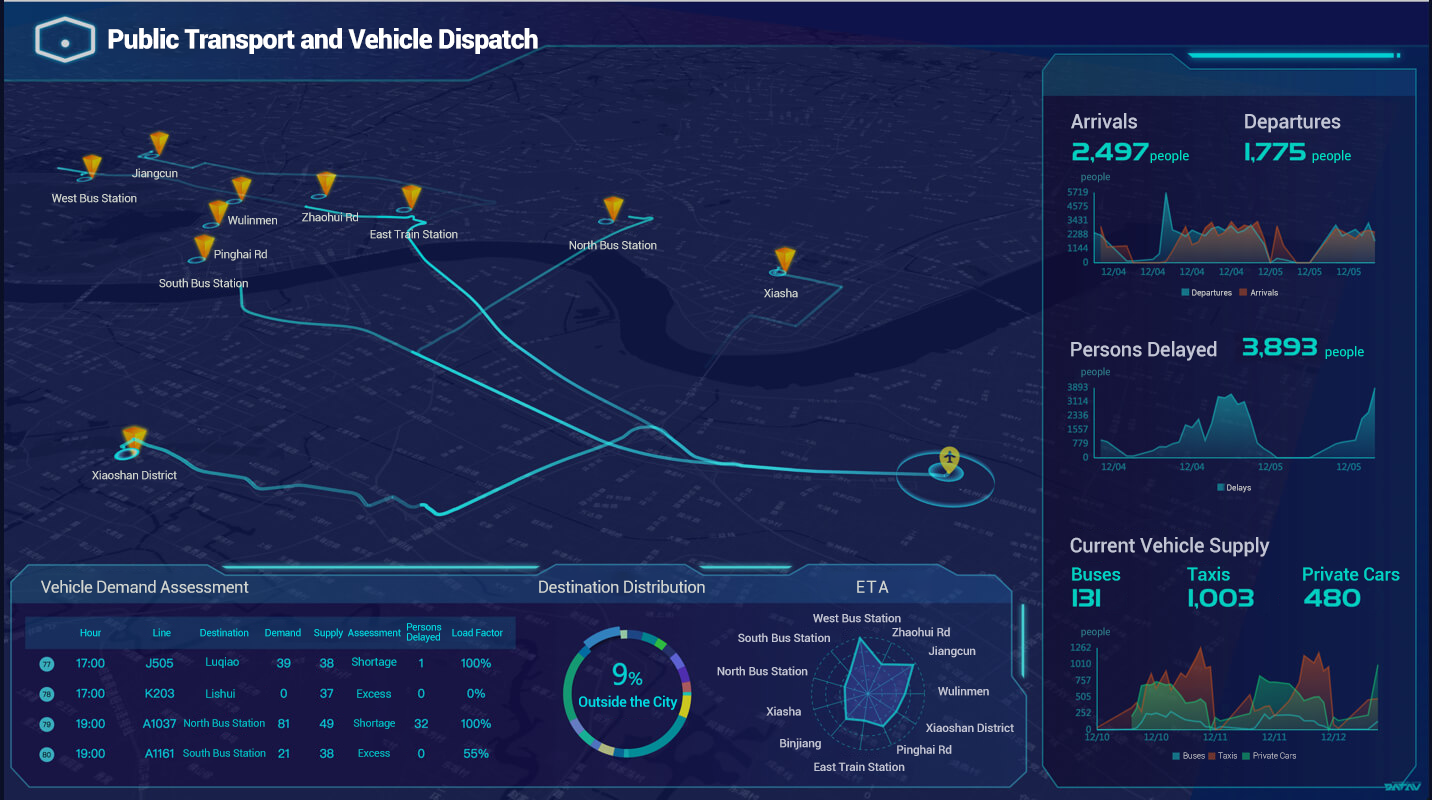 Downtown Hangzhou
By incorporating traffic cameras with Alibaba's Cloud's ET City Brain solution, Hangzhou's daily accident reporting increased and response time decreased. Incident identification accuracy rate was above 92%and travel time also decreased.
Xiaoshan District, Hangzhou
The average travel speed on roads with automated traffic signal control increased by 15%, reducing the average travel time by 3 minutes. The emergency vehicle response time was shortened by 50%, which allowed rescue vehicles to arrive 7 minutes faster.
Suzhou
The passenger volume on pilot bus routes was increased by 17%.
Advanced Technology
Big data computing capabilities that lead in both performance and costs
ET City Brain processes massive data volumes using Alibaba Cloud's data processing platform MaxCompute, which set records in 2015 by sorting 100TB of data in 377 seconds at the World Sort Benchmark competition.
Large-scale, multi-source data processing and real-time analysis
ET City Brain has introduced Exabyte (EB) Cloud storage and PB-level computing to calculate requests and second-level responses. The real-time data access delays are as low as milliseconds.
Real-time video recognition and automated inspection
ET City Brain was the first to use image recognition technology to analyze videos of over 3,000 traffic cameras in Hangzhou in real time, increasing video utilization from 11% to 100%. It also provides vehicle image search and automated real-time video detection, and its low-resolution vehicle detection accuracy rate is 90.46%.
Deep neural network physical architecture
ET City Brain processes Exabyte-level data on billion-node networks and uses algorithms to discover weak correlations in complex situations. These algorithms have been successfully applied to road traffic data, industrial manufacturing data, and other fields.
Creating New Commercial Opportunities for Partners Across All Industries
Join the Tianchi Crowd Intelligence Platform and participate together in building the ET Brain ecosystem.
Unlock New Potential
Harness ET Brain's revolutionary technology to support your goals and fulfill your mission
Let data drive strategic decisions

ET Environment Brain

Medical data driven platform

ET Medical Brain