Distributed Relational Database Service (DRDS) is a lightweight, flexible, stable, and efficient middleware product developed by Alibaba Cloud. DRDS focuses on expanding standalone relational databases, and has been tested by core transaction links in Tmall, such as during the Singles' Day Shopping Festival. DRDS has been used for ten years and is a trusted database service provider.
Benefits
Distributed Architecture

Supports cluster-based data read and write and data storage. DRDS operates on multiple standalone servers, and performance is not affected by the number of user connections.
Highly Scalable

Supports upgraded and downgraded data configurations, and the visualized scale-up and scale-out of data storage. Provides read and write splitting to linearly improve the reading performance.
High-performance

Supports multiple data splitting methods based on data types, such as parallel data splitting. Focuses on the primary shards of the database and supports parallel query execution.
Secure and Controllable

The account system in DRDS is similar to the account system in a standalone MySQL server. This service supports easy-to-use functions OpenAPI authentication and authorization.
Features
Distributed SQL Engine

Provides stable and high-performance distributed SQL engines, with clear partitions and support for distributed SQL JOINs, aggregate functions, sorting, and processing. This service provides easy-to-use Explain and Outline statements.

Database and Table Sharding

DRDS offers multiple shard solutions for online transaction processing (OLTP). This service focuses on a small amount of data to improve operation efficiency. Compared with standalone relational database, DRDS can perform simultaneous operations and is more time-efficient.

Smooth Upscaling

Executes storage upscaling with minimal interruption to your business.

Database Account System

The account system in DRDS functions in a similar way to a standalone database. The system supports multiple accounts, and assigns read/write splitting permission.

Read/Write Splitting

Enables a linear increase to the database read capacity by adding read-only instances. Helps you to handle multiple events such as unavailable standby instances. The system performs a forced failover to the active or read-only instances.

Upgraded and Downgraded Configuration

Enables linear growth in data service capacity by increasing the number of nodes.

Globally Unique Identifier (GUID)

Supports high-performance auto increment inserts to primary key fields, and functions in a similar way to a standalone database. This service enables the client to make a single query or multiple queries to databases.

Distributed Transactions

Supports XA distributed transactions to ensure strong data consistency. Try-Confirm-Cancel (TCC) transactions are also supported.
Customer Scenarios
Large-scale Online Data Operation

Efficient Data Sharding

Online and Offline Data Transfer
Large-scale Online Data Operation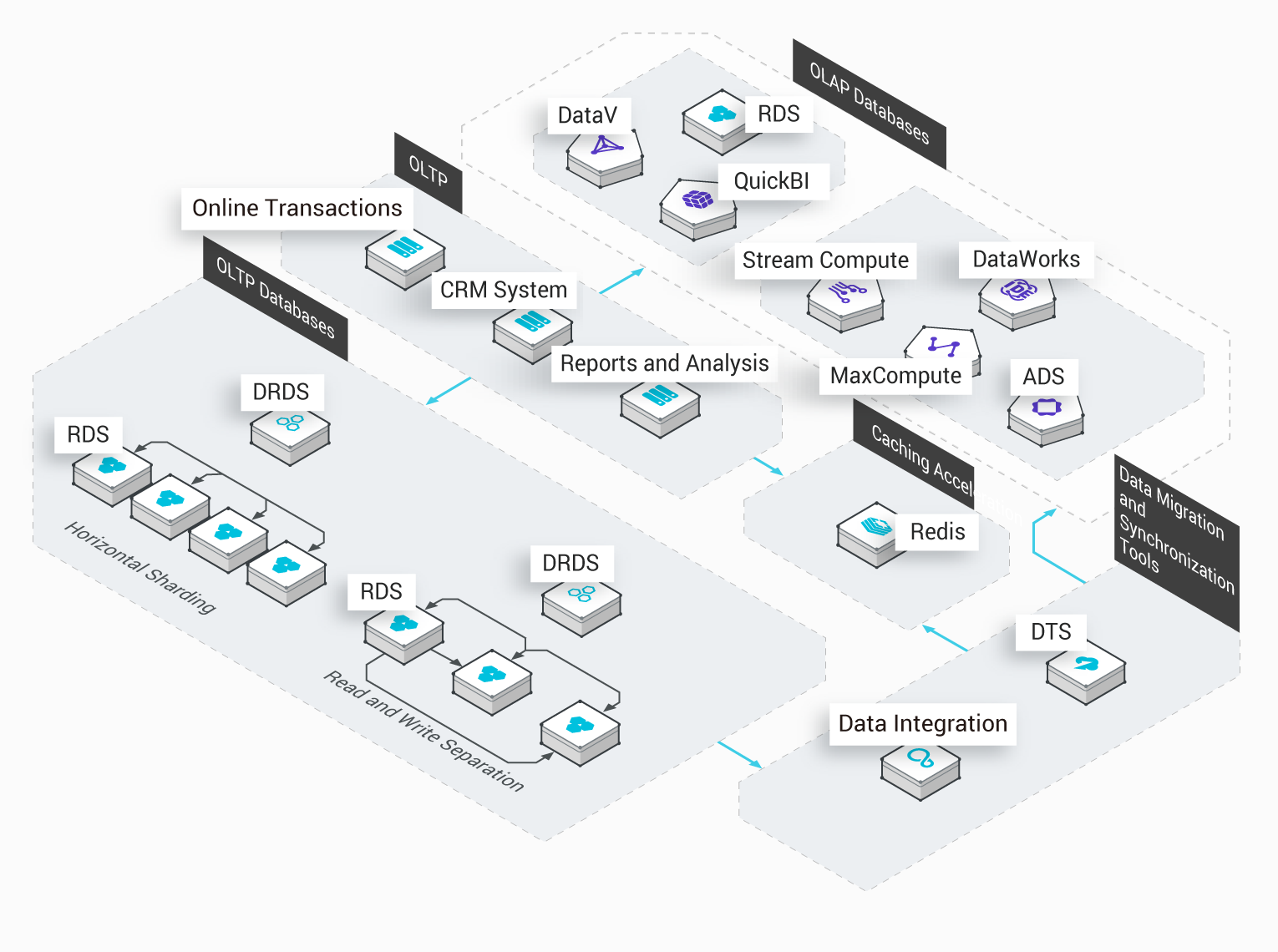 Large-scale Online Data Operation
Real-time Online Database
Internet businesses such as trading, retailing, and games require large amounts of online transaction processing (OLTP) operations. DRDS supports large-capacity online data operations to meet your business needs.
Benefits
Transaction Support

Supports single-shard transactions and cross-database transactions using Global Transaction Service (GTS).

MySQL Compatibility

DRDS is compatible with MySQL protocols and standard SQL protocols to ensure smooth operation.

Scalable

Provides scalable service capacity and storage by using database shards and table shards.
Efficient Data Sharding
Efficient Data Sharding
Supports multiple sharding methods.
Supports sharding by number, string, time or a combination of parameters. Handles 10 billion rows of data as efficiently as 1 million rows of data.
Benefits
Efficient Query on Large Amounts of Data

Database and table sharding allows you to focus on a small amount of data to further improve operation efficiency.

Sharding Efficiency

Supports shardings by time or single/double field. Hashing algorithms help to ensure a more balanced data operation.

Cross-shard Data Aggregation

Supports cross-shard data aggregation and queries with ORDER BY, GROUP BY, LIMIT m,n, JOIN, and subqueries.
Related Products and Services
Online and Offline Data Transfer
Online and Offline Data Transfer
Supports large-scale data storage and works in a similar way to MySQL online operation.
To collect offline data or client data for online analysis and reporting, you need a relational database featuring scalable storage and write capacity. DRDS is compatible with MySQL and highly scalable.
Benefits
Large Capacity

DRDS supports large-scale data storage and real-time data writing.

Online Operation

Supports data storage and operations from the data collection end to the analysis end. Supports online modification of the database.
Related Products and Services
Certification course: How to Build and Manage a Distributed Database System with DRDS
Through this course, you will understand the benefits and features of DRDS and how to use DRDS console to easily build and manage distributed database systems on Alibaba Cloud.
0.01 USD
Original price: USD 10.00
View Details
Upgraded Support For You
1 on 1 Presale Consultation, 24/7 Technical Support, Faster Response, and More Free Tickets.