To improve the user experience of Container Service and support more application scenarios, Alibaba Cloud Container Service for Kubernetes provides the virtual node feature, which allows for the unlimited scaling and hosting of your Kubernetes clusters.
Virtual nodes are created by using the community's Virtual Kubelet technology. They enable seamless connection between Kubernetes and Elastic Container Instance (ECI), so that Kubernetes clusters can easily obtain great elasticity without being limited by the computing capacity of cluster nodes.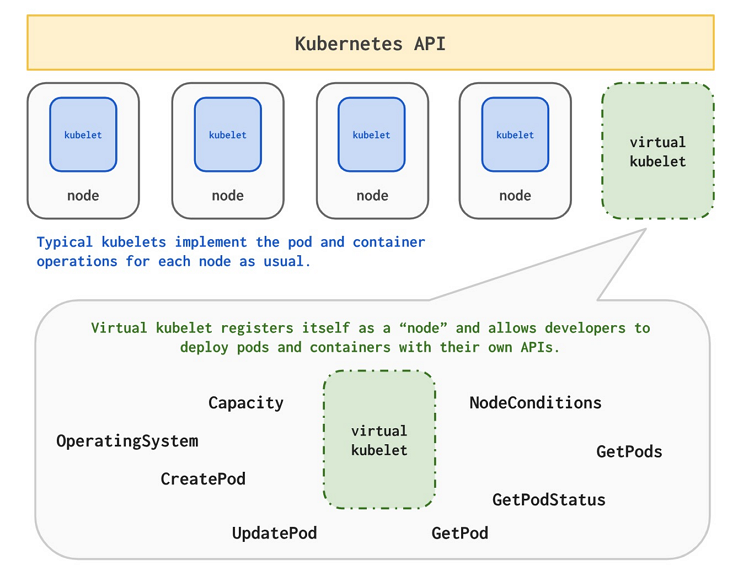 The virtual node feature allows a classic Kubernetes cluster to contain both real worker nodes and virtual nodes. Container groups can be created dynamically based on the virtual nodes. Pods in the container groups and real nodes are interconnected and run in the same VPC.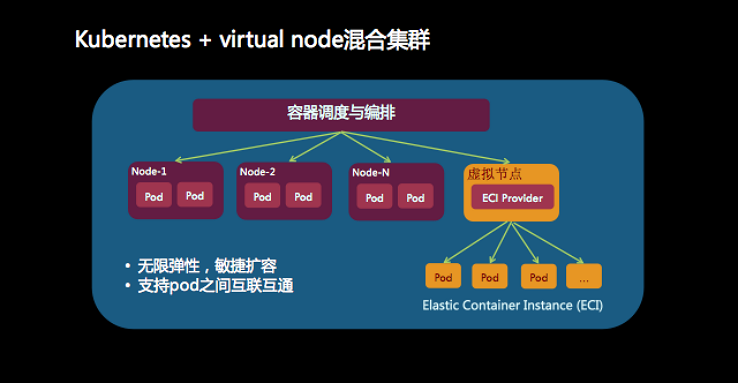 Virtual nodes provide indefinite elasticity for a Kubernetes cluster with a limited number of physical nodes. You can obtain unlimited computing capacity in the Kubernetes cluster, without creating more real worker nodes in the cluster or creating new Kubernetes clusters. The typical application scenarios of virtual nodes include big data computing, gene computing, video rendering, and hybrid clouds. Virtual nodes can also be used to temporarily expand the computing capacity for online applications.
Quick Start
Kubernetes clusters use container groups through the Virtual Node addon. For more information, see Use the Virtual Node addon of ACK Container Service to quickly deploy virtual nodes.