Alibaba Cloud BaaS provides a quick mode to create and deploy secure blockchain networks. You only need to specify the required information, and Alibaba Cloud BaaS will automatically perform operations to create a complete blockchain network. These operations include creating a consortium, creating organizations, and inviting groups to join a consortium or a channel.
Note: When you are familiar with the blockchain business, you can also choose the standard mode. In this mode, you can invite new members, extend and customize your blockchain system, or create a new blockchain system. For more information, see Use blockchain services.
Deploy blockchains quickly
Log on to Alibaba Cloud.
Log on to the Alibaba Cloud BaaS console.

Click Quick Start.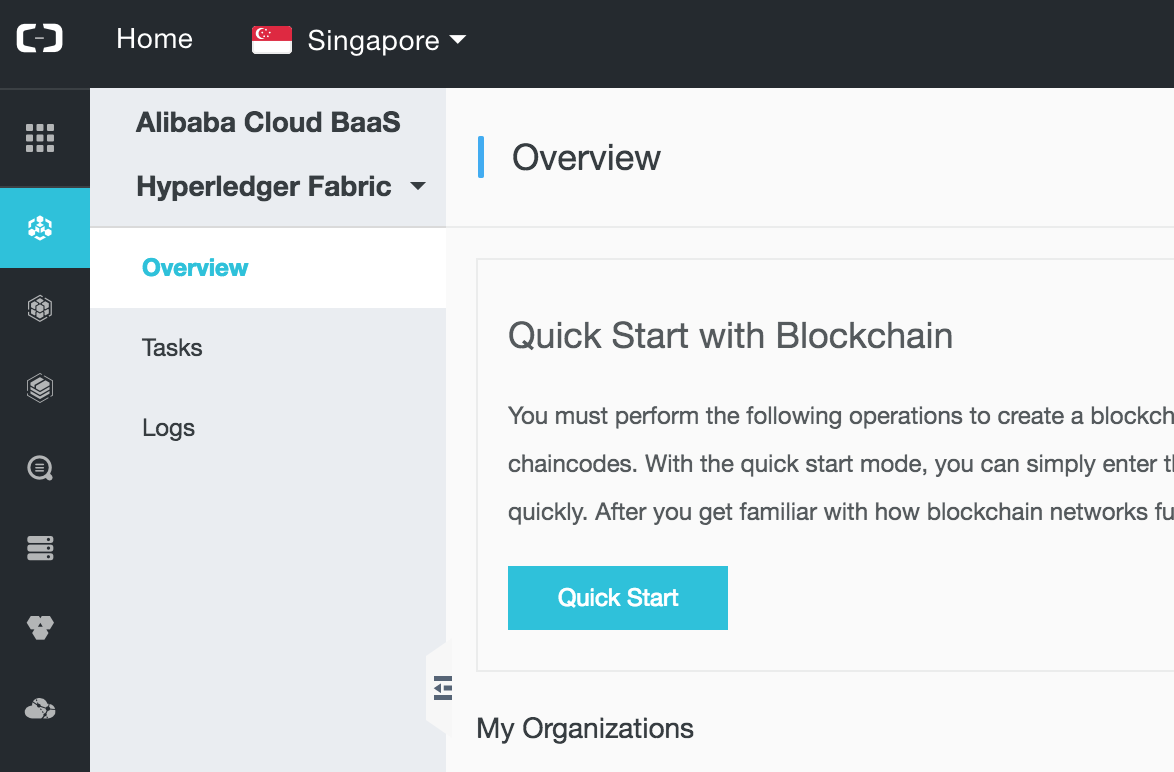 Specify the following information.
Parameter
Description
Consortium Name
We recommend that you enter a business-related name that is easy to identify.
Consortium Domain Name
Enter the prefix of the consortium domain name. The consortium domain name is the identifier of the consortium in a blockchain network. It is globally unique and cannot be modified.
Channel Creation Policy

* Any (agreed by any organization ): Creation of a new channel requires the consent from an organization in the new channel.
* All (agreed by all organizations ): Creation of a new channel requires the consent from all organizations in the new channel.

Consensus
No need to specify this. Hyperledger Fabric provides Crash Fault Tolerance (CFT) based on Kafka.
Region
The region where your blockchain infrastructure is located. We recommend that you select the same geographic region as the business application system.
Node Quantity
The number of peers in the organization.
Specification
Select Basic, Enterprise Edition, or Enterprise Security Edition. For a detailed description and comparison of these three product editions, see Product editions.
Add Organization
You must create at least one organization. An organization is an enterprise, government institution, or community that participates in the blockchain network. You can also add more organizations after this blockchain network has been created.
Click OK.

On the Overview page, you can see the consortium and organization that you created. The consortium and organization are in the Creating status.
It may take severalminutes for the system to configure the resources.
After you have created an organization, you can click the name of the organization in My Organizations to view the details of the organization.
The details of the organization are as follows.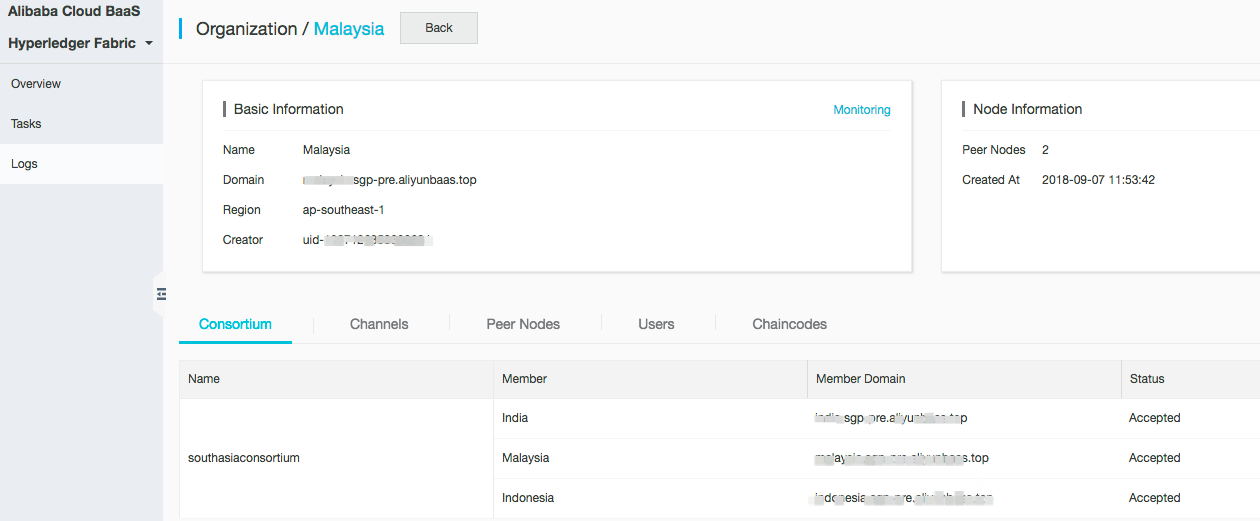 In My Consortia, click the name of a consortium blockchain to view the details.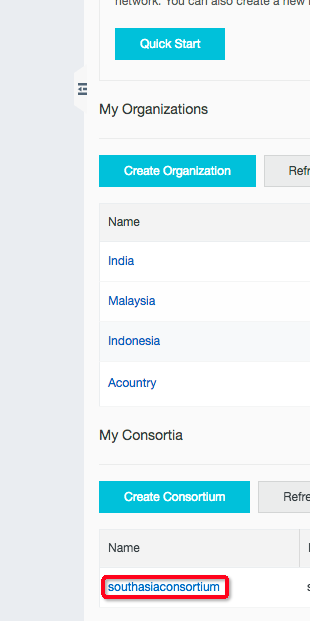 Consortium blockchain details are included in tabs such as Member Organizations, Channels, Chaincodes , and Orderer Nodes.

Next