This section will show you how to use CDN-based OSS acceleration:
Method 1: Select OSS as the origin site when adding CDN domain:
Go to [CDN Console], then select [Domain Names] - [Add Domain Names]:

Enter the CDN domain name and select OSS Bucket as the origin site: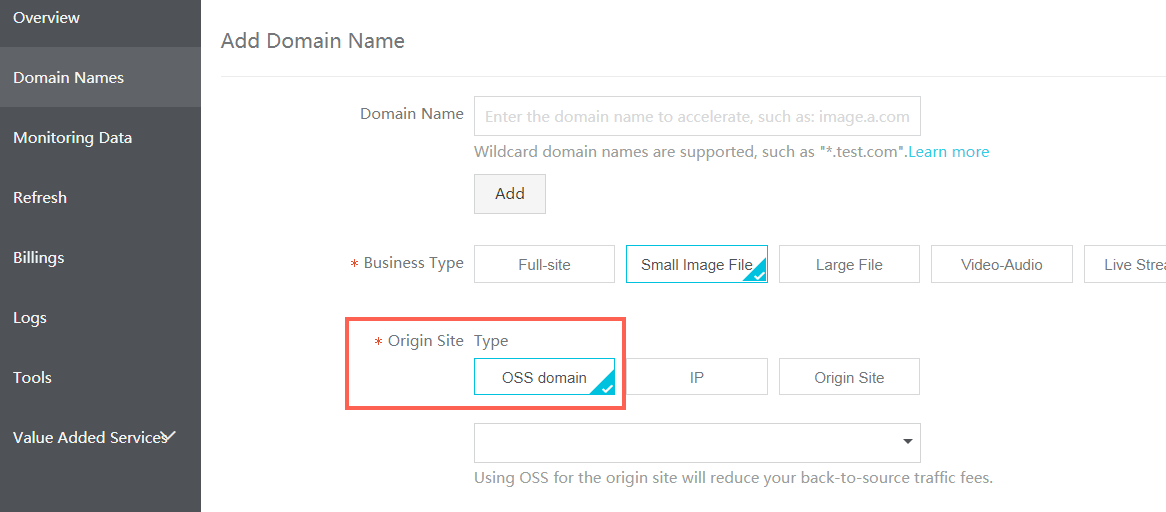 Once the CDN domain is added, you need to bind CNAME for the CDN to take effect.
Method 2: Activate CDN when binding domain name in OSS:
Log in to the [OSS Console], go to the Bucket you want to accelerate, and select [Domain Names] - [Bind User Domain]

Enter the domain name you want to bind, and activate [Alibaba Cloud CDN]

Once the domain name is successfully bound, you must go to the DNS provider to manually add the CNAME record. See Manually add CNAME in the CDN for details. If the domain name you bind has a resolution record at www.net.cn, you can select [Add CNAME record automatically] when binding the domain; in this case, you do not need to manually add a CNAME record:

After completing the settings by either of the above approaches, you can access the OSS resources through the CDN domain to allow acceleration.