In this article, we will describe how to use the Simple Application Server to build a Mantis open source bug tracking system.
1. Create a server
Access the Purchase page of Simple Application Server, and then select the LAMP image, choose the subscription and the service period, submit the order, and then make the payment.
2. View application information
After the server has been created successfully, click the LAMP Simple Application Server card on the Server List page.
Choose Application Management > App Details
View and record the related information of the pre-installed LAMP development environment
Select the command, right click, and then select Copy in the context menu
Enable the Remote Connection function at the upper-right Corner
After the connection has been established successfully, paste the copied command into the remote connection window, and press the Return key to execute.
You will be able to see the related information of the pre-installed LAMP development environment after the command has been executed.
3. Install Mantis
Switch to a root user in the remote connection window
sudo su root
, and then log on to the default site, and go to the root directory webroot_dir
cd 

/

home

/

www

/

htdocs
Enter the following command to download the latest mantis, and wait for the download to complete.
wget https

:

//downloads.sourceforge.net/project/mantisbt/mantis-stable/2.6.0/mantisbt-2.6.0.zip?r=https%3A%2F%2Fsourceforge.net%2Fprojects%2Fmantisbt%2Ffiles%2Fmantis-stable%2F&ts=1505037230&use_mirror=jaist
Extract the downloaded file
unzip mantisbt

-

2.6

.

0.zip

?

r

=

https

:%

2F

%

2Fsourceforge

.

net

%

2Fprojects

%

2Fmantisbt

%

2Ffiles

%

2Fmantis

-

stable

%

2F
Move all extracted files in the mantisbt-2.6.0 folder to the site's root directory
mv 

./

mantisbt

-

2.6

.

0

/* ./
Modify the group of all files as www:www
chown 

-

R www

:

www 

.

/*
Then access http://IP address/index.php to install Mantis. Follow the prompts to enter the MySQL account and password. You can view the MySQL password in step 2.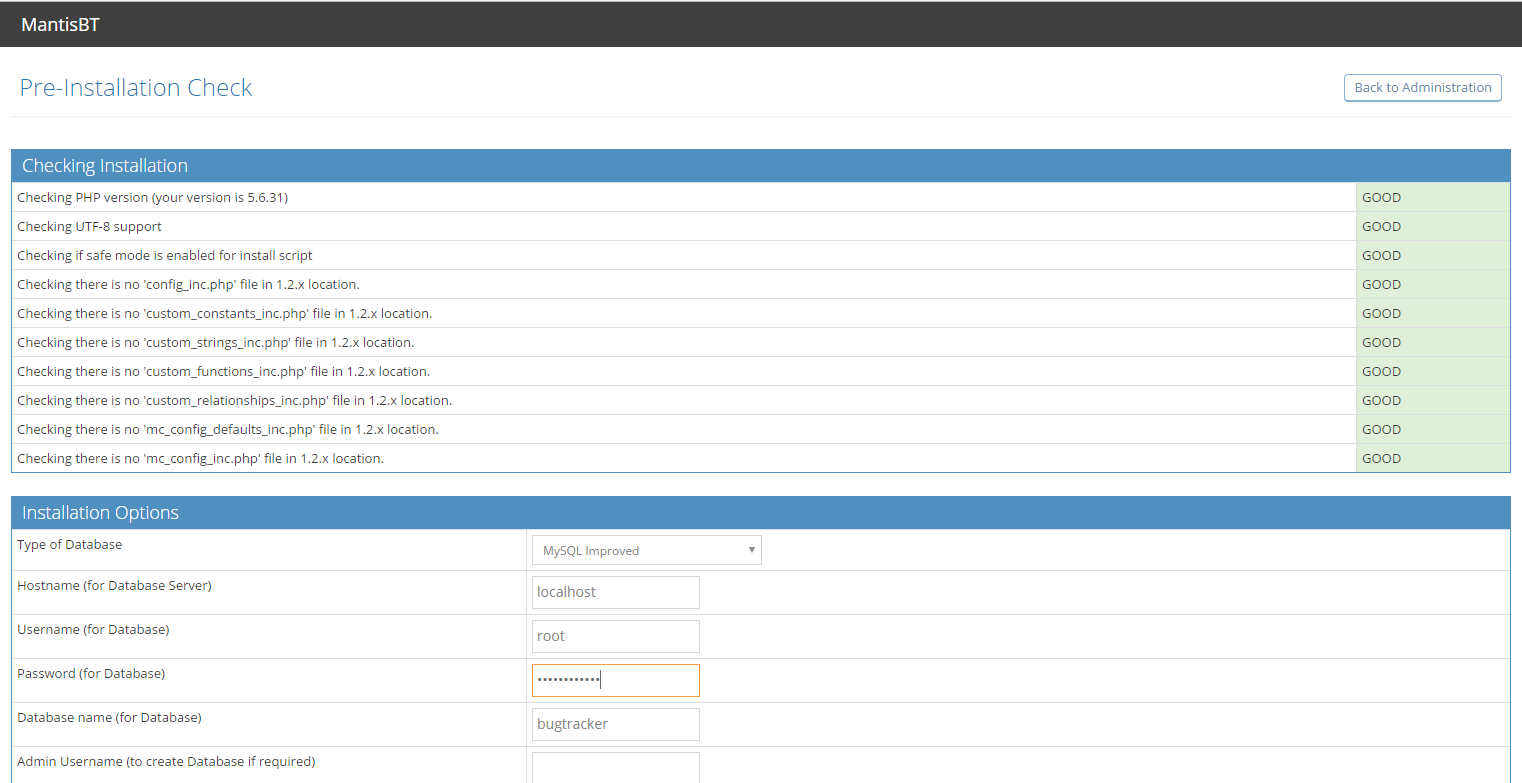 Wait for the installation to complete.
4. Test the access
If you have your own domain name, please refer to the Help document on domain name resolution to resolve your domain name.
You can access Mantis by accessing http://your domain name/ or http://server IP address/.
Note: When you log on Mantis for the first time, you need to use the default admin account administrator and password root, andfollow the prompts to modify the admin password after you have logged on.