Overview
Modify a secondary Domain Name System (DNS) configuration: When the IP address of a primary DNS server is changed, you must modify the related secondary DNS configuration in the Primary DNS Servers and Notification Sender IP sections to make sure that DNS records can be successfully synchronized.
Procedure
1 . Log on to the Alibaba Cloud DNS console.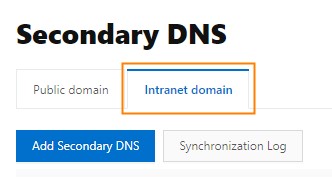 2 . In the left-side navigation pane, click Secondary DNS. On the Secondary DNS page, find the target secondary DNS configuration and click Configuration in the Actions column. On the Modify Secondary DNS page that appears, modify the configuration as needed and click Confirm.

3 . After the configuration is modified, the secondary DNS server automatically connects to the primary DNS server for synchronizing the latest DNS records on the primary DNS server.