In the console, go to the Project Settings page of an existing project. On the Speech Recognition tab, find the Hotwords section. Click Upload next to the Others category. In the dialog box that appears, upload a hotword file. You can also choose My Resources > Hotwords in the left-side navigation pane, click the Others tab, click Create Hotword, and then upload a hotword file in the dialog box that appears.
Restrictions:
The hotword file must be in TXT format. It must be encoded in UTF-8 without the byte order mark (BOM). The size of the file cannot exceed 100 KB.
Each hotword occupies a line. A maximum of 128 hotwords can be added. Each hotword must be 1 to 32 characters in length. If the preceding limits are exceeded, we recommend that you use the customization platform to train custom models.
A maximum of 10 extended hotword vocabularies can be created. Only one vocabulary can be published for each project.
You need to spell out the numbers in hotwords. For example, you need to convert 58.9 to fifty-eight point nine.
No special characters other than the space character, tab, line break, and page break are allowed in the file content.
Currently, only Chinese hotwords can be recognized.
Upload a hotword file in the Create Hotword dialog box.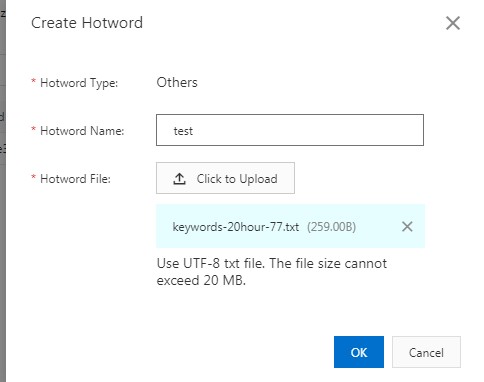 Click OK.

Select the hotword batch for the Others category, and then click Publish. The hotword batch takes effect for the project immediately. You can click the Microphone icon to test the recognition effect.
Choose My Resources > Hotwords, and then click the Others tab to view the extended hotwords. The value of Associated Project for a hotword batch indicates the projects that are using this hotword batch.