You can grant related permissions for sub-accounts through accessing Alibaba Cloud Resource Access Management (RAM) to enable the sub-accounts to use the MPS console within the authorized scope.
Permissions of the sub-account mainly include authorization to use MPS and the permissions to OSS, CDN, and MNS resource objects. After planning the resource instances of the sub-account with these services, you can create authorization policies based on corresponding authorization templates and grant the permissions to the sub-account.
The following variables are used in the resource authorization policies of each service. Replace them with the actual resource instance name.
Description of variables
$Uid: Cloud account ID. You can query it by logging on to the console and clicking Account Management > Security Settings.

$Region: Service region. For more information, see service region.

$InputBucket: MPS InputBucket.

$OutputBucket: MPS Output Bucket.

$QueueName: MNS queue name.

$TopicName: MNS notification topic.

$DomainName: CDN domain name.
Authorization policy creation descriptions
Log on to the RAM console > Policies, and create the following example custom authorization policies for the specified resource instance and grant them to the specified sub-account.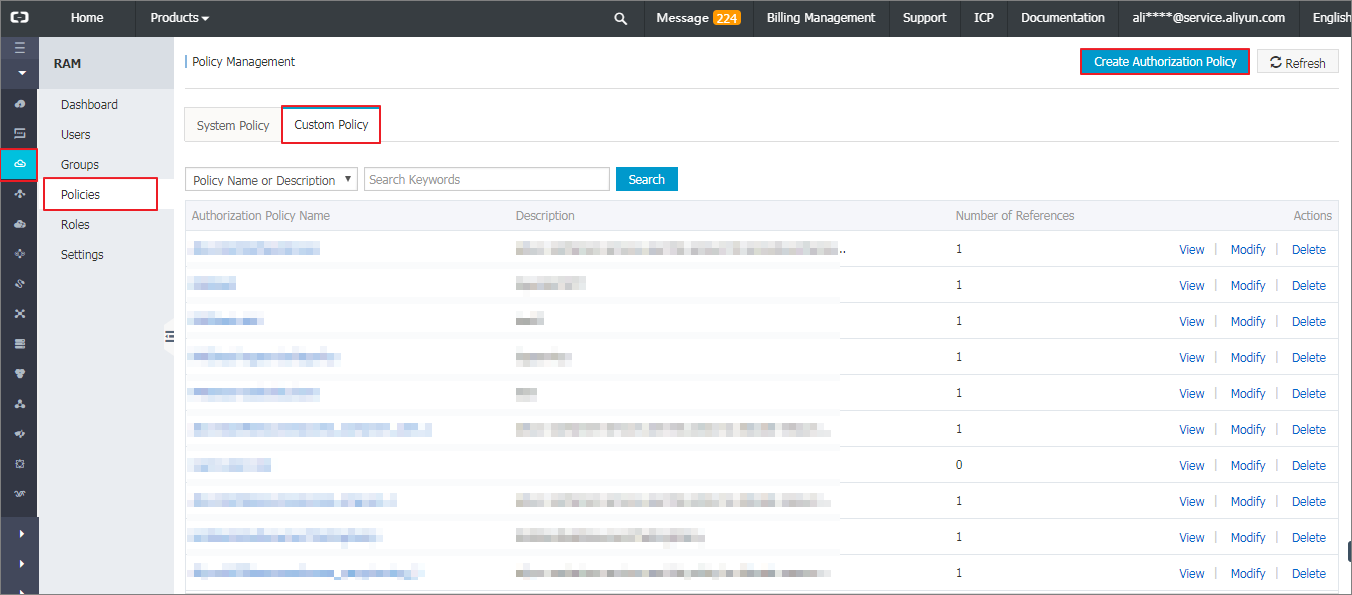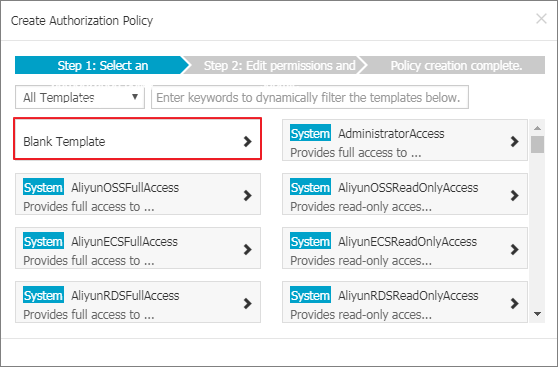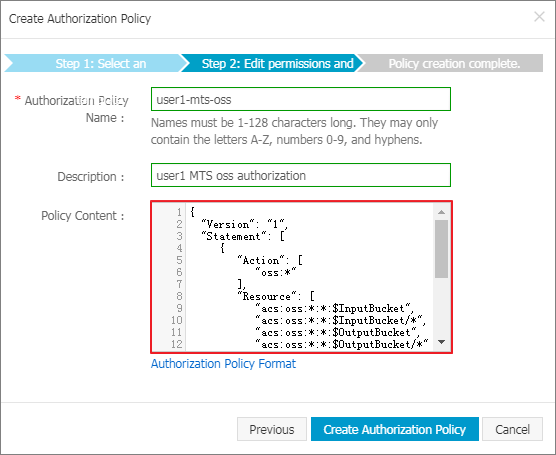 Note: Copy the authorization policies of each service of the examples in this document, and replace the variables with the corresponding service instance name.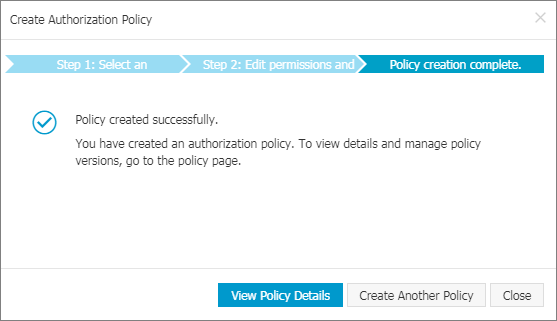 After the authorization policies are created for various service resource objects, you can grant the permissions to corresponding sub-accounts. See the permission granting instructions of MPS.
MPS
You can directly use the built-inAliyunMTSFullAccessauthorization policy.
Permission description:
Permission

 granted to a 

sub

-

account to 

use

 MTS
Log on to the RAM console > Users, and grant theAliyunMTSFullAccesspermission to the specified sub-account.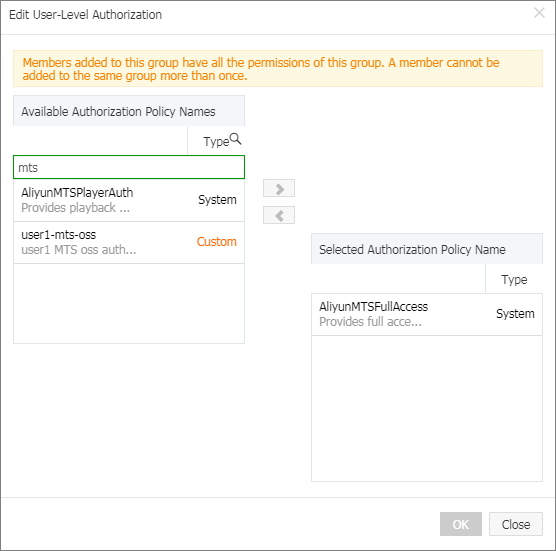 OSS authorization policy
Permission description:
Permission

 

for

 all operations on the specified input 

and

 output buckets

Permission

 to view the bucket list
{

  

"Version"

:

 

"1"

,

  

"Statement"

:

 

[

    

{

      

"Action"

:

 

[

        

"oss:*"

      

],

      

"Resource"

:

 

[

        

"acs:oss:*:*:$InputBucket"

,

        

"acs:oss:*:*:$InputBucket/*"

,

        

"acs:oss:*:*:$OutputBucket"

,

        

"acs:oss:*:*:$OutputBucket/*"

      

],

      

"Effect"

:

 

"Allow"

    

},

    

{

      

"Action"

:

 

[

        

"oss:ListBuckets"

      

],

      

"Resource"

:

 

"*"

,

      

"Effect"

:

 

"Allow"

    

}

  

]

}
MNS authorization policy
Permission description:
Permission

 

for

 all operations on the specified query 

and

 topic

Permission

 to query the query 

and

 topic
{

  

"Version"

:

 

"1"

,

  

"Statement"

:

 

[

    

{

      

"Action"

:

 

[

        

"mns:*"

      

],

      

"Resource"

:

 

[

        

"acs:mns:$Region:$Uid:/queues/$QueueName"

,

        

"acs:mns:$Region:$Uid:/topics/$TopicName"

,

        

],

      

"Effect"

:

 

"Allow"

    

},

    

{

      

"Action"

:

 

[

        

"mns:Get*"

,

        

"mns:List*"

      

],

      

"Resource"

:

 

"*"

,

      

"Effect"

:

 

"Allow"

    

}

  

]

}
CDN authorization policy
Permission description:
Permission

 

for

 all operations on the specified CDN domain name

Permission

 to query the CDN domain name
{

  

"Version"

:

 

"1"

,

  

"Statement"

:

 

[

    

{

      

"Action"

:

 

"cdn:*"

,

      

"Resource"

:

 

[

        

"acs:cdn:*:$Uid:domain/$DomainName"

      

],

      

"Effect"

:

 

"Allow"

    

},

    

{

      

"Action"

:

 

"cdn:Describe*"

,

      

"Resource"

:

 

"*"

,

      

"Effect"

:

 

"Allow"

    

}

  

]

}