Virtual Private Cloud (VPC) is a private network established in Alibaba Cloud. VPCs are logically isolated from other virtual networks in Alibaba Cloud. VPCs allow you to launch and use Alibaba Cloud resources in your VPC.
You have full control over your Alibaba Cloud VPC. For example, you can select its IP address range, further segment your VPC into subnets, as well as configure route tables and network gateways. Additionally, you can connect VPCs with an on-premises network using a physical connection or VPN to form an on-demand customizable network environment. This allows you to smoothly migrate applications to Alibaba Cloud with little effort.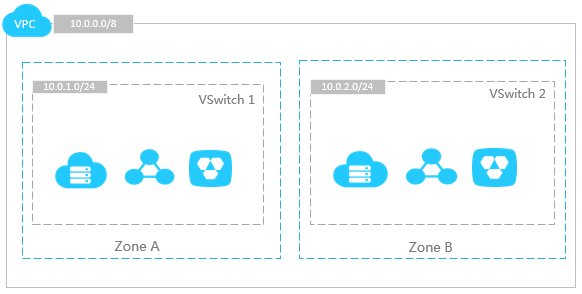 Default VPC and VSwitch
Alibaba Cloud provides a default VPC and VSwitch in the situation that you do not have any existing VPC and VSwitch to use when creating a cloud product instance. A default VPC and VSwitch will be created with the creation of an instance.
Default VPC and VSwitch feature list
| Default VPC | Default VSwitch |
| --- | --- |
| The default VPC in each region is unique. | The default VSwitch in each Availability Zone is unique. |
| The netmask for a default VPC is /16, such as 172.31.0.0/16, providing up to 65536 private IP addresses. | The netmask for a default VSwitch is /20, such as 172.31.0.0/20, providing up to 4096 private IP addresses. |
| Default VPCs do not count in the allocated VPC quota. | Default VSwitches do not count in the allocated VSwitch quota. |
| Default VPCs are created by the system, all self-created VPCs are non-default VPCs. | Default VSwitches are created by the system, all self-created VSwitches are non-default VSwitches. |
| Operations and restrictions for default and non-default VPCs are the same. | Operations and restrictions for default and non-default VSwitches are the same. |