Data visualization quickly allows you to gain valuable insight into the dynamic and massive data in today's challenging business environment. Data visualization presents large amounts of data in a more clear and understandable way when compared with traditional charts and data dashboards. It helps you discover and diagnose business problems and opportunities by using interactive video walls.
Data visualization can be applied across many industries including retail, transportation, logistics, power generation, water conservancy, environmental protection, and many more. Data visualization has become an integral part of big data analytics.
You may encounter many challenges when creating data visualization presentations including:
You have only a vague idea how to use data visualization and lack experience in displaying complex data.

You spend a lot of time and effort designing charts and developing special effects of a data visualization.

You lack the necessary components or tools used to present and analyze non-traditional reporting data such as spatio-temporal and relational data.

Your available tools have resolution adaptation problems when presenting data visualizations on a large screen.
DataV of Alibaba Cloud can help you overcome these challenges. DataV is a powerful and accessible data visualization tool featuring various visualization templates allowing non-technical personnel to create professional data visualizations through a graphical interface. DataV perfectly satisfies the data presentation demands of exhibitions, business monitoring, risk warning, and geographic information analysis.
Edition specifications
DataV provides the following editions:
Basic Edition
Enterprise Edition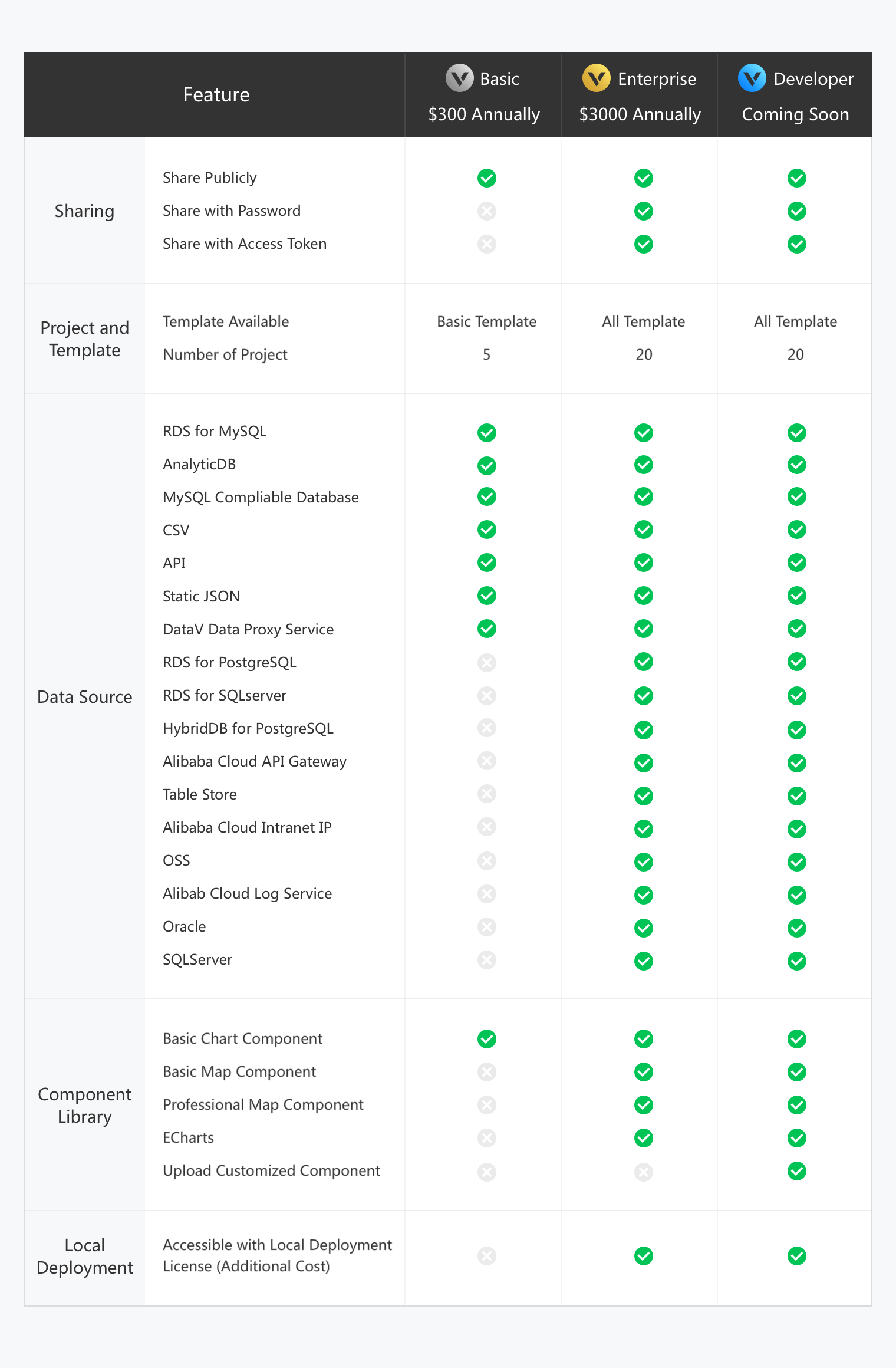 Basic Edition
DataV Basic Edition has many valuable features including the following:
Released to the public.
Offers five basic templates.
Supports seven data sources, including RDS for MySQL, Analytic DB, CSV, API, and others.
Supports standard charts.
Enterprise Edition
Compared with our Basic Edition, DataV Enterprise Edition has many advantages including the following:
Publishes with a password or an access token.

Projects created with DataV are published in the form of a web page, which may contain business sensitive information. Many DataV Enterprise Edition users have a strong demand for encryption. DataV Enterprise Edition supports two types of security measures including password and token verifications. These security measures prevent business information from being subjected to data security breach.

More data sources

DataV Enterprise Edition supports several more data sources, including Oracle, SQL Server, and PostgreSQL.

Map widgets and more templates

No restriction to the number of widgets and templates you can use in DataV Enterprise Edition. DataV Enterprise Edition users can add and edit map widgets and use all visualization templates. External widget libraries such as ECharts and G2 are only accessible for Enterprise Edition users.

More available projects

DataV Enterprise Edition supports you to create up to 20 visualization projects. The Basic Edition provides 5 templates.