Create@Alibaba Cloud Startup Contest 2018 - Global Final Day Two
Venue:

Hangzhou

Time:

Nov. 14, 2018
Create@Alibaba Cloud Startup Contest 2018 - Global Final Day Two
On November 15th, after two days of fierce competition, 2018 Create @ Alibaba Cloud Startup Contest Global Final jointly hosted by Hangzhou Future Sci-tech City, Alibaba Cloud Innovation Center and Liangcang Accelerator came to a successful conclusion in the International Convention Center of Hangzhou Future Sci-tech City.
Mr. Hu Xiaoming, Associate Partner and Senior Vice President of Alibaba Group and President of Alibaba Cloud, was unable to show up for work reasons and has sent a video saying that "we hope that today's technology in China will not only serve Chinese enterprises, but also young people and entrepreneurs all around the world. We also hope that the overall production system of Alibaba Group can provide industrial docking channels for the contestants of Create @ Alibaba Cloud Startup Contest".
"When the industrial economy is incoming, we must attach special importance to the data application so that we can put everything and everyone of the company online, including the equipment, management processes and mechanisms of the company, which will be very important", said by Fang Yongxin (Da Pao), Associate Partner of Alibaba Group when sharing on the state.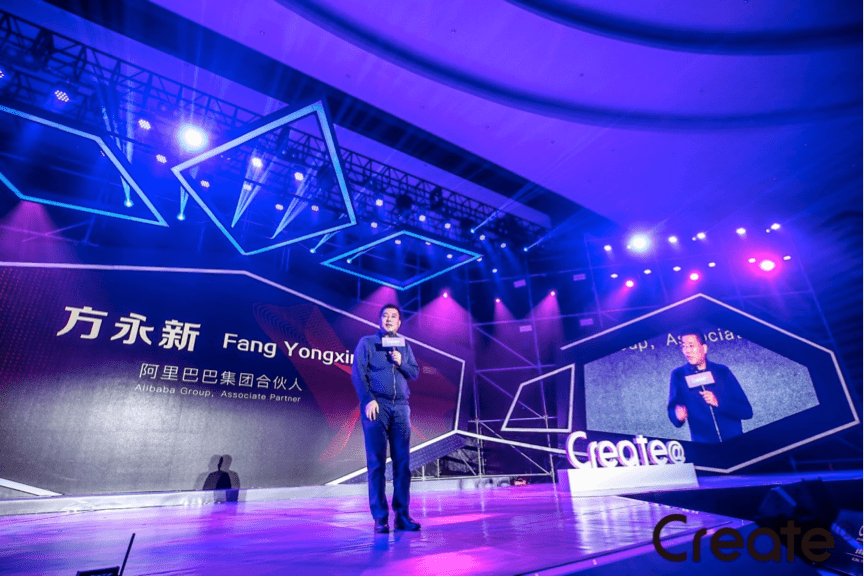 At the scene of 2018 Create @ Alibaba Cloud Startup Contest Global Final, in addition to the speeches addressed by the big names from various fields, there were a total of 53 project road shows, including 27 general road shows and 26 rapid road shows. In the two days of Global Final, the International Convention Center of Hangzhou Future Sci-tech City has received more than 2,000 guests, 43,200 person-times of live broadcast online, transmissed over one million times through socail medias and synchronously reported by more than 100 mainstream medias from both at home and abroad, jointly lighting the global top innovation feast!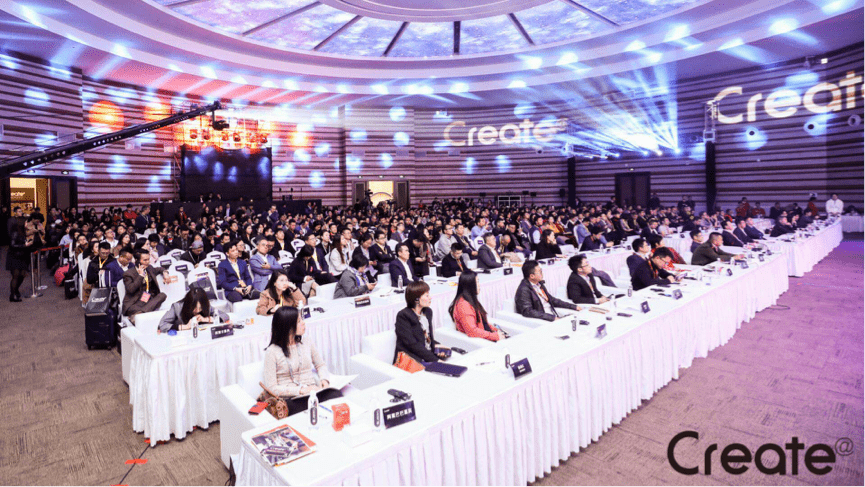 Create @ Alibaba Cloud Startup Contest has grown very fast in the past four years, and similarly, we can say that the jury this year is the strongest in history, including: Zhu Xiaohu, Managing Director of GSR Ventures; Chen Hongliang, Partner of Vision Capital; Pan Shuimiao, Managing Director of YF Capital; Jiang Chun, Managing Partner of Puhua Capital; Liu Dong, Innovation Officer of Accenture Greater China; Dai Wei, Vice President of Lenovo Group; Wang Shuai, Vice President of WI Harper Group; Li Renjian, General Manager of CITIC Capital Shenzhen Ventures; Cao Wei, Executive Director of Bluerun; Zhong Shi, Executive General Manager of Investment Department, Fosun; Wang Zhongwei, Managing Director of China Oceanwide Ventures; Sheng Sen, Founding Partner of Hupan Hongsheng; Yang Tinghui, General Manager of Fortune Capital Zhejiang; Zhang Tong, Partner of Kinzon Capital; Li Jianbo, Founding Partner of Fengyun Capital; Hao Shuai, Partner of Z&H Investment; Yao Xiaofei, Gneral Manager of fenox VC; Fan Miaomiao, Head of Gaorong Capital Hangzhou; Li Haitao, Partner of Jundao Wealth Management; Huang Chong, Partner of Huisen Investment; Ai Min, Founder of Dami Ventures; Wu Xiaoying, Partner of KYMCO Capital; Xia Weifeng, Managing Partner of Shunrong Investment Management; Lu Xiaohong, Partner of Yinxinggu Capital; Jin Yikai, Vice President of Linear Venture; Ye Dongdong, Partner of Tisiwi; Chen Zhigang, Board Chairman and CEO of Ctoutiao; Sun Mingjun, Deputy Director, Artificial Department of Cloud Computing and Big Data Research Institute, CAICT; Zhang Yutong, Partner of GSR Ventures; Xu Jian, Founding Partner of Qixi Capital.
After two days of brilliant confrontation, the project nano-silver flexible touch control from Macau has won the grand champion of 2018 Create @ Alibaba Cloud Startup Contest Global Final.
The seven projects, including Leishu Technology from Hangzhou, Data Grand from Shanghai, High Precision and Intelligence Wave Compensator from Wuhan, DoubleMe from Seoul, Pear Fog Computing Sharing from Shenzhen, LTCC BeiDou Chip Antenna from Shanghai and MAD Gaze AR Intelligent Goggles from Hong Kong, have won the second to eighth places, respectively are Runner-up, 2nd Runner-up, Best Potential Award, Best Performance Award, Bes Team Award, Best Innova-tion Award and Best Management Award.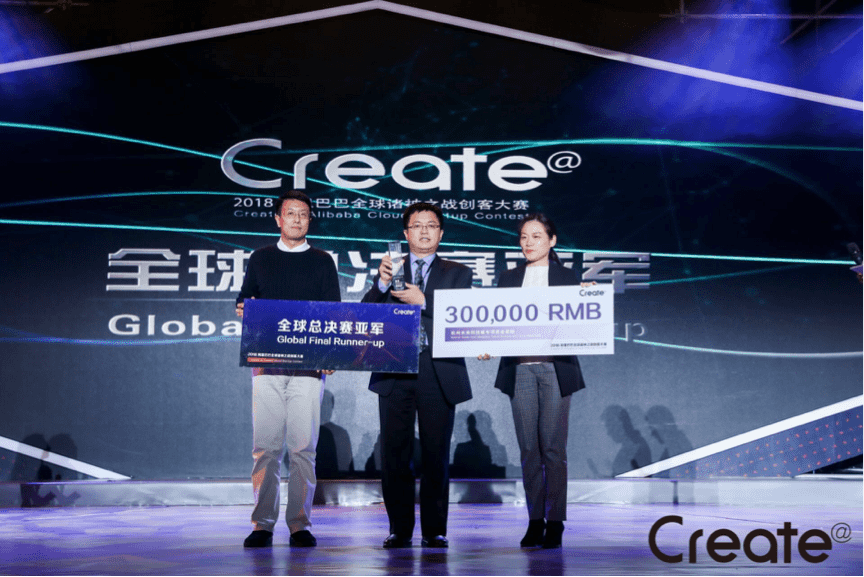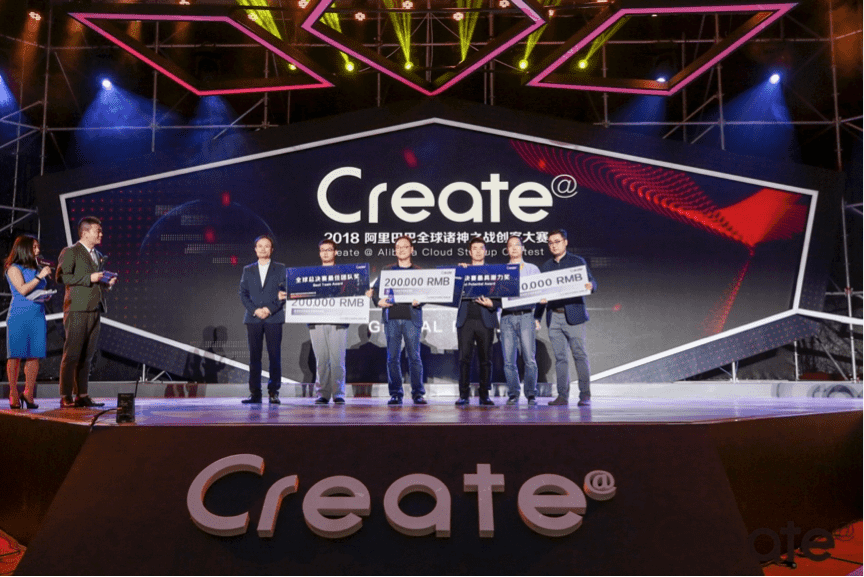 And besides, Ancient Chinese Prose by Tingting from Hangzhou, Microelectronic Printers Based on Carbon-based Material from Shanghai, Security Platform from Seoul, BIOMES NGS from Berlin and 5G High Frequency Dielectric Material from Xi'an have been granted with Global Final Best Winning Awards.
The award-winning project will receive generous gift packages and incentive policies from Alibaba Cloud Innovation Center, Hangzhou Future Sci-tech City and Liangcang Accelerator.
"I think these projects are very exciting today", said by Mr. Zhu Xiaohu, Managing Director of GSR Ventures, that "I think there are two characteristics: first, they are very international. There are many countries participating, including the United States, the United Kingdom, Germany, Japan, South Korea and Southeast Asia. The degree of internationalization is very high because we can seldom see so many countries particiapting in the usual projects; and second, the industrial distribution is very wide. There are not only new materials, but also artificial intelligence, information technology, biomedicine, etc. So the challenges to the jury is very high". He also expressed that he would like to further understand these projects.
"Thanks to the organization of Alibaba Cloud and Liangcang, they have done a good job. It is not only a meeting for entrepreneurs, but also a very good gathering for VC ventures. The degree of internationalization is relatively high, and the coverage of venture capital hotspots is particularly good, which has basically covered all of the mainstrream hot spots in society", said by Sheng Sen when he spoke on the stage, who is the Founding Partner of Hupan Hongsheng.
Creation brings hope to to the world. Let us look forward to the future, to Hangzhou with grand Cloud Startup and expect that Create @ Alibaba Cloud Startup Contest in the future will bring us more suprises!