CACSC London Final
Region:

London, UK

Time:

Jun. 23rd, 2016
Successful Finish to The Create@Alibaba Cloud Startup Contest London Final
Jambo, a commercial social media software wins regional competition final
On June 23, 2016, Alibaba Cloud hosted the Create@Alibaba Cloud Startup Contest UK division final in London. This event was held in cooperation with Cocoon Networks and London & Partner and was sponsored by KPMG. Tech London Advocates founder and London ambassador Russ Shaw was invited to give a speech. This competition was judged by Alibaba Cloud's UK director Sun Yang, Cocoon Networks' CEO Zai Chengfeng, London & Partner's CEO Gordon Inn, and the London Investment and Trade Association's Andrew Cockburn. The startup projects of 8 outstanding finalists competed in this championship. The winning team in this competition will represent the UK at the world championship. They will also receive startup support and services from Alibaba Cloud, free office space from Cocoon Networks, and other generous prizes.
In the contest, the eight teams drew lots to determine their order. Then, one by one, they presented their startup projects to the audience and the expert judges. In the presentation phase, the founders took turns describing their project products, areas of innovation, market position, and earnings prospects. Then, in addition to the projects' advantages in the local European market, each team also talked about the value estimates and expectations for their current products in the Chinese market.
It is worth noting that the majority of these projects are in fields that are very popular at the moment, mobile Internet, cloud computing, big data, IoT, and other next-generation information technologies. The winning project, Jambo, is a commercial social media software product that introduces new social functions to bring people together for commercial purposes. Whether you are a financial professional in London or a techie in Paris, you can use the "tribe" function of this software to instantly find business people who share your interests in your own city. You can use the software to communicate with these people and enhance your social network. This project will represent the UK division in China, where it will compete in the world championship.
In an interview, the founder of the winning Jambo project, Laura Stembridge, excitedly said that the CACSC is a great platform for startups that, like Jambo, are targeting the Chinese market. At the same time, by encountering so many outstanding entrepreneurs, the contestants can more clearly understand the relative strengths and weaknesses of their own projects and find the best path by which to enter the Chinese market. She also specifically expressed her gratitude to Cocoon Networks for helping local British startups break into the Chinese market and said she will make full use of the excellent office environment provided by the Cocoon Networks incubator. She will use this opportunity to further polish her product and looks forward to more long-term cooperation with Cocoon Networks and Alibaba Cloud in the future.
The Create@Alibaba Cloud Startup Contest is, so far, the largest entrepreneurship event ever held by the Alibaba Group. The sponsors seek to raise a combined 10 billion RMB in funding, in order to provide venture capital, workspaces, and other hardware resources; to provide software services to facilitate connections between entrepreneurs and investors, to guide startups, and to offer technical training; and to provide free Alibaba Cloud service resource packages and other startup support services. This will help millions of entrepreneurs improve the efficiency of their businesses and achieve their dreams. For the UK division competition, Alibaba Cloud partnered with Cocoon Networks to convene the newest and most unique creative talents, discover the entrepreneurs with the highest potential, and bring this part of its global entrepreneurship competition to a successful conclusion in London, Europe's Silicon Valley.
As the organizer of this contest, Create@Alibaba Cloud has always been committed to building the largest international internet entrepreneur platform, and concerned about the use of cloud computing in the field of entrepreneurship. Data show that cloud computing will help innovation and entrepreneurship 70% reduction in costs, while improving the efficiency of 300%, with relative low cost of access to huge capacity for innovation, to help the startups to break 0-1 and achieve "FMCG times."
Further Reading: For Startups, Alibaba Cloud Contests Offer Access To China.
Highlights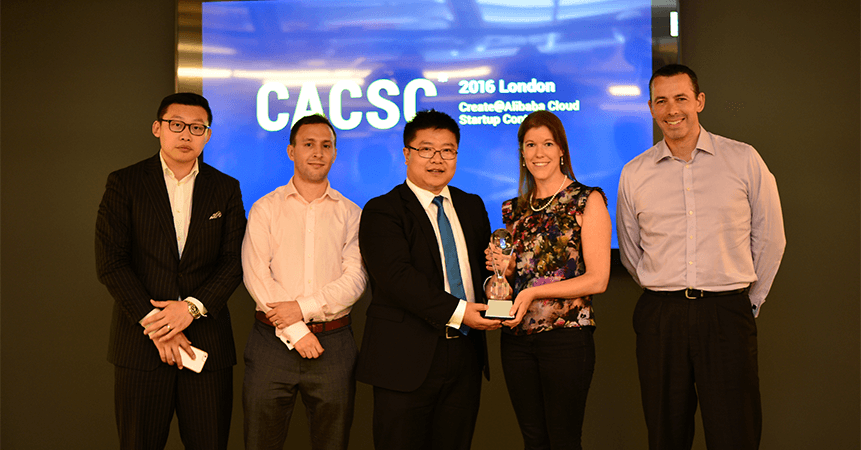 London Final Hosted By