Create@Alibaba Cloud Startup Contest—Paris
Region:

Paris, France

Time:

July 5th, 2016
The Create@Alibaba Cloud Startup Contest France Final has concluded, with the intelligent hardware project winning awards
Major content of the article reference to the news on oushidai.com
After an intense month-long competition, the Create@Alibaba Cloud Startup Contest (CACSC) France final was successfully concluded on July 5, 2016. Director of Paris & Co Gong Dusheng and Alibaba Group's France General Manager Sébastien Badault attended the event and gave speeches. They introduced the competition system and rules to the assembled guests, as well as the Alibaba Group's European business development plan. George Dodge of the sponsoring Cheung Kong Graduate School of Business also introduced a program tailored to European entrepreneurs.
The competition was hosted by Alibaba Cloud's France director Liu Qunkai. In his humorous manner, the host invited 8 outstanding project teams to present their work to the judges and audience. After four intense, but fun hours, INTERACTIVE MOBILITY, a project that provides travel entertainment devices, took home the top prize, winning $50,000 in cloud product support from Alibaba Cloud and a 5-day trip to China for entrepreneurship training provided by Cheung Kong Graduate School of Business. INTERACTIVE MOBILITY will then represent the France division in the CACSC world championship in China. They will have a chance to be included in Alibaba Cloud's "18 Founders" global strategic customer support plan and win a prize of $216,000 in cloud product coupons. In addition, Alibaba Cloud will provide the winner with a tailored market support plan. At the same time, AKOUSTIC ARTS, a remote speaker project that strives to reduce noise pollution, won a special prize - flights to China provided by Hainan Airlines. This will allow them to attend the world championships and gain access to top-level investors.
Finally, Karine Bidart, the director of sponsoring Paris & Co, gave a speech. She spoke of her optimism concerning the prospects for Sino-France cooperation. Karine said that France is the center of European startups and that the vast Chinese market is attracting more and more French companies. Meanwhile, the two countries are seeking to enhance cooperation.
As this is the end of the CACSC France final, let us take one last look at the eight outstanding competitors and look forward to further outstanding performances in other divisions!
Participating Projects
BRAINEET
The innovative idea platform for brands
Founders: Xavier Niel, Marc Simoncini, and Jacques-Antoine Granjon

Braineet is a product like Twitter and Facebook, except that its target users are enterprises and brands. This application allows customers to leave comments and suggestions on enterprises' homepages, so that they can obtain quantitative statistics on customer needs. This will allow bands to better serve their customers. There is a saying, "Know yourself and know your enemy, and you will never be defeated." In the intense competition of the market, whether a product is good or bad and whether or not it can please customers are the main factors that determine customers' satisfaction and the level of demand for the product. The ability to instantly grasp changes in customer opinions is necessary for all businesses.

EUROPASS
A European online travel service platform integrating tourism, information, and shopping
Founder: Guillaume de Roquefeuil

Setting its sights on the exploding Chinese foreign tourism market, Europass wants to make it easy for Chinese users to arrange their travel plans in advance, so that they do not feel confused and helpless in their destinations, and that their valued time are not wasted in endless ticket lines. With a cell phone in your hand, you can do anything. With Europass, Chinese users can purchase tickets in RMB and even get shopping discounts, so they can enjoy a leisurely and pleasant vacation.

LIGO
A B2B professional food ingredient procurement platform
Founders: Zhang Xiaobei, Liu Kun, and Liu Yong

Paris has over 5,200 Chinese restaurants, and more and more Chinese students dream about settling here and opening one. Compared to an inexpensive country like China, the cost of items such as kitchen utensils and fresh food ingredients in France is very high. In addition, no matter how much you can pay, it is impossible to find many spices essential for Chinese food. By operating its app in various European countries, setting up offices, opening overseas warehouses, and providing outsourcing services, LIGO has established a distribution and promotion operations center, solving these problems for the restaurants. On this platform, you can order food ingredients, restaurant equipment, ornaments, fresh and frozen foods, drinks, and desserts. They have basically everything you could want.

HDRONES
The sky, no limit!
Founder: Alexandre Conflitti

In recent years, digital products have swept across the globe, and now drones have arrived. Different from normal camera drones, HDRONES are used for delivery. They seek to compete with Amazon's delivery drones. In its initial phase, HDRONES will focus on food delivery. Customers just need to order from a menu on their phones and the food will arrive in less than 10 minutes, hot off the pan. You can even pay when the food arrives. In the future, as the technology develops, HDRONES can even be used to transport life-saving organs. Thus technology will give us an edge in the race against time.

MEETRIP
An app that books professional tour guides online and customizes travel itineraries
Founder: Ralph Guyot-Jeannin

MEETRIP emerged in order to meet demands for enhanced tours based on travelers' personal interests. Its design concept resembles Uber. If you are on your own in an unfamiliar country, just open the MEETRIP app to find the nearest licensed professional tour guide to provide you with on-site services. In addition, MEETRIP also lets you design personalized itineraries before you depart on your vacation. In less than 2 years, MEETRIP already has 10,000+ licensed tour guides registered on the app and available for service in 13 languages in 180 countries. The fees are transparent and each tour guide must provide a real headshot.

AKOUSTIC ARTS
The speaker that only you can hear
Founder: Iran

You could say that AKOUSTIC ARTS is a speaker. Its accurate positioning allows you to enjoy high-quality audio that will not affect your partner sleeping next to you in the bed. But headphones can do the same thing! Why should I buy an expensive speaker? Headphones are limited by the length of their wires, so it is difficult to connect to a TV or other devices across the room. AKOUSTIC ARTS seeks to combat noise pollution. It can connect to multiple devices for remote playback. Even better, it can be combined as you wish for group use. People inside the "circle" will be able to hear the sound, but it will not disturb those outside.

HIHILULU
A learning platform that fosters children's interest in Chinese and opens the door to the Chinese language
Founder: Huang Jin

The name Hihilulu is cute, catchy, and leaves a deep impression. Founder Huang Jin is a mother of twins who lives and works in Europe. She was very worried that her children would not be able to learn Chinese. For her girls and for parents in the same position, she and her core team of parents with international education and work experience released the Hihilulu Chinese language learning platform for children. Of course, this platform does not only target Chinese people living abroad. The English and French user interface allows the app to assist any parent who wants to help his or her children learn Chinese.

INTERACTIVE MOBILITY
Entertainment on the go
Founders: Tanguy Morel and Michael Serres

Perhaps this is something all travelers will understand. Market research clearly shows that, when booking tickets, 80% of airline passengers are especially concerned about whether or not their flight will have personal TVs, especially for long flights. Whether or not personal entertainment facilities are provided is one thing people think about when booking tickets. INTERACTIVE MOBILITY wants to make these small-screen entertainment systems common in all modes of transport, allowing passengers to choose what they want to watch. If one day this actually comes true, people will not hesitate a second to travel!
Great Moments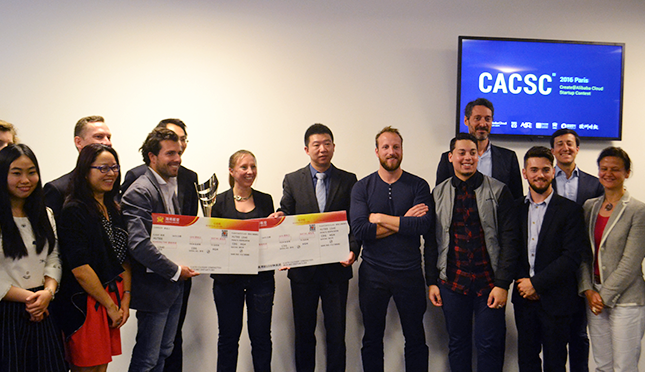 The France Session Is Hosted By