AUIconView is an iconfont vector graphic control which implements the functions of TextView and ImageView simultaneously.
The iconfont control (can be used as TextView) actually defines special Unicode characters to map a type of images and font through the TTF font file of TextView. That is, the function of iconfont is equivalent to the effect of loading a font that maps multiple images, in which each image has a Unicode character.
Each iconfont set is actually a TTF font file. Therefore, multiple TTF font files can be loaded. Each TTF font file has a name. The default TTF font file name of the AntUI is auiconfont.
Sample image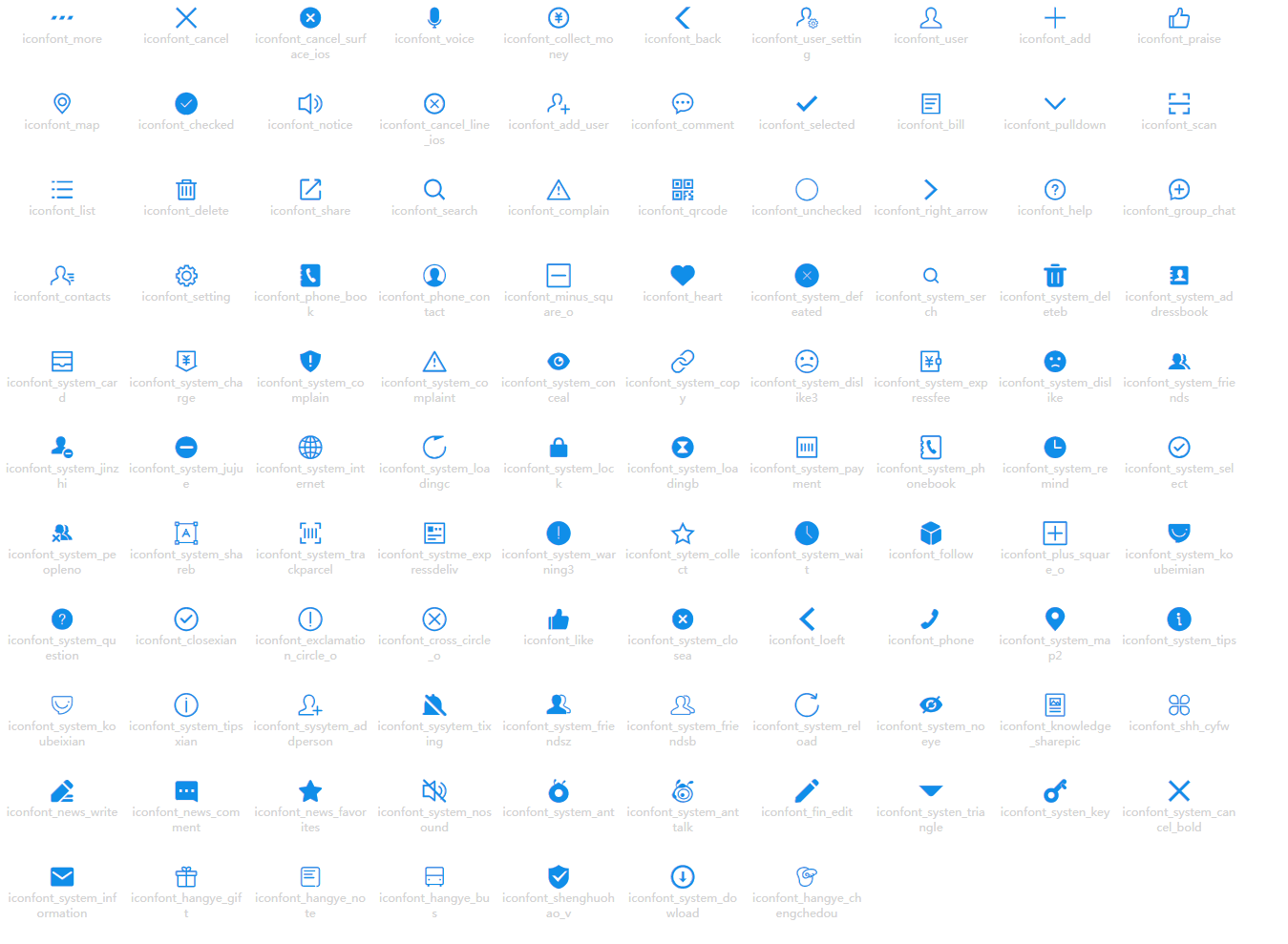 Dependency
For how to add dependency, follow the relevant instructions in Quick Start.
Icon resources
| Resource ID | Corresponding name |
| --- | --- |
| com.alipay.mobile.antui.R.string.iconfont_more | More |
| com.alipay.mobile.antui.R.string.iconfont_cancel | Cancel |
| com.alipay.mobile.antui.R.string.iconfont_voice | Voice |
| com.alipay.mobile.antui.R.string.iconfont_collect_money | Collect money |
| com.alipay.mobile.antui.R.string.iconfont_back | Back |
| com.alipay.mobile.antui.R.string.iconfont_user_setting | User settings |
| com.alipay.mobile.antui.R.string.iconfont_user | User |
| com.alipay.mobile.antui.R.string.iconfont_add | Add |
| com.alipay.mobile.antui.R.string.iconfont_praise | Like |
| com.alipay.mobile.antui.R.string.iconfont_map | Map |
| com.alipay.mobile.antui.R.string.iconfont_checked | Select |
| com.alipay.mobile.antui.R.string.iconfont_notice | Announcement |
| com.alipay.mobile.antui.R.string.iconfont_add_user | Add User |
| com.alipay.mobile.antui.R.string.iconfont_comment | Comment |
| com.alipay.mobile.antui.R.string.iconfont_selected | Select |
| com.alipay.mobile.antui.R.string.iconfont_bill | Bill |
| com.alipay.mobile.antui.R.string.iconfont_pulldown | Pull down |
| com.alipay.mobile.antui.R.string.iconfont_scan | Scan |
| com.alipay.mobile.antui.R.string.iconfont_list | List |
| com.alipay.mobile.antui.R.string.iconfont_delete | Delete |
| com.alipay.mobile.antui.R.string.iconfont_share | Share |
| com.alipay.mobile.antui.R.string.iconfont_search | Search |
| com.alipay.mobile.antui.R.string.iconfont_complain | Complain |
| com.alipay.mobile.antui.R.string.iconfont_qrcode | QR code |
| com.alipay.mobile.antui.R.string.iconfont_unchecked | Deselect |
| com.alipay.mobile.antui.R.string.iconfont_right_arrow | Right arrow |
| com.alipay.mobile.antui.R.string.iconfont_help | Help |
| com.alipay.mobile.antui.R.string.iconfont_group_chat | Group chat |
| com.alipay.mobile.antui.R.string.iconfont_contacts | Contact |
| com.alipay.mobile.antui.R.string.iconfont_setting | Settings |
| com.alipay.mobile.antui.R.string.iconfont_phone_book | Address book |
| com.alipay.mobile.antui.R.string.iconfont_phone_contact | Contacts |
API description
    

/**

     * Set the image resource ID.

     * @param resId

     * @return

     */

    

@Override

    

public

 

AUIconView

 setImageResource

(

int

 resId

)

 

{

        

if

 

(

resId 

==

 

0

)

 

{

            

return

 

this

;

        

}

        clearView

();

        initImageView

();

        imageView

.

setImageResource

(

resId

);

        

this

.

addView

(

imageView

);

        

return

 

this

;

    

}

    

/**

     * Set the image resource drawable.

     * @param drawable

     * @return

     */

    

@Override

    

public

 

IconfontInterface

 setImageDrawable

(

Drawable

 drawable

)

    

/**

     * Set the iconfont color.

     * @param color

     * @return

     */

    

public

 

AUIconView

 setIconfontColor

(

int

 color

)

 

    

/**

     * Set the ColorStateList for the iconfont color.

     * @param color

     * @return

     */

    

public

 

AUIconView

 setIconfontColorStates

(

ColorStateList

 color

)

    

/**

     * Set the view size, in the unit of px.

     *

     * @param size

     */

    

public

 

AUIconView

 setIconfontSize

(

float

 size

)

    

/**

     * Set the iconfont resource or text of the view.

     * @param text

     * @return

     */

    

@Override

    

public

 

AUIconView

 setIconfontUnicode

(

String

 text

)
Sample code
Set the icon information:
AUIconView

 iconView 

=

 

(

AUIconView

)

 convertView

.

findViewById

(

R

.

id

.

icon_view

);

iconView

.

setIconfontUnicode

(

iconUnicode

);

//For example 

//iconView.setIconfontUnicode(getResources().getString(com.alipay.mobile.antui.R.string.iconfont_phone_contact));
<com.alipay.mobile.antui.iconfont.AUIconView

        

android:id

=

"@+id/icon_view"

        

android:layout_width

=

"@dimen/size"

        

android:layout_height

=

"@dimen/size"

        

app:iconfontColor

=

"@com.alipay.mobile.antui:color/AU_COLOR_APP_GREEN"

        

app:iconfontUnicode

=

"@com.alipay.mobile.antui:string/iconfont_back"

/>

//or:

iconView.setIconfontColor(color)

iconView.setIconfontColorStates(colorStateList)