The AUPopMenu component provides popping-up menus when the user clicks the navigation bar tabs.
Different from AUFloatMenu, AUPopMenu has menu outlines but no bottom masks. All menus are aligned in the center. The separation lines have a fixed length and are aligned in the center.
Basic functions: Menus in this dialog box popping out upwards or downwards, the popping positions are all defined by the business needs.
Sample image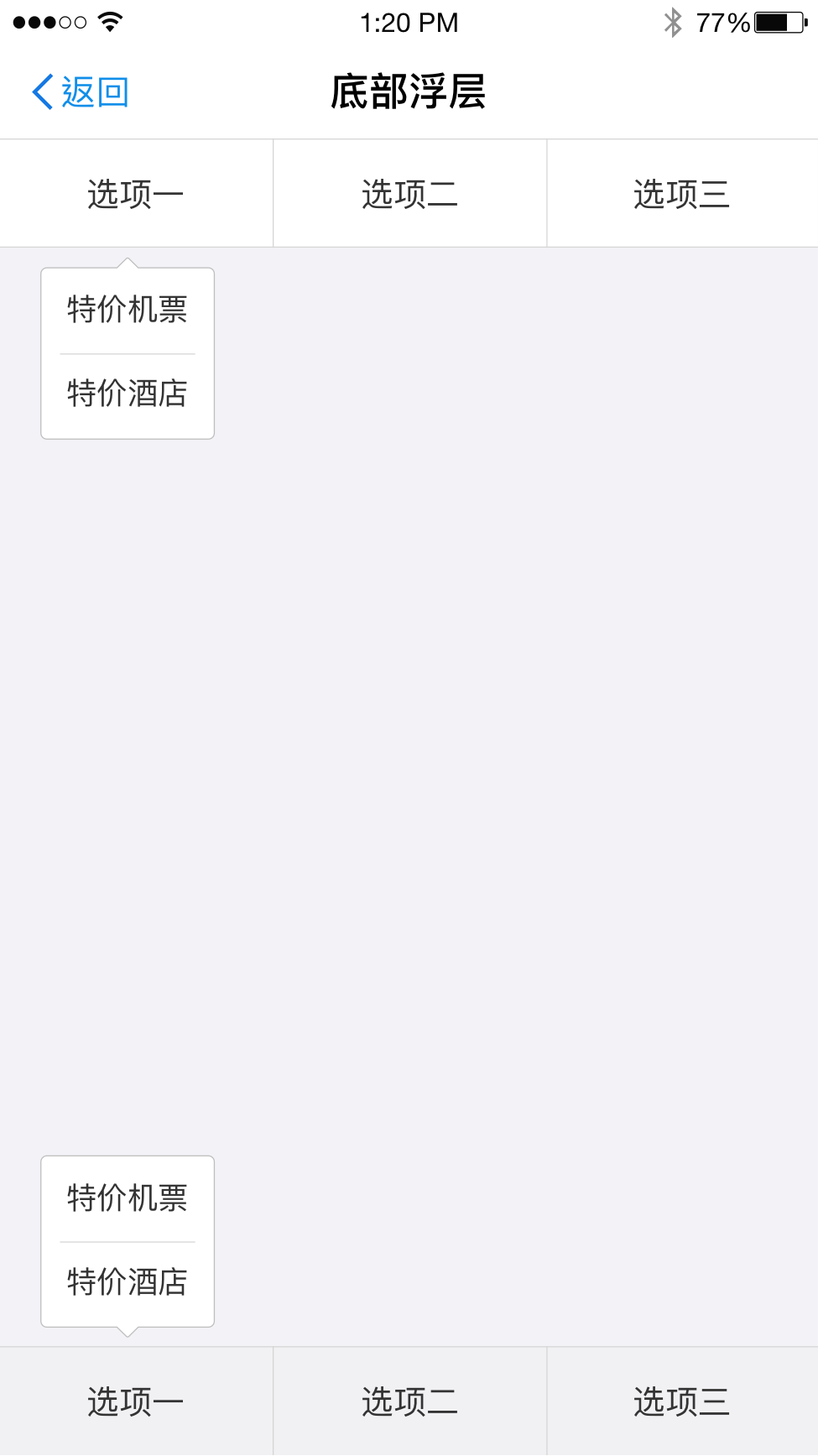 API description
AUPopMenu.h

 

@protocol

 

AUPopMenuDelegate

 

<

NSObject

>

  

@optional

  

-

 

(

void

)

DidClickPopItemView

:(

AUPopItemModel

 

*)

viewModel

;

  

@end

  

@interface

 

AUPopMenu

 

:

 

UIView

  

@property

 

(

nonatomic

,

 weak

)

 id

<

AUPopMenuDelegate

>

 

delegate

;

  

/*  datas           The AUPopItemModel object list.

   *  position        The position of the direction angle.

   *  superView       The parent view.

   *  isArchViewUp    The orientation of the arrow-like corner. Default value: Down.

   */

  

-

 

(

instancetype

)

initWithDatas

:(

NSArray

 

*)

datas

                       position

:(

CGPoint

)

position

                      superView

:(

UIView

 

*)

superView

                   isArchViewUp

:(

BOOL

)

isArchViewUp

;

  

/* Show and hide the menus with animation by default.

   *  position The start and end positions of the arrow-like corner.

   *  superView Describe which parent view the current floating layer is displayed on.

   */

  

-

 

(

void

)

showMenu

;

  

//

  

-

 

(

void

)

hideMenu

;

  

@end

AUPopItemView.h

 

@interface

 

AUPopItemView

 

:

 

AUPopItemBaseView

  

@property

 

(

nonatomic

,

 strong

)

 

AUIconView

 

*

iconView

;

   

// Support the icon font image.

  

//@property (nonatomic, strong) UIView *badgeView     // The badge is not supported currently.

  

-

 

(

instancetype

)

initWithModel

:(

AUPopItemModel

 

*)

model position

:(

CGPoint

 

)

position

;

  

@end

AUPopItemBaseView.h

 

//

  

@interface

 

AUPopItemBaseView

 

:

 

UIControl

  

@property

 

(

nonatomic

,

 strong

)

 

AULabel

 

*

titleLabel

;

 

//

  

@end

AUPopItemModel.h

 

// The object model.

  

@interface

 

AUPopItemModel

 

:

 

NSObject

  

@property

 

(

nonatomic

,

 strong

)

 

NSString

 

*

titleString

;

    

// The main description.

  

@property

 

(

nonatomic

,

 strong

)

 id iconImage

;

             

// The left-side icon, which can be a UIImage object or URL.

  

@end
Sample code
_menu 

=

 

[[

AUPopMenu

 alloc

]

 initWithDatas

:

array position

:

CGPointMake

(

CGRectGetMidX

(

button

.

frame

),

 

CGRectGetMaxY

(

button

.

frame

)+

5

)

 superView

:

self

.

view isArchViewUp

:

YES

];

_menu

.

delegate

 

=

 

self

;

[

_menu showMenu

];