Offline package refers to the package that includes HTML, JavaScript, CSS, and other in-page static resources. You can download the offline packages in advance, open them on client, and then load them locally so as to get away from the influence of network environment on HTML5 pages. By viewing the offline package analysis report, you can learn how many times the offline package has been downloaded, successfully downloaded and used.
To view the offline package report, complete the following steps:
Log in to the console, choose Products and Services > Mobile PaaS, and select your Application.
From the navigation bar on the left, choose Mobile Analysis Service > Component usage analysis > Offline package analysis to see the offline package report.
Indicator trend
You can filter the data by specifying platform, platform version, offline package, offine pacakge version, and time period, and view the trend of indicators in Minute, Hour, and Day dimension.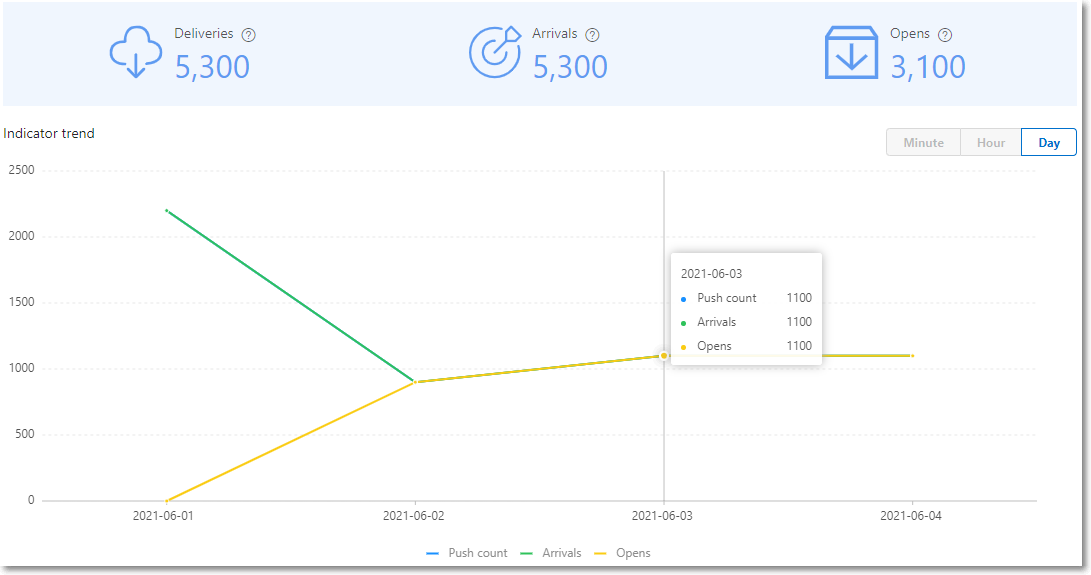 The three main indicators of the offline package are:
Deliveries: Refer to the number of times the client successfully received the offline package update reminder. If you have downloaded the offline package but did not install it, you will still receive an update reminder for the offline package.
Arrivals: Refer to the number of times the offline package was successfully uncompressed.
Opens: Refer to the number of times you have opened offline packages on the client.
Detailed data
On the lower part of the page, you can view the detailed data of Deliveries, Arrivals, and Opens in the time period you selected.