An email domain is the "ID card" when sending an email. Each account must have an email domain. During an SMTP session, the email domain is the extension of the Mail-From address. The email domain not only declares your enterprise identity, but is also used by email service providers for collecting statistics such as sending frequency, volume, and other key indicators.
New email domain
You must set up the email domain before using DirectMail.
Log on to the DirectMail console.
In the left-side navigation pane, click Email Domains.
At the upper-right corner, click New Domain.
Enter your domain name in the dialog box, and then click OK.
The followings are recommended best practices for creating a new email domain:
Use a domain name that associates with your enterprise identity.
Use the secondary domain name to avoid issues such as email credit rating affecting the emain domain name.
Create separate domain names to differentiate triggered emails and batch emails.
Enterprise email domains are not recommended because it may lead to exceptions in the enterprise email function. However, a sub-domain name of the enterprise domain can be used. For example, if you have an enterprise email domain called dmtest.club, you can use notice.dmtest.club or its other sub-domains here.
Each main domain name and its sub-domain names can only be used by one Alibaba Cloud account. For example, if an Alibaba Cloud account use xxx.abc.com as the sender domain name for DirectMail, no other account can use this main domain name (abc.com) and its sub-domain names (such as xxx.abc.com, yyy.abc.com, aaa.yyy.abc.com, or bbb.aaa.yyy.abc.com).
Up to five domain names can be added.

Domain configuration
The newly created domain must be configured properly to function. This is key to ensuring a smooth and stable mailing function from the domain.
On the Email Domains page, locate the created domain name and click Configure. The domain configuration information appears.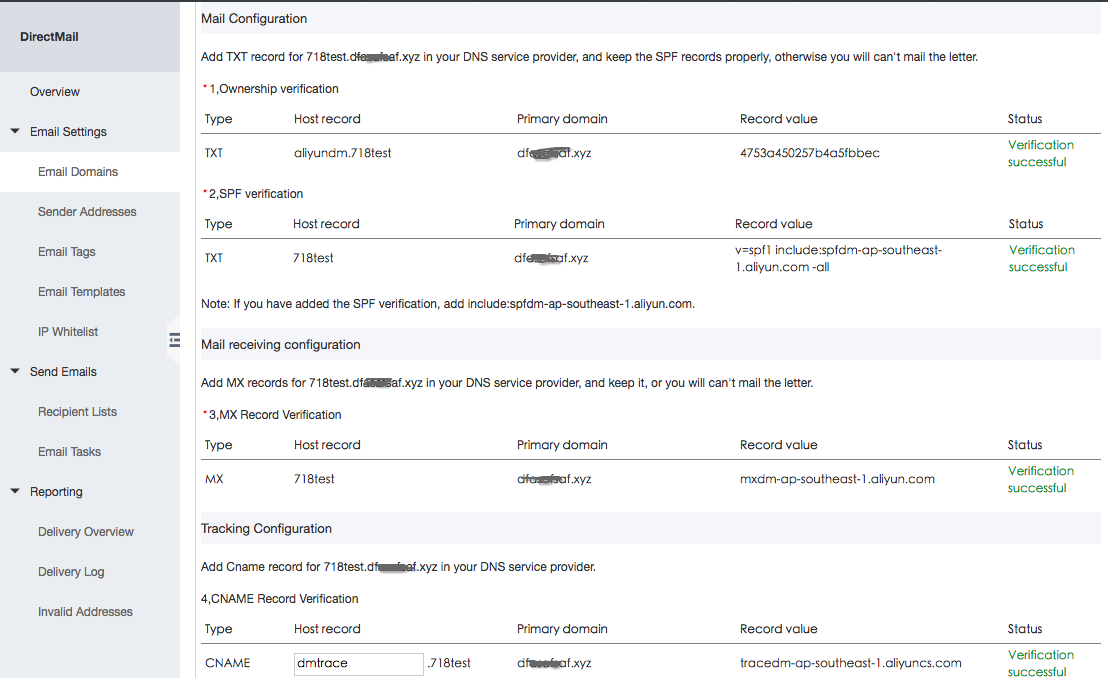 Domain ownership verification
DirectMail assigns a unique random identifier to each domain to prevent the domain from being compromised.
SPF verification
SPF is a type of DNS record type proposed to prevent spam emails. It is used to register all the IP addresses owned by a domain for sending emails.
MX verification
The email route record points to an email server. It is used to locate the email server based on the recipient's address extension when the email system sends an email.
CNAME verification
CNAME is the link navigation record and an optional configuration item. It is used to help you collect the opening and clicking tracing data for emails sent within China.

Go to your domain DNS server and correctly configure the domain according to the domain configuration information.
After the configuration is completed, go back to the Alibaba Cloud DirectMail console, go to the Email Domains page, and click Verify. Alternatively, you can wait for the system to update the configuration automatically.

If the email domain status is displayed as Verification passed or -XXX is available, it can be used to create a sender address.

If the email domain status is displayed as Verification passed, you can enable the email data tracking feature.
Note: You must configure the domain correctly. The SPF and MX resolution must always point to the DirectMail server address, otherwise it will cause failures during email delivery.
For domain configuration examples, see How to configure domains on DNS servers?