By using versioning, you can publish different service versions and work with them in your development workflow, to better manage your service in Function Compute.
Version
The newly created service has only one LATEST version. Before publishing any version, the LATEST version is the only version you have, and the LATEST version cannot be deleted.
Each version has a unique ID, version cannot be changed after publish.
When you publish a version, Function Compute takes a snapshot copy of all service configurations, functions, and function configurations (excluding triggers) in the LATEST version and assign a unique version number. You must explicitly publish the version using the console or command line tools. A new version can only be publish after a function or service configuration has changed since last version.

Publish version
Please input description when publishing new version, it can not be edit after publish:
Description(Optional):version description。
Publish version using Console
Select LATEST in "Version" dropdown button, then choose "Publish new version" from "Operations" dropdown button:

Publish version using fcli
    fcli service_version publish 

-

s 

my

-

service 

-

d 

'description'
Get Version
Get version using Console
You can view and select the version you want from "Versioning" dropdown button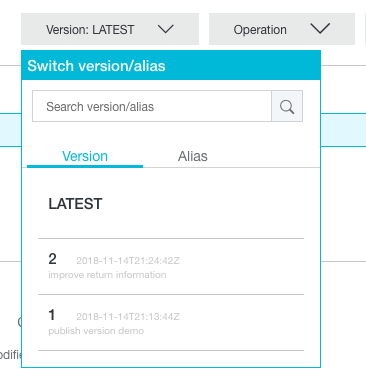 Get version using fcli
Specify -q(—qualifier) parameter when get service:
    fcli service 

get

 

-

s 

my

-

service 

-

q 

'1'
Delete version
Deleting a version removes the associated functions and configurations permanently, triggers or aliases pointing to this version will not be removed. Functions under this version cannot be invoked after deletion.
Delete version using Console
Select version from "Version" dropdown button, choose "Delete version" from "Operations" dropdown:

Delete version using fcli
    fcli service_version 

delete

 

-

s 

my

-

service 

-

v 

1
Function Compute provides following APIs for version operations:
Following APIs also support version: