This topic describes how to quickly get started with Data Lake Analytics (DLA). If you have successfully subscribed and activated DLA service, you can skip steps 1 and 2.
Step 1: Subscribe to DLA
Click Activate Now to subscribe to DLA.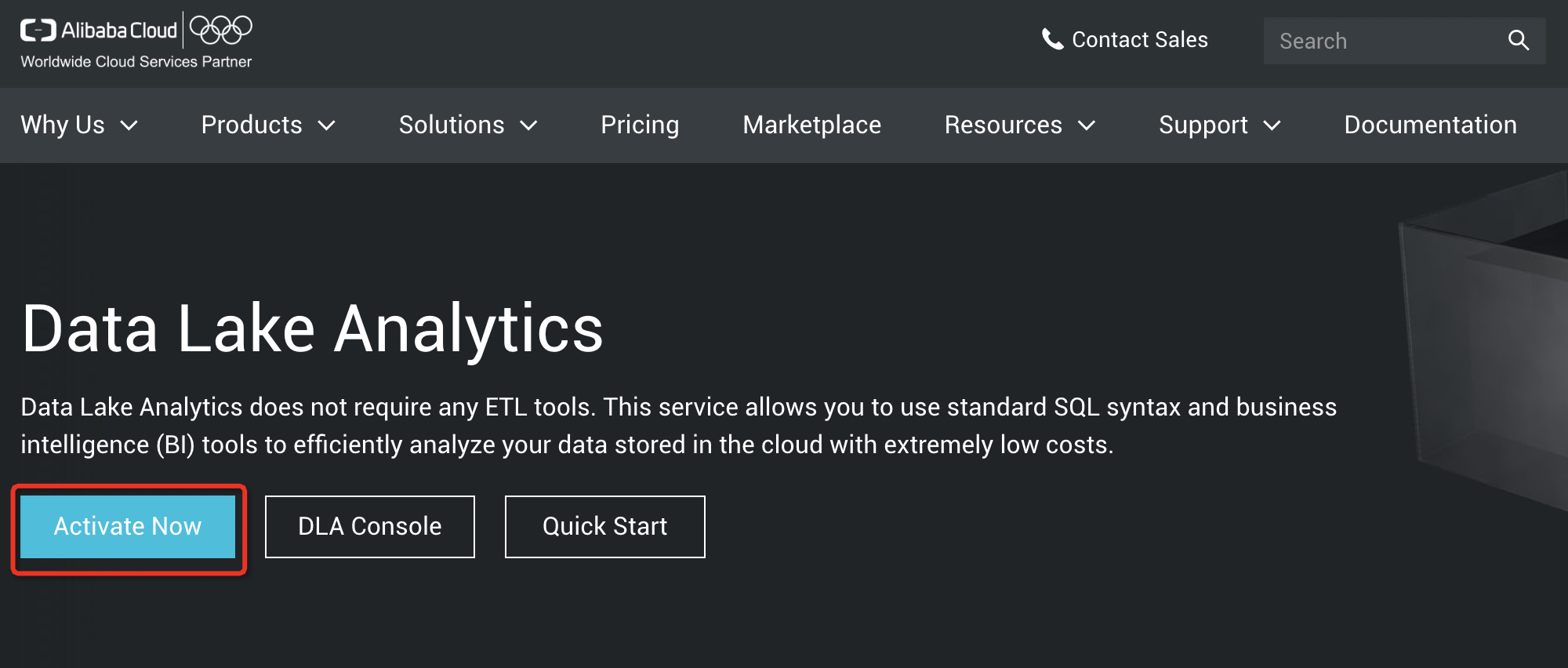 Step 2: Activate your DLA account
Click DLA Console to access the DLA admin console.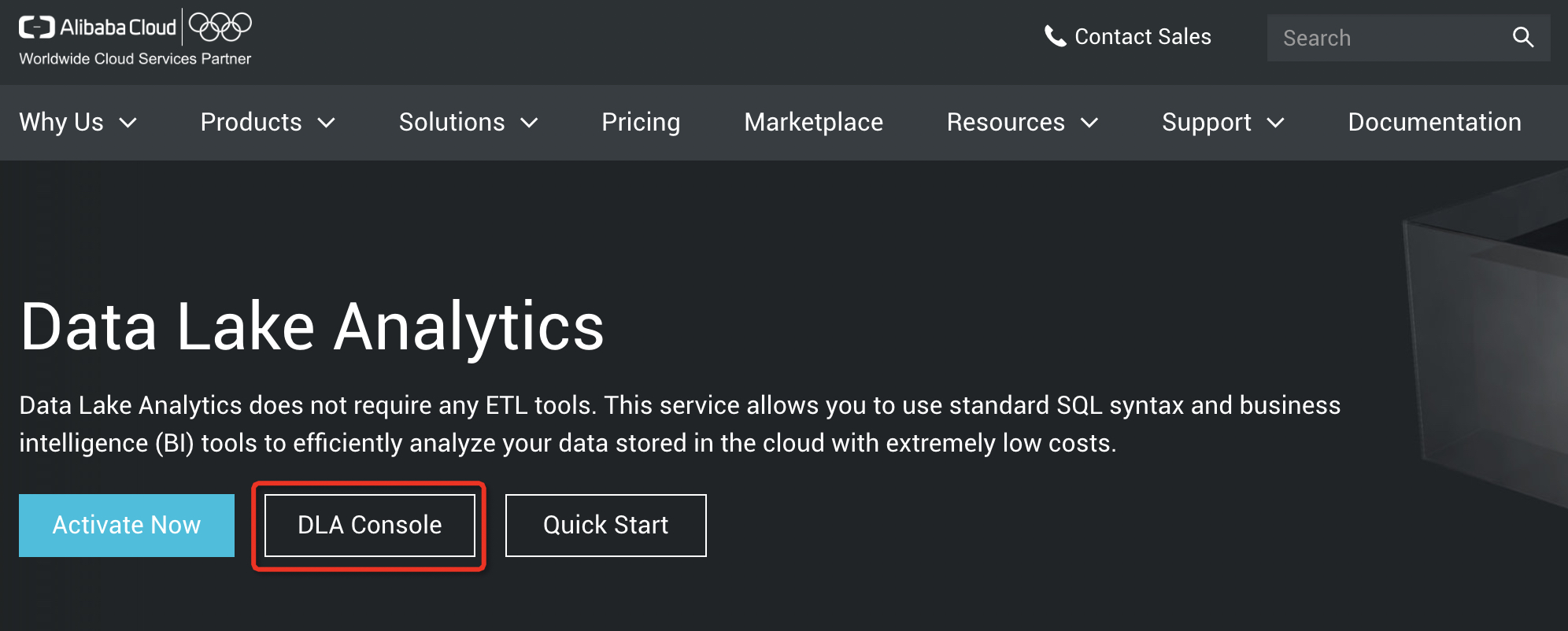 Enter an initial service account password that complies to the password conventions, or use a password randomly generated by the system.
Check the Alibaba Cloud Message Center to obtain your credentials.

Step 3: Grant DLA permission to access OSS
On the Overview tab page of the DLA console, click the OSS button, and then click Confirm Authorization Policy.

After you click the Confirm Authorization, the browser returns to the DLA console.
Step 4: Grant DLA permission to access Table Store
On the DLA console, click theTable Store button, and click Confirm Authorization Policy.
After you Confirm Authorization Policy , the browser returns to the DLA admin console.
Step 5: Create endpoint
On the DLA console click Create Endpoint.
Choose Set IP Access Whitelist to create a classic network access endpoint. You must specify the IP whitelist for your access endpoint.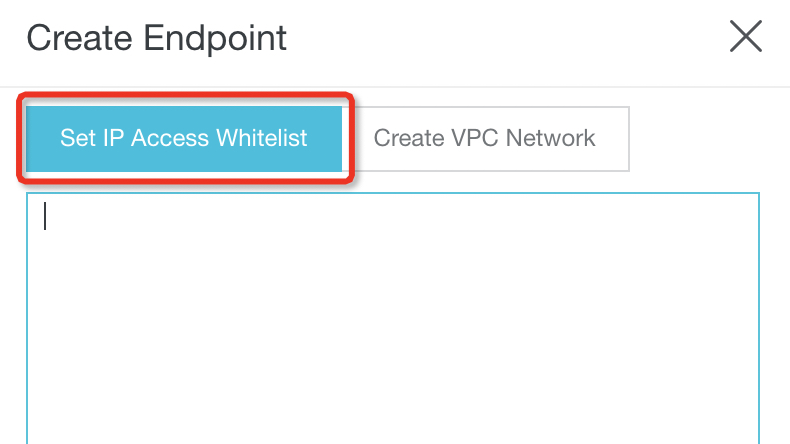 Note: The IP whitelist supported IP segment configurations include CIDR X.X.X.X/X or X.X.X.X. Configuring the IP whitelist address to 0.0.0.0/0 allows access from all network addresses. IP addresses must be unique and separated by commas (,).
Or choose Create VPC Network to create an access endpoint (single tunnel) that only allows access from the specified VPC. If you have multiple VPC, you can create access endpoints for each VPC.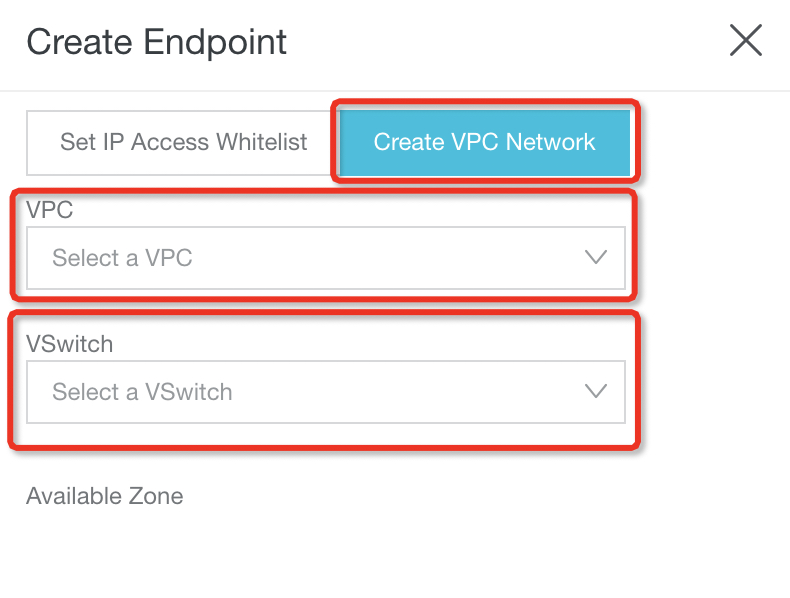 Afterwards, all endpoints are listed in the Endpoint section.

Step 6: Log on to the DMS console
Click Log On to DMS Console to log on to DMS console for SQL operation.

Make sure the region and endpoint are correct for this region, and enter the DLA service account username and password received in Step 2 and click Login.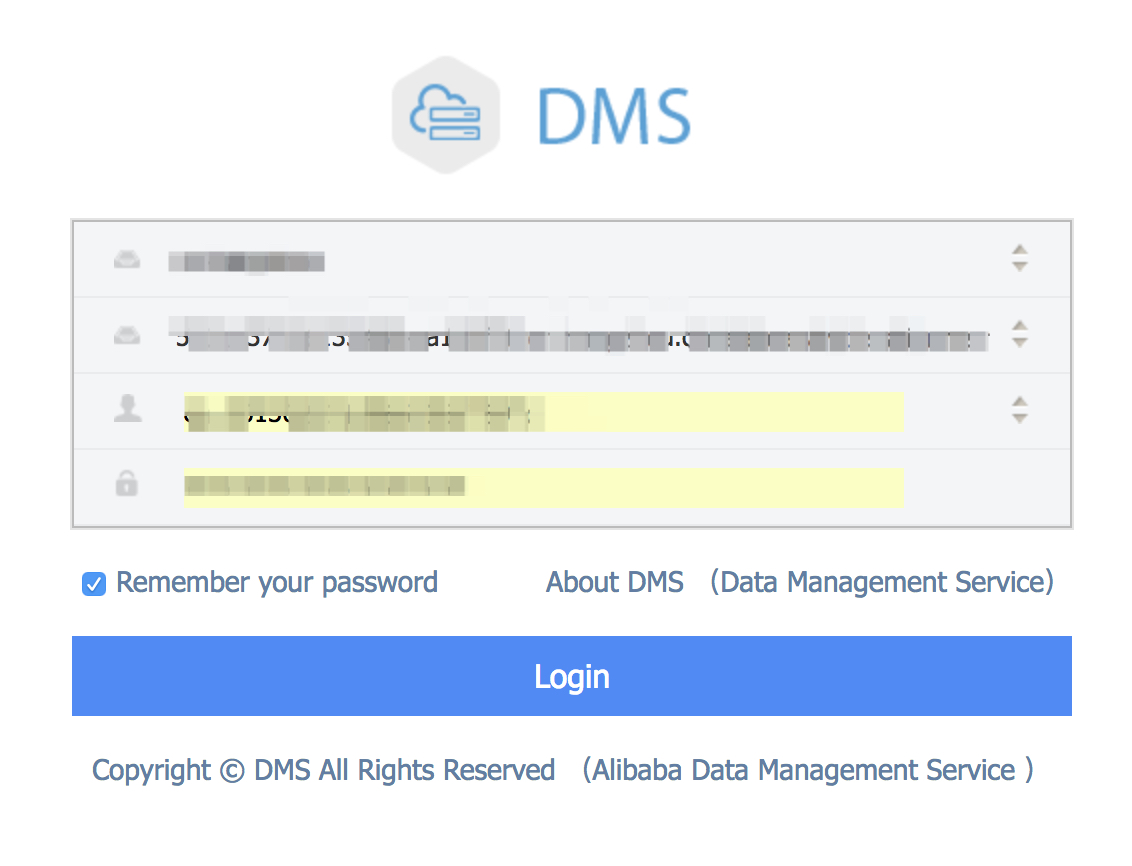 Then you can perform SQL operation in the DMS console. (Note that if your DMS service is deployed in the Singapore region, you must go to Step 7 to enable MySQL client access.)

Step 7: Use MySQL client to connect to DLA
In addition to the DMS console shown in Step 6, DLA is compatible with most MySQL database sources and tools, and standard Business Intelligence (BI) software. DLA supports any JDBC or ODBC connections, including but not limited to, other MySQL clients and BI tools (Tableau, Qlik, and others). (Currently, MySQL 8.0 protocol is not supported. Please use the Suggested Version detailed in the following table.)
You can access DLA over the Internet. Note that the username and password obtained from Step 2 are required to connect to DLA through JDBC or ODBC.
1) Connect with MySQL shell:
mysql 

-

hxxxxx

.

datalakeanalytics

.

aliyuncs

.

com 

-

P10000 

-

uuser_name 

-

p 

-

c 

-

A
user_name refers to your DLA account username. Provide DLA account password afterwards.

2) Connect with MySQL Workbench:
Choose Setup New Connection.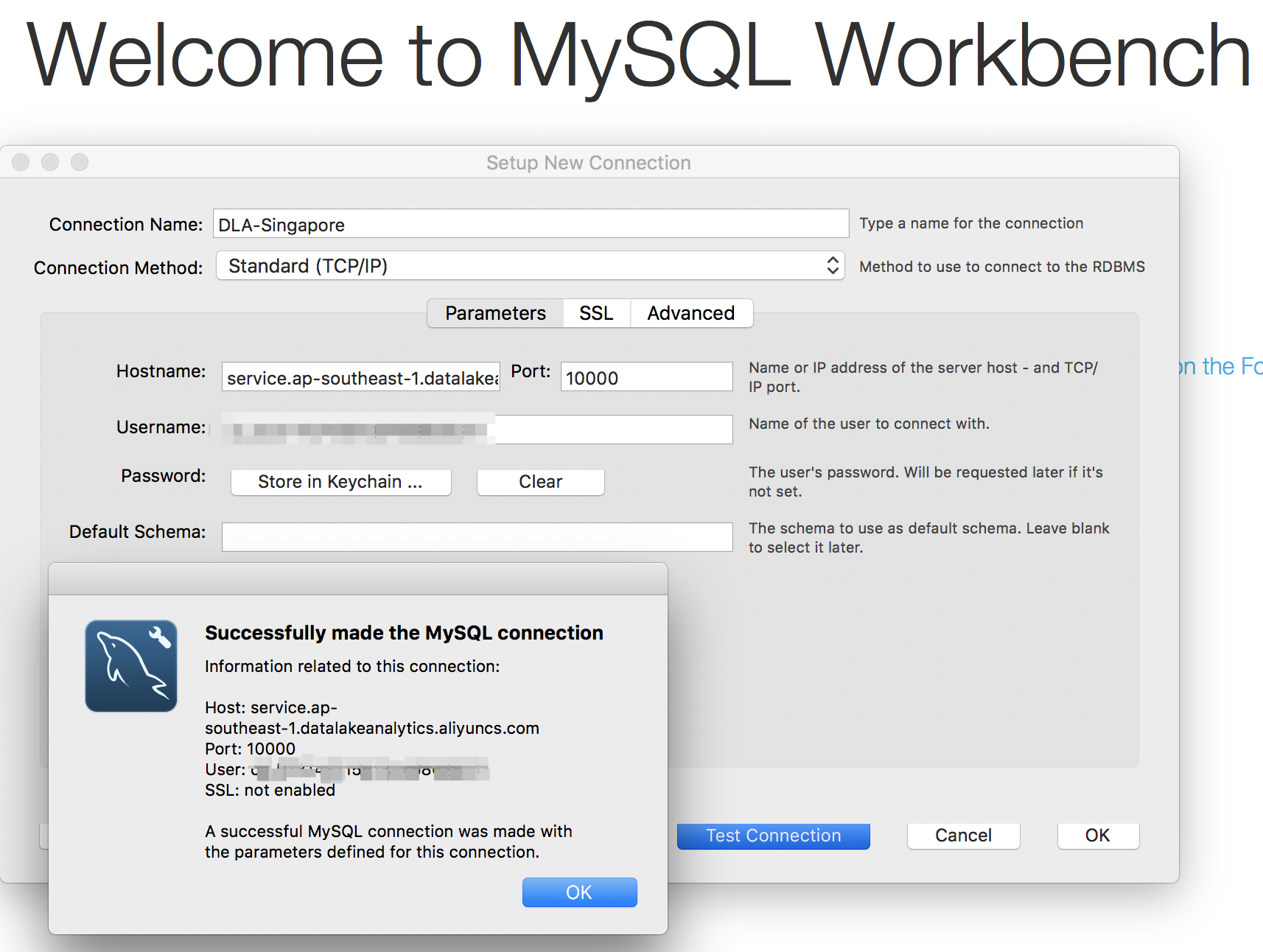 3) Connect with DBeaver:
Choose Create new connection.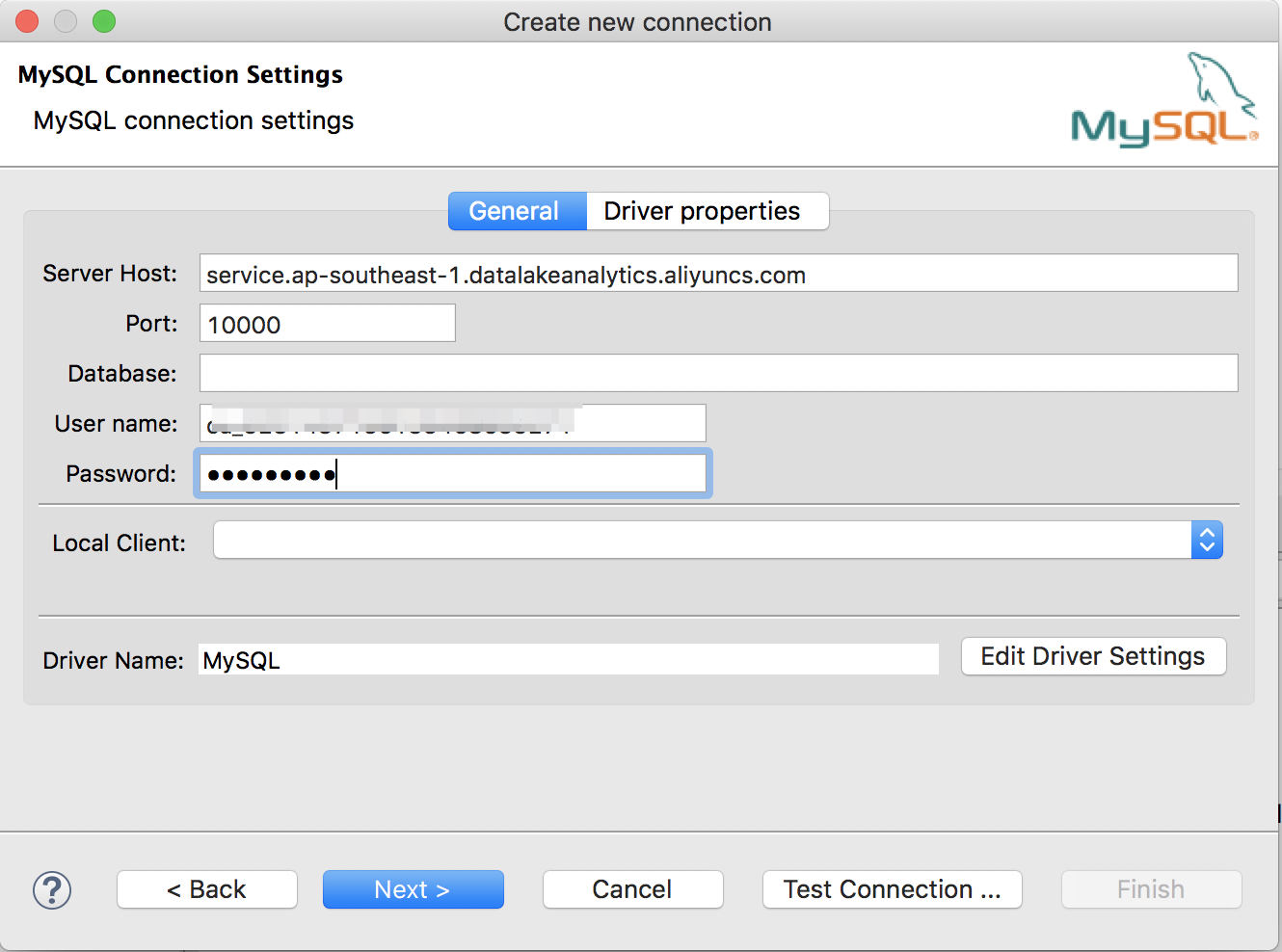 4) Connect with SQL Workbench/J:
Connect through MySQL JDBC driver.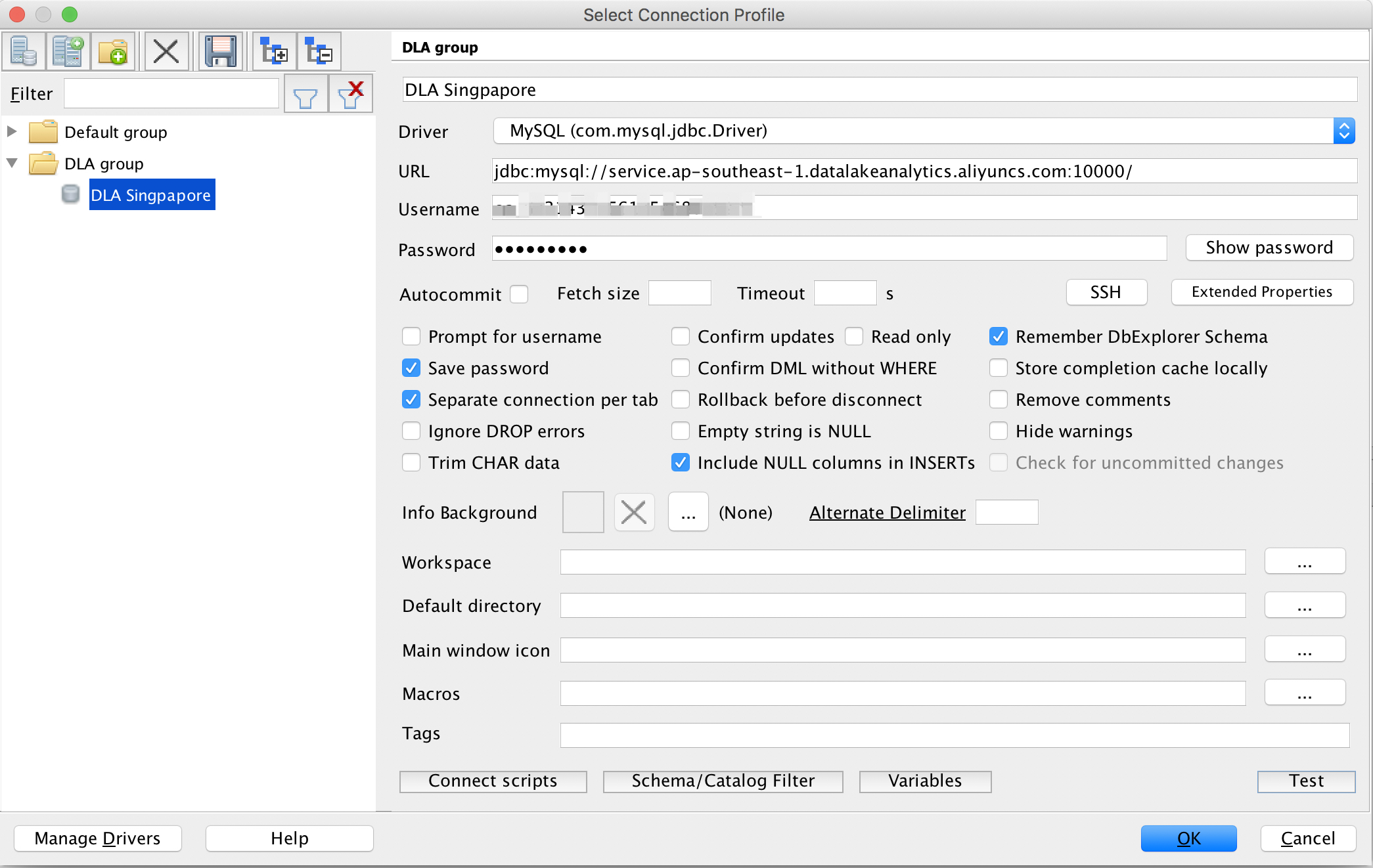 5) Connect with Sequel Pro:
Choose QUICK CONNECT or add your required connection.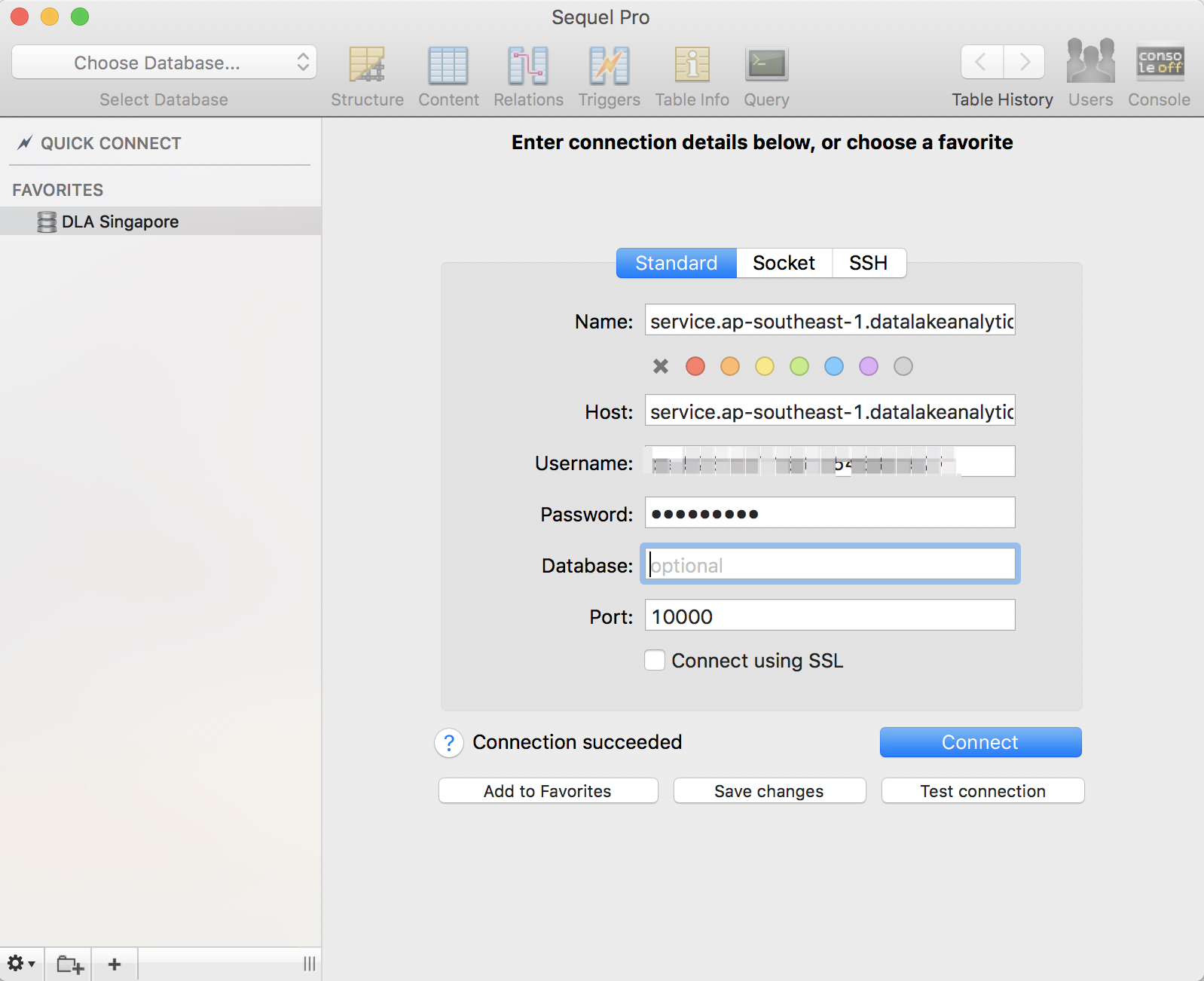 6) Connect with Navicat for MySQL:
Choose MySQL to add a new connection.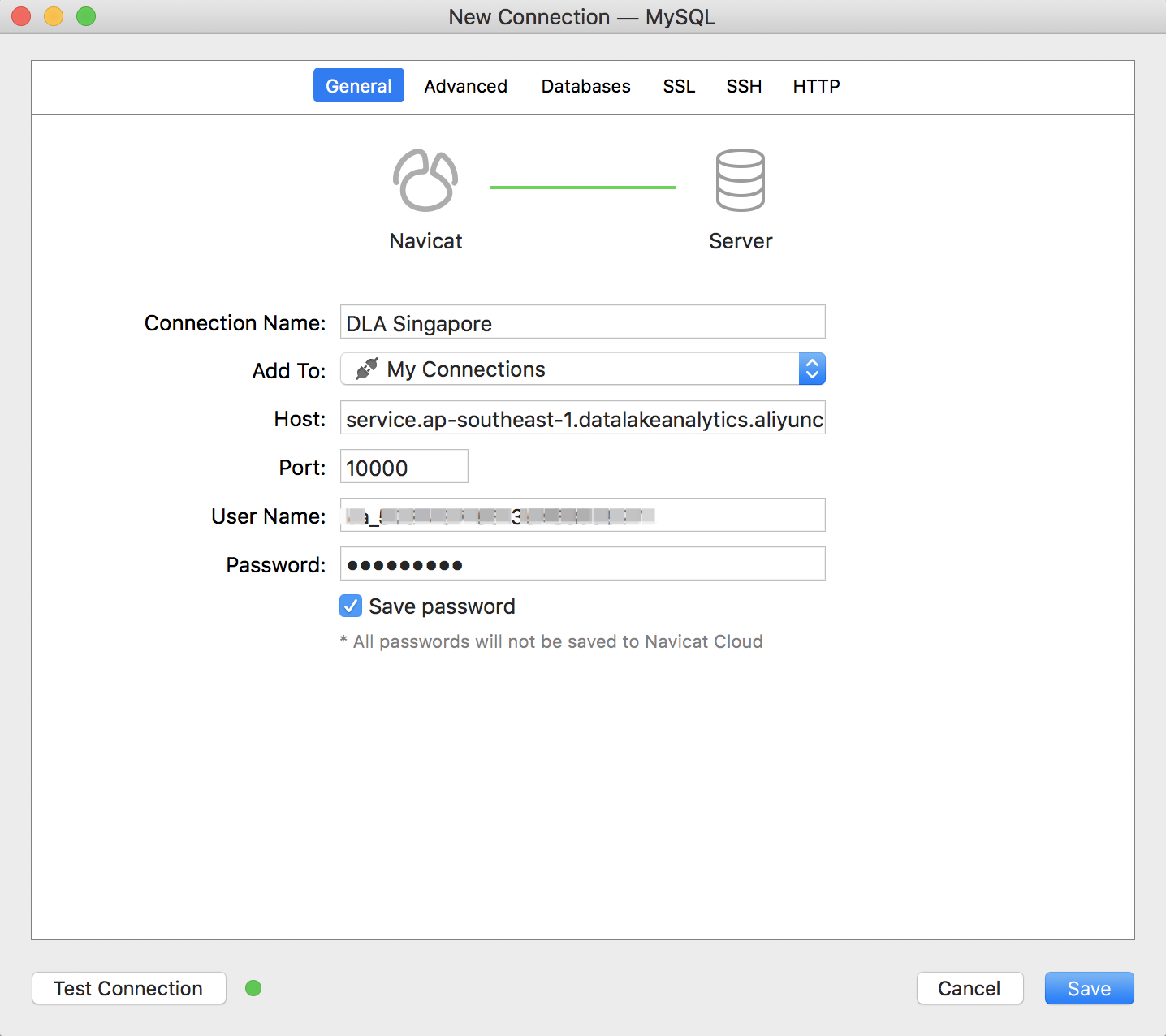 Appendix: Syntax References