You can create and deploy containerized applications for Elastic Container Instances (ECI) using multiple methods.
The available methods are described as follows:
ECI console
Alibaba Cloud CLI
Alibaba Cloud SDK
Prerequisite
You must have enabled the ECI and Resource Access Management (RAM) services.
Procedure
Log on to the ECI console.

Click Create Elastic Container Group in the upper-left corner of the page.

Select the region that hosts the ECI.

The ECI beta is available in the following zones: zone G in the China East 1 region, zone D in China East 2, zone E in the China North 2 region, and zone B in the US West 1 region.

Configure the network.

Note: If you have not created a Virtual Private Cloud (VPC) network, enter the VPC network console and create a VPC network in one of the zones in which ECIs are available. Refresh the page to view the VPC network you just created.

Configure the security group.

Configure shared volumes.

Configure volumes as required. ECIs currently support NFS, ConfigFile, and emptyDir volumes.

Configure container group information.

Configure the following information on the container group configuration page: restart policy (Always by default), container group name, container name, image, vCPU, and memory capacity.

Configure an image registry.

You can use your own image registry.

Configure tags.

A maximum of 10 tags can be configured for each container group.
After you complete the configurations, click Confirm Configuration.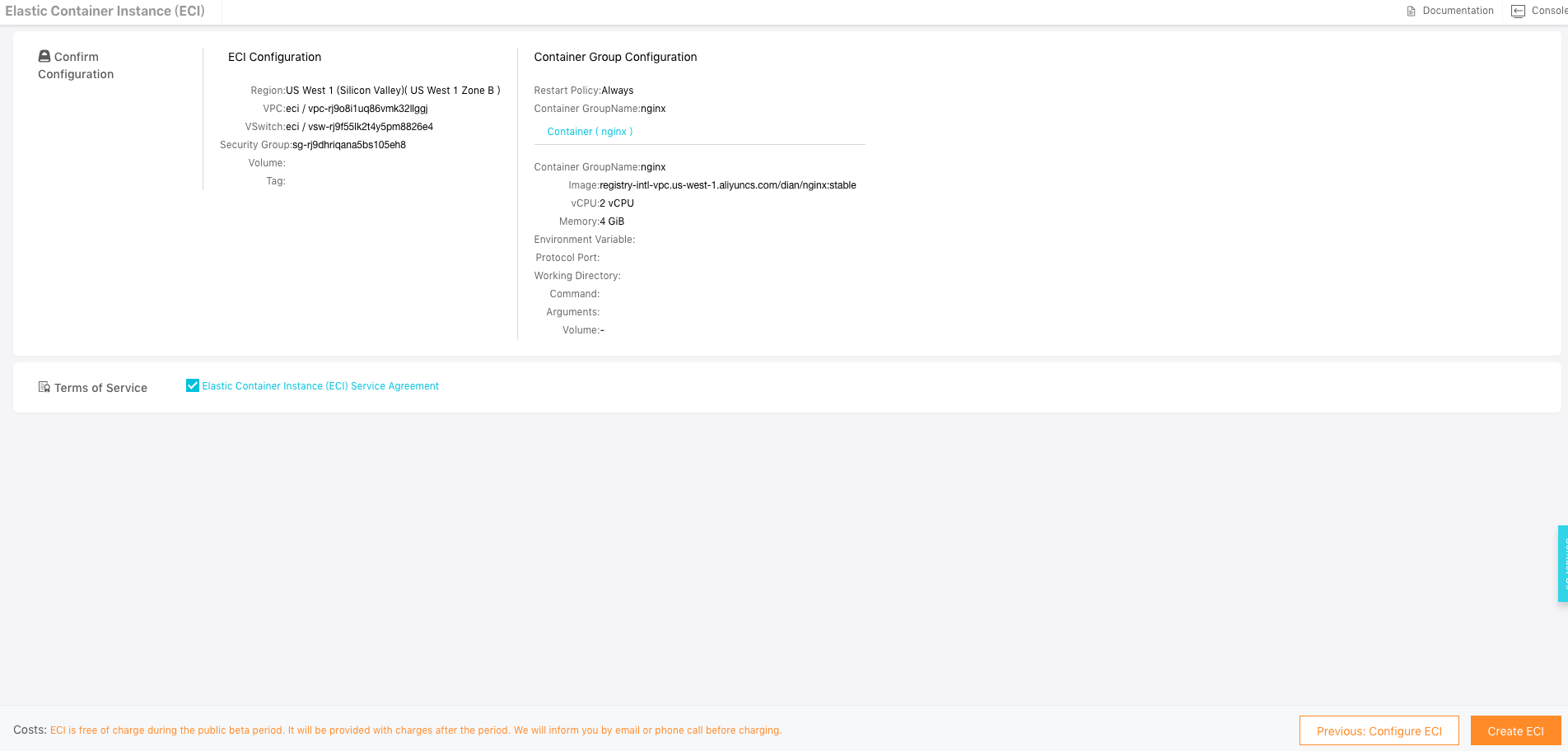 After confirming the configurations, click Create ECI. You now have created a container group. The system will download the corresponding container image to the ECI and attempt to start the container applications as configured after the container group is started.