Media library
Currently, you can centrally manage video resources in the media library. The major functions include:
Mange audio, video, and image resources: You can search, categorize, modify, and delete resources in the resource list.

Manage information about audio, video, and image resources: You can manage basic information about a specific media resource and view its playback URL. You can use web code snippets to integrate videos into customers' web pages.

Export media information: You can search and export multiple audio, video, and image resources at a time based on their IDs, names, and URLs.
This topic uses videos as an example to describe how to manage media content. On the Video and Audio page, you can view audio and video resources in all statuses. By default, these resources are sorted in a descending order of creation time.
Choose Videos > Video List to view videos in all types of status. By default, videos are sorted in a descending order of creation time.
Video and Audio list
On the Video List page, you can view the name, status, category, creation time, and other information about each video. You can also perform multiple actions, such as manage, delete, enable or disable download, and make available on Cloud Studio.
Note: You can enable or disable download only when the videos are in the normal status. For more information about download settings, see Download settings.
Manage videos
In the Status column, you can view the status of each video, including Uploading, Uploaded, Transcoding, Transcoding Failed, Normal, Reviewing, Hidden, and All. You can filter videos by status.

You can search videos by video ID or name. You can also filter videos by time, category, and storage address.

Note: If the video transcoding fails, delete the video file, and upload the file, and try again. If a video transcoding task fails multiple times, submit a ticket.
After a video is transcoded, the status of the video changes back to Normal. You can click the screenshot area in the Video column to preview a video. If the video supports multiple definitions, you can switch the definition during playback.
Delete a video
Select a video in the video list and click Delete in the Actions column. After you confirm to delete a video, the video file and all related resources including the raw file, transcoded files, and screenshot files are deleted and cannot be recovered. Exercise caution when you delete a video.
Export video URLs
On the video list page, click Export Video URL in the upper-left corner to export information about the listed videos to a CSV file. The exported video information includes the video ID, name, length, size, creation time, update time, and distribution address.
Note: Because the size of the video information is large, up to 200 records can be exported at a time.
Make available on Cloud Studio
You can submit video resources in the media library to Cloud Studios for live streaming. The preprocessing function of Make Available on Cloud Studio is used to preprocess resources to meet the requirements of live streaming. Resource preprocessing is triggered after a task is submitted. The operation is marked with "Available on Cloud Studio". Preprocessing may take a period of time. The Cloud Studio is able to use the video after the preprocessing process.
Note: Only videos that are available on Cloud Studio can be used for streaming.
Video Details page
Select a video and click Manage in the Actions column. The Video Details page appears. Video details include:
Video name, ID, length, original size, creation time, last update time, and video cover.
Basic information, video URL, and web player code.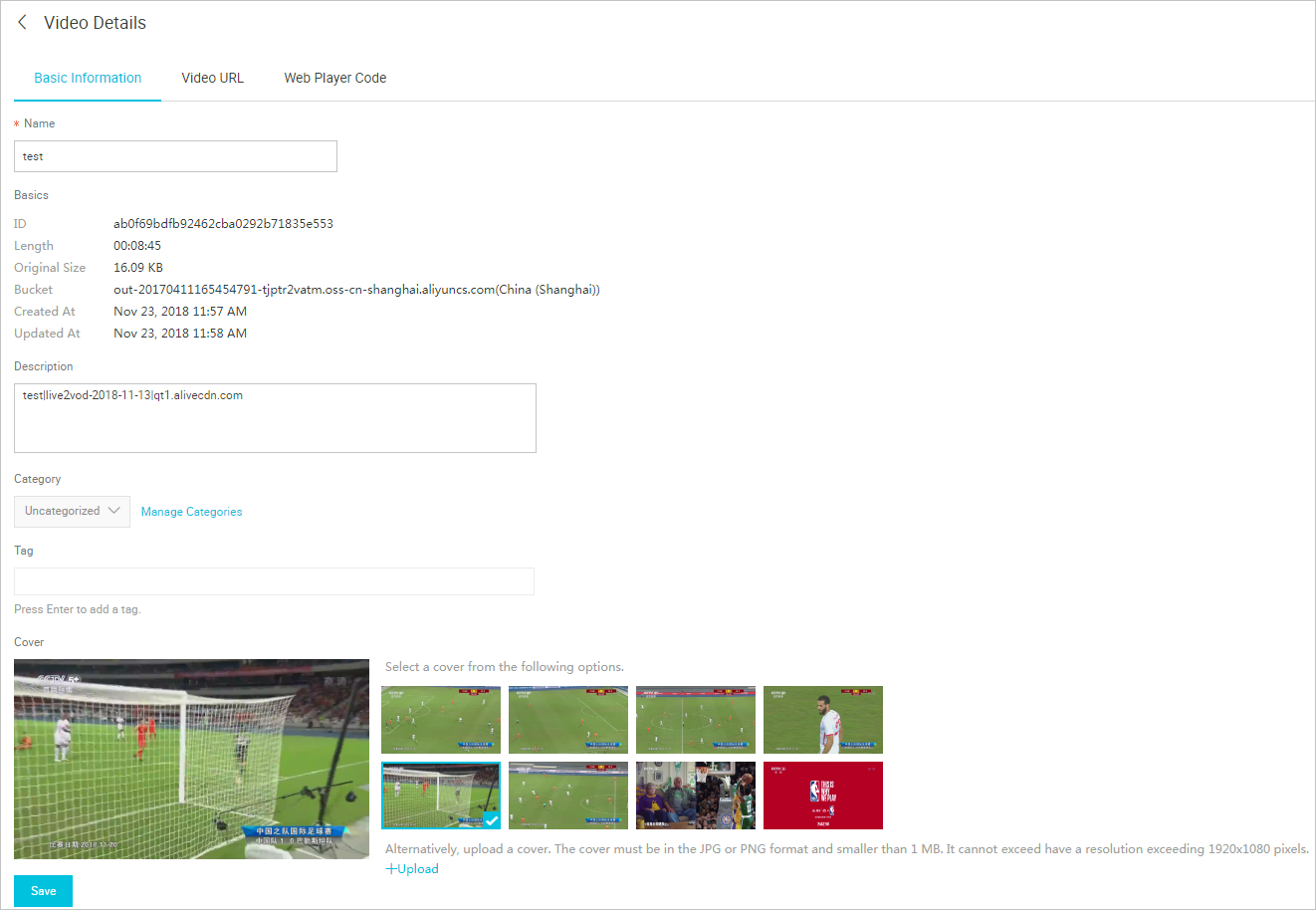 Basic information
You can view or modify video information, such as the title, description, category, tags, and covers (eight covers by default). After you modify the video information, click OK to save it. The video information must meet the following requirements:
Title: The video title is displayed in the player window during playback. It can contain up to 30 Chinese characters.
Description: Details about a video. It can contain up to 120 Chinese characters.
Category: You can choose Global Settings > Categories to specify a category for a video.
Tag: You can add multiple tags to a video. A tag name can contains up to 15 Chinese characters.
Cover: You can upload an image or take a video screenshot, and set it as the default video cover.
Notes: JPG and PNG images are supported, with a size no larger than 1 MB and a resolution no higher than 1920x1080.
Video URL
View: You can view the URLs of the current video's raw file and transcoded files in different formats and definitions. You can also view the resolution and bit rate of a video.
Copy, Preview, or Delete. You can copy a video URL to a web browser or player to preview, or preview the playback effect of the current video stream in the console.
Note: If URL authentication is enabled, a video URL will expire after the authentication validity period has expired. You must refresh to obtain a new video URL.

Web player code
You can apply HTML or JavaScript code to each video as needed. You can modify the player settings (including the player size and auto-playback) to modify the corresponding parameters in code snippets.

Note: Use the latest version of web player during actual operation. For version details, see Web player.