Introduction
ApsaraVideo for VOD is an all-in-one on-demand audio and video streaming solution. It automatically transcodes the collected, edited, and uploaded audio and video files based on the transcoding settings. It also allows you to manage media resources and deliver media content to customers for playback with low latency. In the ApsaraVideo for VOD console, you can use and configure the following features: media resource upload and management, transcoding, CDN-based content delivery acceleration, video editing, and content moderation. The console also provides resource monitoring services for real-time data analysis. This topic describes basic operations in the ApsaraVideo for VOD console.
This topic is applicable to the new console. To upgrade to the new console, click Upgrade in the old console.
Overview
Log on to the ApsaraVideo for VOD console. The homepage displays the running information about the ApsaraVideo for VOD service under the current account, as shown in the following figure.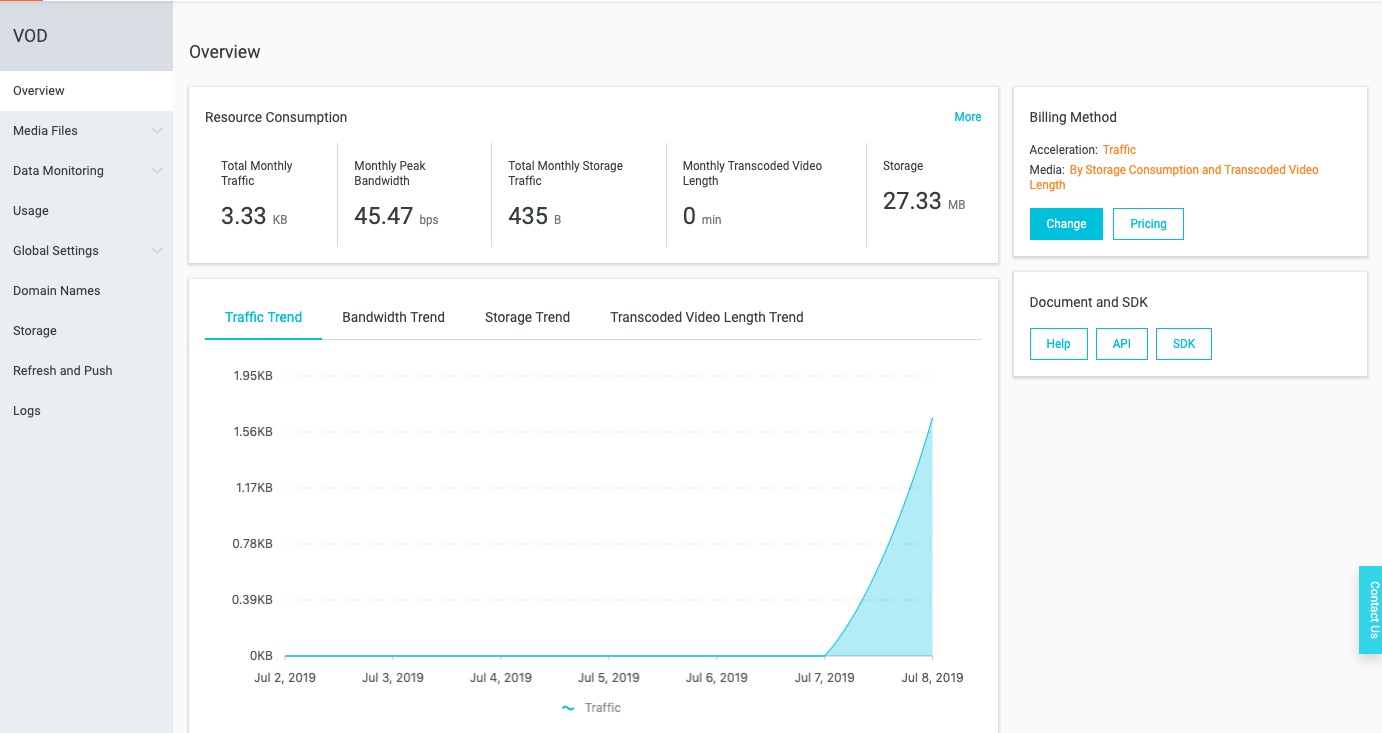 Key resource consumption

Overview of consumed resources, including the total traffic and storage space consumed, the peak bandwidth, and the length of transcoded videos in a calendar month.
Trend chart of resources consumed in the last seven days. This chart helps you better understand recent business situations.

Billing information

The current billing method and the entry to the page for changing the billing method.
The usage information about purchased resource packages and the entry to the page for purchasing resource packages.

Features released recently

You can understand feature iterations in a timely manner and use new services as needed.

Documents and SDKs

The links of frequently-used documents, SDKs, and related features are available, so that you can easily find help information.
You can use the left-side navigation pane to configure and use relevant features and browse data.
| Item | Description |
| --- | --- |
| Media Files | You can manage the videos that you have uploaded. For example, you can preview the video content, query the video status, and configure offline download settings and operations information. |
| Production Center | You can produce videos online. The production center allows you to edit and create videos. For example, you can merge or crop videos, edit images or text, and produce videos with one click. |
| Review | You can use the automated review and manual review features to review prohibited content in videos, covers, titles, or comments from multiple dimensions such as voice, text, and images. |
| Statistics | You can view resource consumption data. The consumption data of resources, such as the traffic, bandwidth, and storage, is displayed by time. |
| Global Settings | You can manage the transcoding, watermark, video category, and offline download settings based on your service requirements. You can also configure callback events to respond to the service status in a timely manner. |
| Domain Names | You can add, delete, and manage CDN-accelerated domain names. For example, you can modify basic information and settings of CDN-accelerated domain names. |
| Storage | You can add buckets of multiple regions for storage and manage access permissions. |
| Refresh and Push | You can refresh resources by URL or directory. |
| Details | You can view the detailed billing information and resource package information about the ApsaraVideo for VOD service. |