Manual instances are generated after a manual task is triggered, which allows O&M management of scheduled instance tasks such as viewing running status and killing and re-running tasks.
Instance list
This list is used to operate and maintain the manually triggered tasks, including checking running logs, re-running tasks, and killing running tasks. The specific functions are described as follows.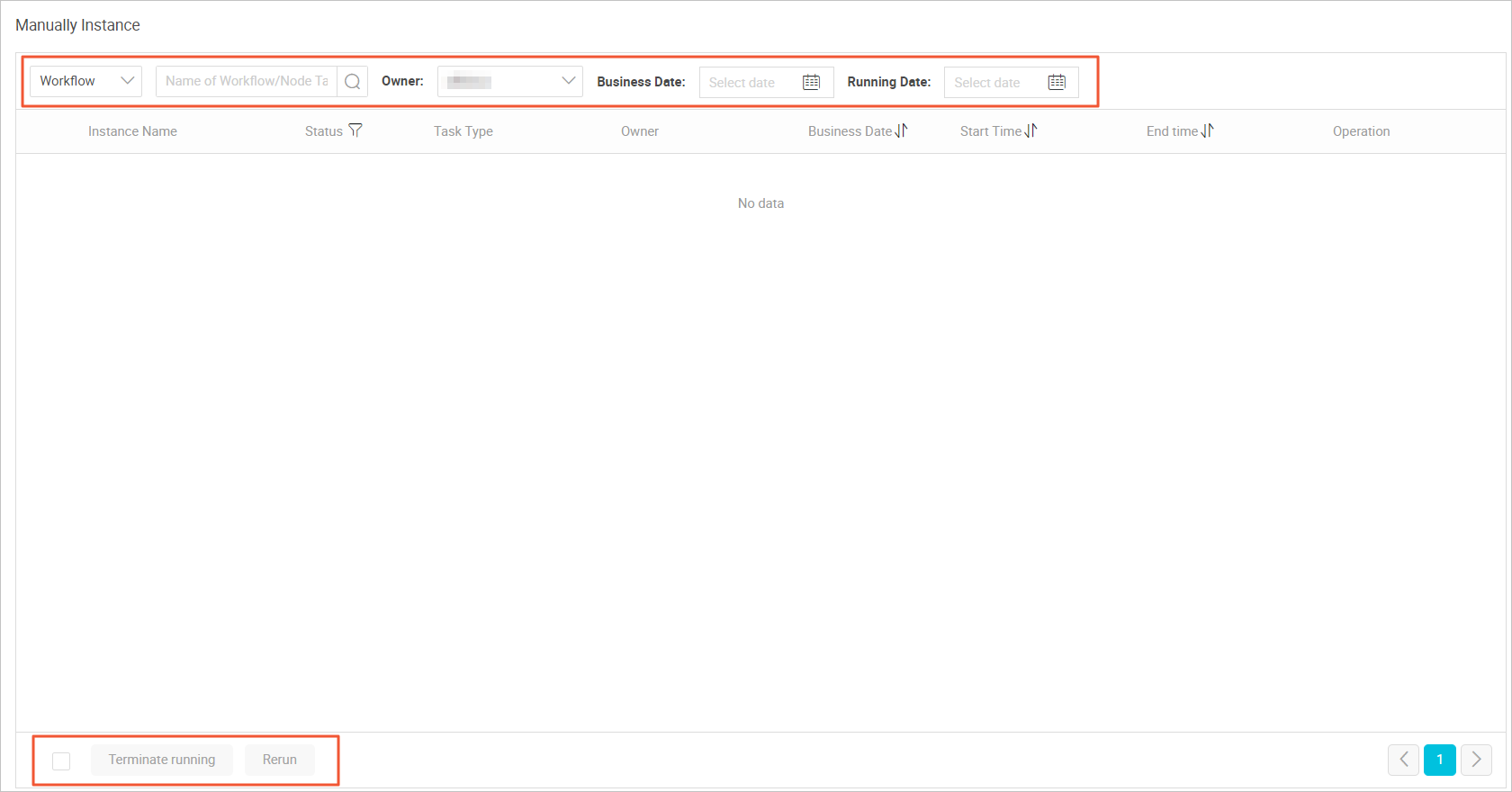 Filter: The filter area consists of various filtering conditions. The default business date is the previous day of the current date and the default task type is workflow. You can add the task name, running date, and owner for more accurate filtering.
Terminate running: It only applies to the instances in Waiting and Running statuses. If you perform this operation on an instance, the instance becomes Failed.
Rerun: It allows you to rerun a task. After the task runs successfully, scheduling can be triggered for downstream tasks in the Not Running status. This function is often used for handling error nodes or missed nodes.
Prerequisite: Only tasks in the status of Not Running, Successful, or Failed can be rerun.
Instance DAG chart
You can click the name of a task to view its instance DAG chart. In the instance DAG view, you can terminate or rerun an instance by right-clicking it. You can also view task attributes, running logs, operational logs, and code in the same view by double-clicking the instance.
Attribute: It allows you to view the properties of the instance, including the running time and status.
Log: It allows you to view the running logs of the task when the node is in the status of Running, Successful or Failed.
Operation Log: It records the operations performed on the instance, such as terminating and re-running.
Code: It allows you to view the code of the instance task.
Expand Parent-child Node: When a workflow contains three or more nodes, the operation center automatically hides nodes when displaying the task. In this case, you can expand the parent-child hierarchy to view the hidden nodes.
Expand/Close Workflow: When a workflow task exists, you can expand it to view the running status of the internal node tasks.
Description of instance status
| No. | Status | Identifier |
| --- | --- | --- |
| 1 | Succeeded | |
| 2 | Not Running | |
| 3 | Failed | |
| 4 | Running | |
| 5 | Waiting | |
| 6 | Frozen | |