Weather Research and Forecasting Model (WRF) is a new mesoscale forecasting model. This is the most commonly used open-source weather simulation software.
Click here to visit the official website.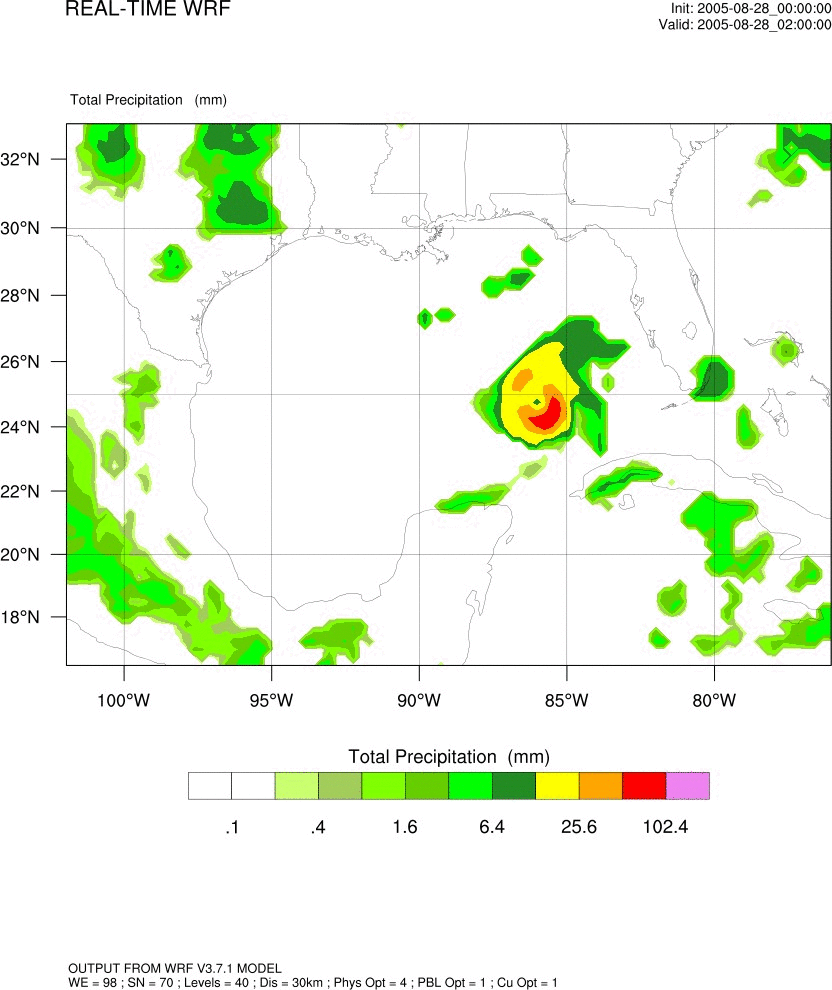 Prerequisites
For the following example, you must install the WRF software package during the cluster creation.
Example
Click here to download.
Procedure
Run the module avail to check whether WRF software has been installed.

$ export MODULEPATH

=/

opt

/

ehpcmodulefiles

/

$ module avail

------------------------------

 

/

opt

/

ehpcmodulefiles 

-------------------------------------

wrf

-

mpich

/

3.8

.

1

   wrf

-

openmpi

/

3.8

.

1

  mpich

/

3.2

.

2

  openmpi

/

1.10

.

7

Run the module load to load WRF:

 $ 

module

 load wrf

-

mpich

/

3.8

.

1

 mpich

 $ echo $WPSHOME $WRFHOME

 

/

opt

/

WRF_WPS

-

mpich

-

3.8

.

1

/

WPS 

/

opt

/

WRF_WPS

-

mpich

-

3.8

.

1

/

WRFV3

Copy the installed WPS and WRF software to the work directory and copy the example to the corresponding location directory.

 $ cp 

–

r $WPSHOME $WPSCOPYHOME

 $ cp 

–

r $WRFHOME $WRFCOPYHOME

Go to the WPSCOPYHOME software directory and run:

 $ srun 

--

mpi

=

pmi2 

–

n 

1

 

./

geogrid

.

exe

 $ 

./

link_grib

.

csh 

Download

 weather data 

 $ ln 

–

sf ungrib

/

Variable_Tables

/

Vtable

.

GFS 

Vtable

 

# Select the relevant weather data Vtable, such as GFS

 $ srun 

--

mpi

=

pmi2 

–

n 

1

 

./

ungrib

.

exe

 $ srun 

--

mpi

=

pmi2 

–

n 

1

 

./

metgrid

.

exe

Go to the WPSCOPYHOME software run directory and run:

 $ ln 

–

sf $WPSCOPYHOME

/

met_em

*

 

.

 

# Connect to the WPS processing results

 $ srun 

--

mpi

=

pmi2 

–

n 

1

 

./

real

.

exe

 $ srun 

--

mpi

=

pmi2 

–

n 

4

 

./

wrf

.

exe