Under the Table Query module of the Data Development page, tables for all projects are displayed by default. You can filter out the tables not for this project by project.
Click the table name to view the column information, partition information, and data preview.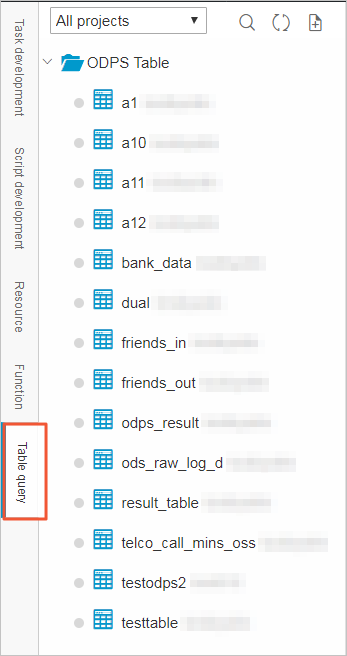 Procedure
The functions of the Table query are mentioned as follows:
Reference

Right-click the table name and select Reference to enter the table name where the cursor is in the code editing area. You can also reference the table by double-clicking the table name.

View

On the Data Management page, hover the mouse over table A and click More details button to go to the table A details page.

Insert query statement

Select one or more table columns and click Insert Query Statement to generate the SELECT query statement where the cursor is in the code editing area.
Note:

Table Query does not support creating directories or placing tables by category under different directories.

The data preview displays real-time data.