You can delete your Alibaba Cloud account if you no longer use it. Once your account is deleted, you are logged out automatically. You can sign up with Alibaba Cloud again by using the same email ID even after you delete your account.
Prerequisites
Before deleting your account, make sure that:
You have a data back-up and all your resources could be released without negative inpact on your business.

We strongly recommande that all your cloud resources, including Subscription and Pay-As-You-Go products are terminated and released by internal owner.

You do not have any outstanding charges on your account.
Procedure
Go to the Security Settings of your Alibaba Cloud account. Select Delete Account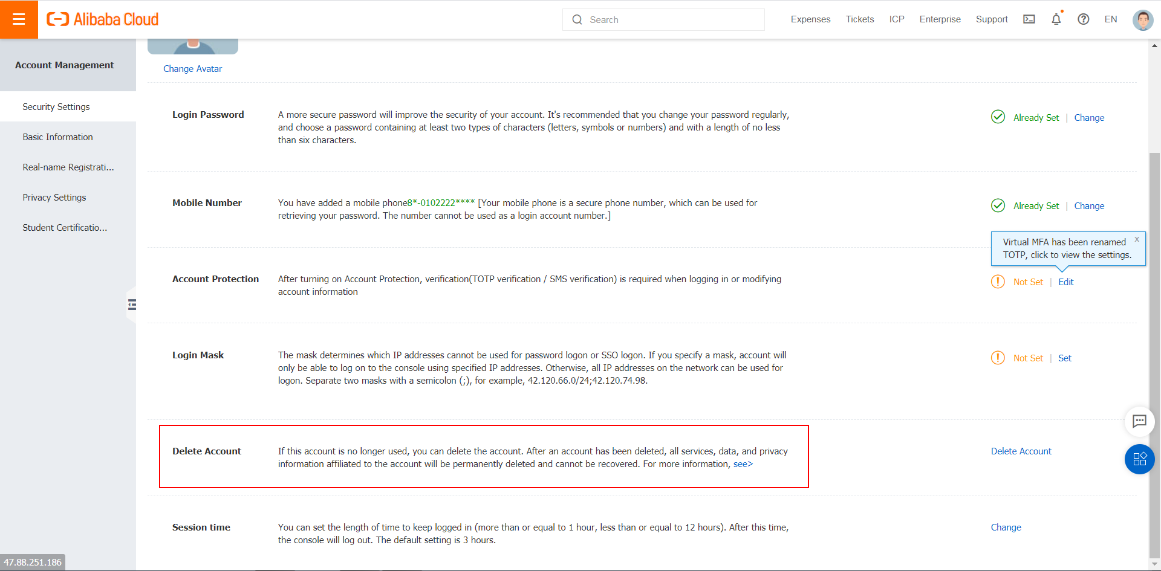 Verify your identity with your mobile phone or email.
Please read account deletion term seriously, be noticed the account and the resources will not be accessible after the deletion. This will probably cause some services unavailable.

The standard account deletion process will be lauched with dependencies check. The system checks whether or not all your services are terminated, and all the charges are settled. Some obliged actions may be listed in a few seconds, you need to handle all of them to continue the process. The action may include:

1) Subscription products in use, you must disable the auto-renewal functions (if any) in the console, wait until the subscription period gets over or request for unsubscribe if possible.

2) Pay-As-You-Go products in use, you are charged within 48 hours. Your account is deleted once all the outstanding charges are paid.

3)Remove finance relation if the account is associated to other account.

If there is no obliged actions to be handle, your deletion process will be able to continue. Your account will be deleted.
Notice:
Alibaba Cloud also allows customers to request for account simply terminiation. This service is available to all customers, and it is especially useful to users who encountered any troubles with service release
The simply termination can be requested by representive through support. By confirming the account deletion with service shut-down and billing stoping simultaneous(potential abandon pre-paid service and resource package), your account will be terminated without more interaction.
Be noticed the account will be inaccesssible and the process is irreversible. Please request this service cautiously.