This topic describes how consumers filter messages on a MQ server according to tags.
A tag is a label that classifies messages into different types under an MQ topic. By enabling message filtering by tag, MQ ensures consumers consume only the messages of the types they require.
Take an e-commerce transaction as an example, the process from placing an order to receiving the product by the user will produce a series of messages, such as messages about order creation, payment, and logistics. These messages will be sent to the queue with the topic name of Trade_Topic and received by different systems, such as the payment system, logistics system, transaction success rate analysis system, and real-time computing system. Among them, the logistics system only needs to receive the logistics message, and the real-time computing system requires all the messages related to the transaction (order, payment, and logistics).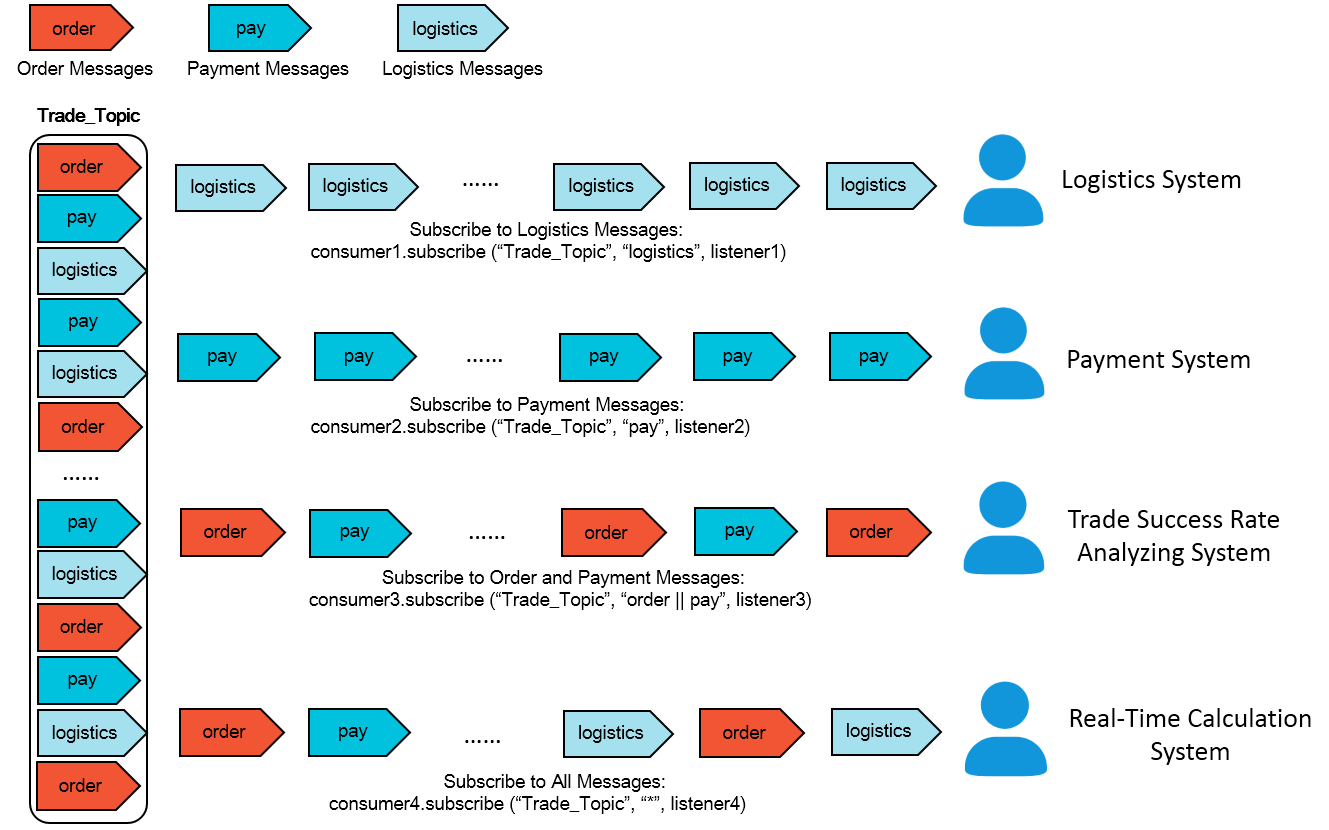 Note: To classify messages, you can create multiple topics, or create multiple tags under the same topic. However, in general, there is no relationship between messages in different topics, and tags are used to distinguish related messages within the same topic, such as the relationship between the full set and the subset, and the relationship between the processes in sequence.
Sample codes
Sending Messages
When sending a message, tag must be specified for each message:
Message

 msg 

=

 

new

 

Message

(

"MQ_TOPIC"

,

"TagA"

,

"Hello MQ"

.

getBytes

());
Consumption Method - 1
If a consumer needs to subscribe to all types of messages under a topic, the * symbol can be used to represent the tags:
consumer

.

subscribe

(

"MQ_TOPIC"

,

 

"*"

,

 

new

 

MessageListener

()

 

{

    

public

 

Action

 consume

(

Message

 message

,

 

ConsumeContext

 context

)

 

{

        

System

.

out

.

println

(

message

.

getMsgID

());

        

return

 

Action

.

CommitMessage

;

    

}

});
Consumption Method - 2
If a consumer needs to subscribe to a certain type of messages under a topic, the tag should be specified:
consumer

.

subscribe

(

"MQ_TOPIC"

,

 

"TagA"

,

 

new

 

MessageListener

()

 

{

    

public

 

Action

 consume

(

Message

 message

,

 

ConsumeContext

 context

)

 

{

        

System

.

out

.

println

(

message

.

getMsgID

());

        

return

 

Action

.

CommitMessage

;

    

}

});
Consumption Method - 3
If a consumer needs to subscribe to multiple types of messages under a topic, "|" can be used to separate tags:
consumer

.

subscribe

(

"MQ_TOPIC"

,

 

"TagA||TagB"

,

 

new

 

MessageListener

()

 

{

    

public

 

Action

 consume

(

Message

 message

,

 

ConsumeContext

 context

)

 

{

        

System

.

out

.

println

(

message

.

getMsgID

());

        

return

 

Action

.

CommitMessage

;

    

}

});
Consumption Method - 4 (error example)
If a consumer subscribes to the tags of a topic for multiple times, the tags subscribed to at the last time taken as final:
// As shown in the following erroreous code, the consumer can only receive messages with TagB under MQ_TOPIC, but cannot receive messages with TagA.

consumer

.

subscribe

(

"MQ_TOPIC"

,

 

"TagA"

,

 

new

 

MessageListener

()

 

{

    

public

 

Action

 consume

(

Message

 message

,

 

ConsumeContext

 context

)

 

{

        

System

.

out

.

println

(

message

.

getMsgID

());

        

return

 

Action

.

CommitMessage

;

    

}

});

consumer

.

subscribe

(

"MQ_TOPIC"

,

 

"TagB"

,

 

new

 

MessageListener

()

 

{

    

public

 

Action

 consume

(

Message

 message

,

 

ConsumeContext

 context

)

 

{

        

System

.

out

.

println

(

message

.

getMsgID

());

        

return

 

Action

.

CommitMessage

;

    

}

});