The Log Service system architecture is shown in the following diagram.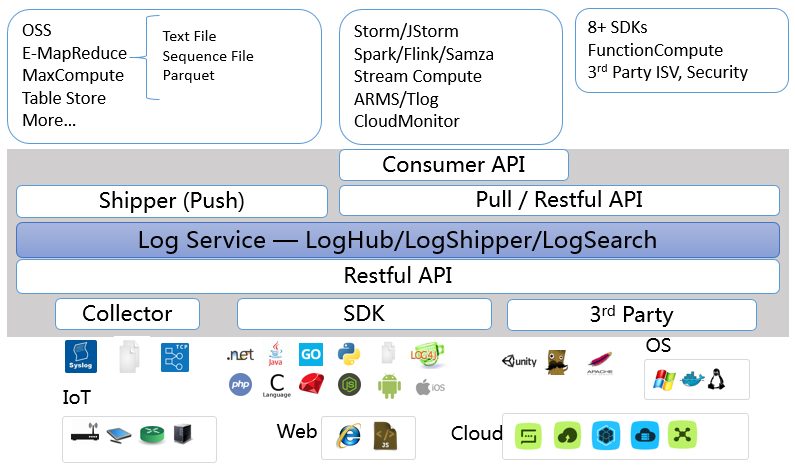 Logtail
Logtail helps you quickly collect logs through the following features:
Non-invasive log collection based on log files

Only read files.
Unobtrusive during reading process.

Secure and reliable

Supports file rotation, so data is not lost.
Supports local caching.
Provides network exception retry mechanism.

Convenient management

Web client.
Visualization configuration.

Comprehensive self-protection

Real-time monitoring of process CPU and memory.
Consumption and restrictions on CPU/memory usage.
Frontend servers
Frontend machines are built using LVS+Nginx. Its features are as follows:
HTTP and REST protocols
Horizontal scaling

Support horizontal scaling When traffic increases
Frontend machines can be quickly added to improve processing capabilities.

High throughput, low latency

Pure asynchronous processing, a single request exception will not affect other requests.
Lz4 compression is adopted to increase the processing capabilities of individual machines and reduce network bandwidth consumption.
Backend servers
The backend is a distributed process deployed on multiple machines. It provides real-time Logstore data persistence, indexing, query, and shipping to OSS. The features of the overall backend service are as follows:
High data security

Each log you write is saved in triplicate.
Data is automatically recovered in case of any disk damage or machine downtime.

Stable service

Logstores automatically migrate in case of a process crash or machine downtime.
Automatic server load balancing ensures that traffic is distributed evenly among different machines.
Strict quota restrictions that prevent abnormal behavior of a single user from affecting other users.

Horizontal scaling

Horizontal scaling is performed using shards as the basic unit.
You can dynamically add shards as needed to increase throughput.