Message-based scheduled tasks are open only to historical users. We recommend that newly registered users use RPC-based scheduled tasks.
Scheduler aims to provide a unified and universal task scheduling service for business systems. It provides a platform for managing and monitoring scheduled tasks, reducing the workload of business system development and online O&M. In addition, Scheduler provides various schemes, such as task splitting and load balancing, which can improve performance of scheduled tasks with a large data size.
Features and objectives:
Provide a unified platform for scheduled task registration, management, and monitoring.
Provide timed scheduling and message notifications in a centralized manner.
Improve the performance of scheduled tasks with a large data size through task splitting and scheduling data hosting schemes.
Support shut-down maintenance in special hours.
Provide convenient test support.
Core scenarios
Scheduler depends on SOFAMQ. Based on the scheduled task information that you configure, the Scheduler server sends a message to the app when the task execution time arrives. After receiving the message, the app starts executing its preset task logic.
Deployment diagram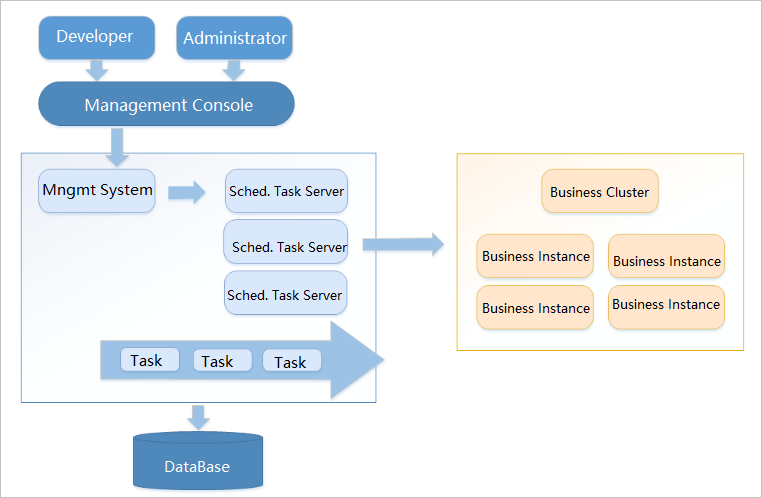 Developers and administrators configure and manage scheduled tasks on the console.
The scheduling system persists task metadata to the database and sends messages periodically to clients according to the parameter settings.
After receiving messages from SOFAMQ, the business cluster executes the business logic.