Database Backup (DBS) allows you to restore terabytes of data within 10 seconds based on technologies such as database physical backup and snapshot mounting. It can provide read and write capabilities and meet the requirements for data restoration after misoperations, recovery rehearsals, emergency disaster recovery, DevOps, and data analytics.
Click here to request a free trial of DBS>>.
How it works
DBS allows you to restore data within seconds. You must create a physical backup schedule and enable second-level restoration in the DBS console. The system automatically obtains full data, and captures incremental data on a regular basis. The system then merges the full and incremental data and generates snapshots at specified points in time, such as every 10 minutes. You can select any of these snapshots for database restoration.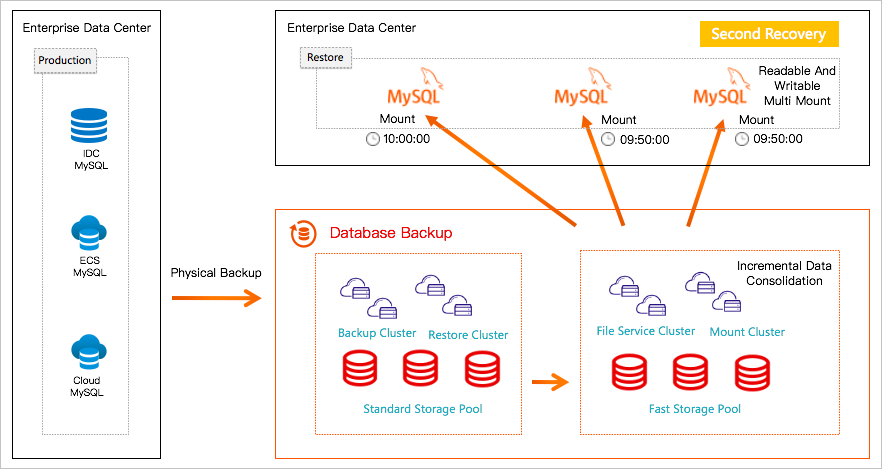 Procedure
1. Enable second-level restoration
Log on to the DBS console and click Backup Schedules in the left-side navigation pane. On the Backup Schedules page, click the backup schedule to go to the Configure Task page. In the Task Running Information section, click Set up second level recovery.
The second-level restoration task enters the Data preparing state.
2. Start a second-level restoration task
After the data has been prepared, a time range is displayed. Data within this time range will be restored through second-level restoration. Click Second level recovery database in the upper-right corner of the Configure Task page to start a second-level restoration task.

Select a time point and VPC.
3. Obtain the mount target of the backup data
In the left-side navigation pane of the Configure Task page, click Second level recovery task. On the page that appears, view the restoration progress and NFS mount target.