Elastic Container Instance (ECI) is compatible with Kubernetes. Alibaba Cloud provides Container Service for Serverless Kubernetes that requires no O&M.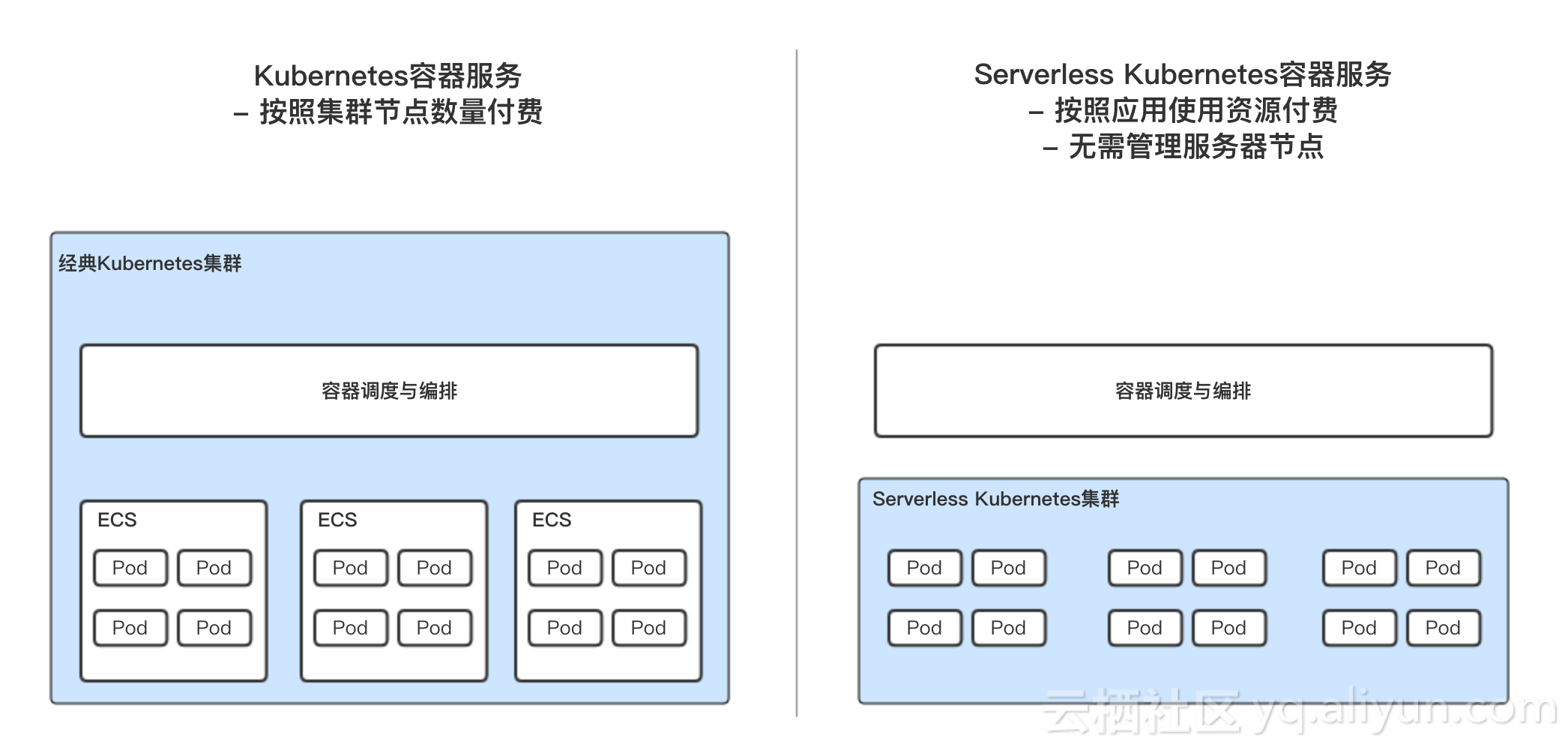 Serverless Kubernetes is a serverless platform that optimizes container management. This platform provides powerful Kubernetes management capabilities and supports the Deployment, StatefulSet, Job, and CroJob workloads. It enables you to abstract the application and component architectures and relieves you from server management. For example, you do not need to create machines, manage, maintain, or upgrade the infrastructure, or make capacity plans. You only need to focus on the applications, rather than the underlying resources, and pay for the consumption of the applications. Serverless Kubernetes supports auto scaling based on application types, and provides the finer-grained management of resource supply and consumption.
Serverless Kubernetes has the following advantages:
Ease of use: You can create a cluster in 1.5 seconds and deploy an application in 30 seconds, without needing to manage Kubernetes clusters.
Integration with the Kubernetes ecosystem: You can use the native API of Kubernetes to benefit from the Kubernetes ecosystem. Serverless Kubernetes can be seamlessly integrated with the Alibaba Cloud infrastructure and provides connectivity with your application networks.
Secure isolation: Serverless Kubernetes provides the strong isolation of pods based on the elastic computing infrastructure. Non-compatible applications can be deployed in different pods.
Pay-as-you-go: The service is billed based on the number of vCPUs and memory size of your pods. You can configure auto scaling policies.
Scenarios
Serverless Kubernetes integrates the high portability and agility of containers with the elastic scheduling and isolation provided by Alibaba Cloud's elastic computing for a wide scope of application. It can be quickly and easily deployed in scenarios as diverse as web applications, backend services for mobile applications, multimedia processing, data processing, and continuous integration. It is particularly suitable for batch tasks and burst demands.
Quick Start
For more information about how to create container groups by using Serverless Kubernetes, see Serverless Kubernetes quick start.
For more information about other operations in a Serverless Kubernetes cluster, see the Serverless Kubernetes cluster user guide.