Several DNS software and service providers, including Google, Cloudflare, Cisco, OpenDNS, and ISC, have announced that they will cease implementing DNS resolver workarounds beginning February 1, 2019. These workarounds accommodate DNS authoritative systems that do not follow the Extensions to DNS (EDNS) protocol. February 1, 2019 has been designated DNS Flag day. Domains served by DNS servers that are not compliant with the standard will not function reliably after DNS Flag day , and may become unavailable.

Alibaba Cloud DNS has remediated this problem to keep your domains available.
1. Alibaba Cloud DNS now supports the EDNS protocol.
2. Domains that use Alibaba Cloud DNS will not be impacted.

About Test result
Domains that are hosted on Alibaba Cloud DNS can be tested on https://dnsflagday.net/ to check whether they are compliant with the EDNS protocol. The translation of your domains will not be affected if the following error messages are returned: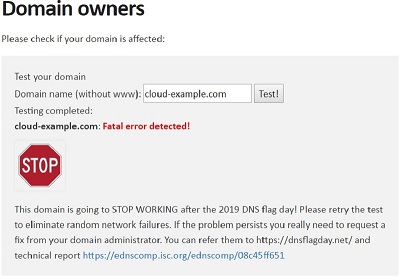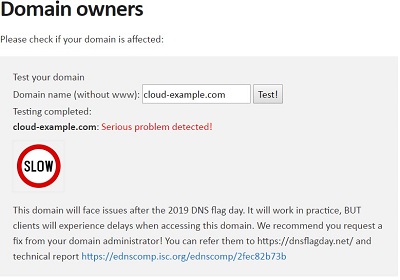 Click the hyperlink in the test report which verifies that your domain has passed all EDNS tests except for the EDNSTCP test. Standard DNS queries are transmitted over UDP. Therefore, even your domain cannot pass the EDNSTCP test, your domain will remain unaffected.Use Alibaba Cloud DNS as usual.

Support for TCP-based queries will soon be available. Thank you for your support for Alibaba Cloud DNS.