Build Your Website with These Tools
Wordpress
Integrated with one of the world's most popular web publishing platforms for building blogs and websites. We, IGS, provide a list of images pre-integrated with most popular software for web solution.
Open source social network
Open Source Social Network is a fast and efficient solution that helps you make social networking websites with multi-language support and abundant components for social features.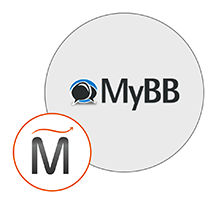 MyBB
MyBB is a user-friendly tool for setting up online forum websites with database failover,an extensive plug-in system, and powerful forum moderation functions. It supports MySQL, PostgreSQL, and SQLite.
How It Works
Traffic fluctuations are unavoidable for websites. If traffic volume spikes during a certain period, customers may experience high latency. It is crucial to deploy an architecture that automatically scales in response to traffic volume changes to provide a consistently high performance service with minimized cost and effort.

This solution deploys websites and applications on an auto scaling architecture, allows automatic adjustment of the compute capacity in response to traffic fluctuations, and helps you maintain a balance between performance and cost with scaling rules. It provides high availability and fault tolerance by evenly distributing ECS instances across zones as the compute capacity is scaled, supports database scaling to meet increased data demands, and supports Redis caching across zones to ease the load on the database. In this solution, Auto Scaling adjusts the number of ECS instances to ensure optimal performance with minimized costs, ECS instances are deployed across two zones to ensure high application availability, and the ApsaraDB for Redis instance is deployed in multiple zones to provide data caching.
Preferred Web Hosting Products
Solution Architectures
Personal Websites
Developing and deploying a scalable, globally-available web application on conventional data centers involves a lot of manual effort which results in lower efficiency. High peaks and oscillating traffic lead to either under-provisioning or over provisioning of resources. When a user visits your site, their request goes straight to your web server, but heavy static files are served from OSS, minimizing the load on your server.
Key Products & Services
Small and Medium Sized Business
Small and Medium Sized Business
When a user visits your site the CDN automatically fetches it from OSS. Dynamic content is served by a fleet of ECS instances running behind Server Load Balancer. The number of running ECS instances can grow and shrink with demand meaning you pay only for the resources you need: you no longer need to do capacity planning. Pressure on the RDS database is reduced using a read replica.
Key Products & Services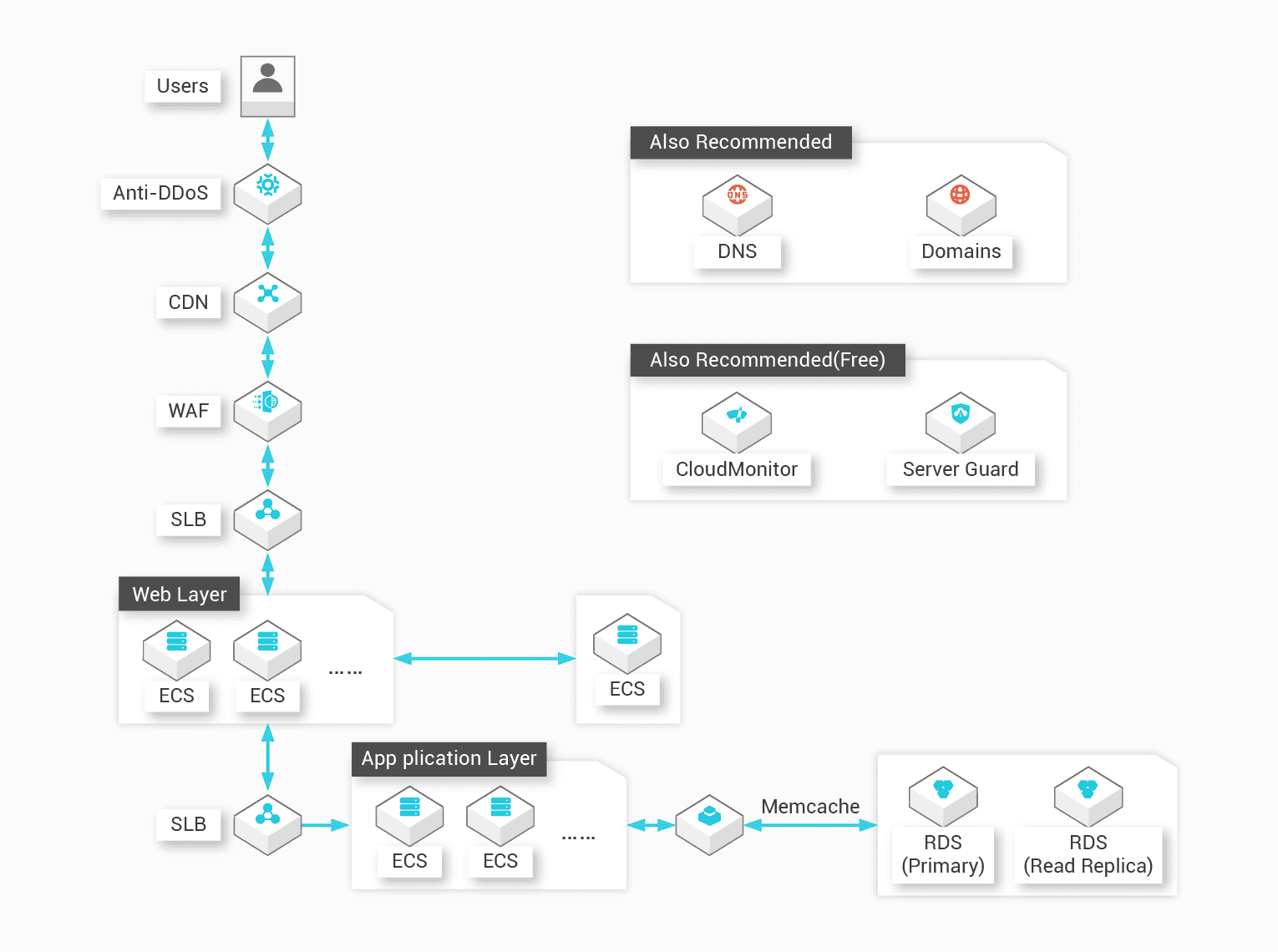 Large Enterprises
Larger sites need to defend against attack as well as guarantee performance. Traffic from users is first sent through Anti-DDoS where malicious traffic is scrubbed. Only real user traffic is sent on to the CDN. The CDN serves static content from the nearest edge location guaranteeing high speeds for users. If content is not found the CDN automatically retrieves it from OSS. Dynamic requests are sent on to the web servers.
Key Products & Services
Quick Start For Your Website
3
Choose Webhosting Software
4
Need More Website Tools?
.COM
With over 110 million registered users globally, .COM is the most used generic domain name.
Find your Domain
.NET
As one of the oldest and most established domains, the .NET domain establishes your presence on the Internet.
Find your Domain
.VIP
Every enterprise, every institution, and even every project has their own .site, from
$
0.01
a year
Find your Domain
Elastic Compute Service
Elastic Compute Service offers elastic and secure virtual cloud servers to cater all your cloud hosting needs.
Learn More>
Buy it Now
Simple Application Server
A single server-based service for application deployment, security management and O&M monitoring.
Learn More>
Buy it Now
ECS Bare Metal Instance
An elastic computing service with the same high computing performance as traditional servers with physical isolation.
Learn More>
Buy it Now
3
Choose Webhosting Software
Plesk
Plesk is the leading WebOps platform to run, automate and grow applications, websites and hosting businesses.
Deploy Now
Strikingly
Strikingly is a world-class website publishing platform for professionally designed websites.
Deploy Now
WordPress
WordPress is a pre-configured, ready to run image for running WordPress on Alibaba Cloud.
Deploy Now
4
Need More Website Tools?
cPanel
The cPanel ecosystem spans hundreds of developers, thousands of hosting providers, and millions of users.
Deploy Now
Plesk
Build, secure and run better websites and applications on Alibaba Cloud with Plesk.
Deploy Now
Site.pro Website Builder
Site.pro is a enterprise-grade website builder with a mission to reduce website development costs.
Deploy Now
What Customers Say
Alibaba Cloud Web Hosting Solution is a robust and resilient infrastructure for a seamless experience for customers and thereby empowering your business.
Security and Compliance
We are committed to providing stable, reliable, secure, and compliant cloud computing infrastructure services across major jurisdictions around the world.
Learn More
CSA STAR

ISO 27001

SOC2 Type II Report

C5

MLPS 2.0

MTCS