Overview
This e-commerce solution for retail supports the demands of your business in three models: business-to-consumer (B2C), business-to-business-to-consumer (B2B2C), and online-to-offline (O2O). Use this solution to achieve e-commerce success and speed up your time to market, reaching a new level of creativity, inclusivity, and success.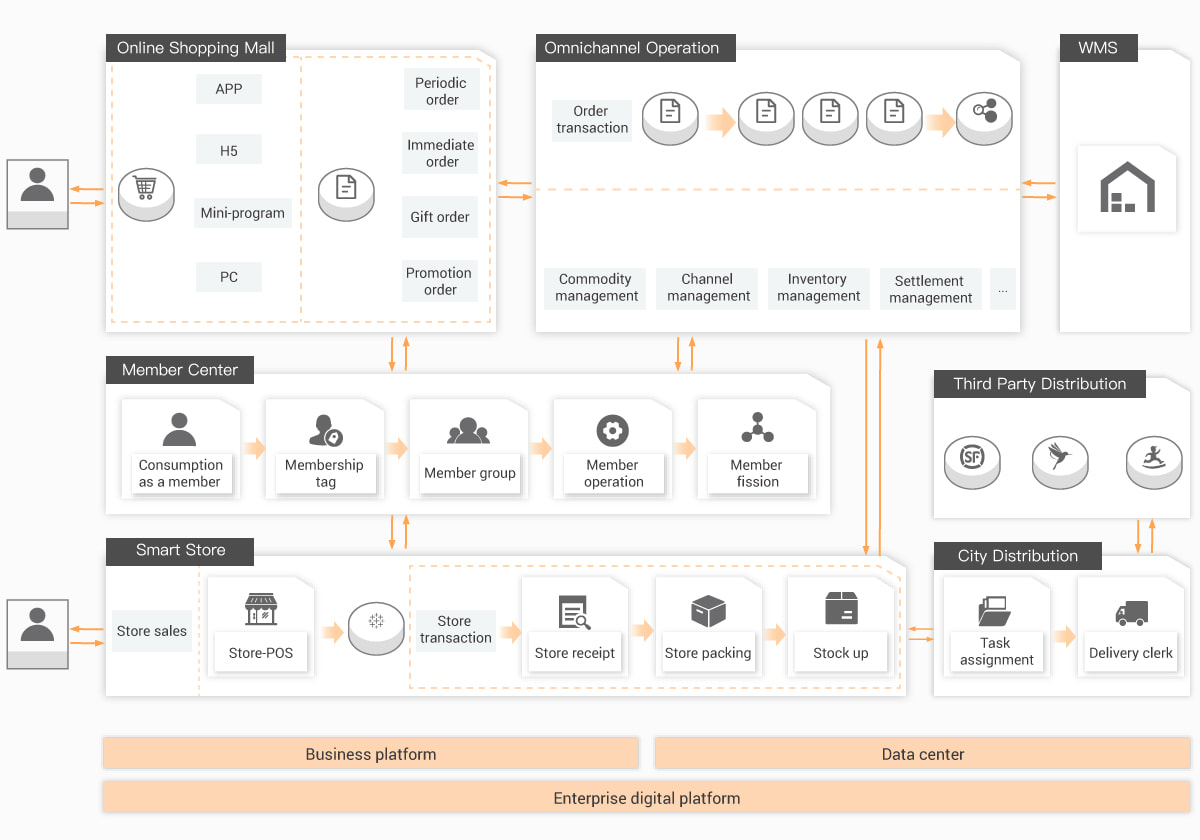 Solution Highlights
Lightweight
This solution provides you a set of out-of-the-box Alibaba Cloud services and remote hands-on trainings. Alibaba Cloud experts support you through the application of cloud resources to the launch of platform deployment. Simply set up essential accounts, you can implement an effective omnichannel customer experience to empower your retail business.
Time to Market
This solution supports three business models: business-to-consumer (B2C), business-to-business-to-consumer (B2B2C), and online-to-offline (O2O). Alibaba Cloud experts have rich experience in streamlining your omnichannel retail business. You can launch a B2C platform in 5 days; you can launch a B2B2C or an O2O platform less than 25 days.
Remote Delivery and Training
Alibaba Cloud allows you to implement this solution from a complete remote way with world class quality support and assistance. You can conduct resource planning, cloud deployment, cloud platform delivery, and cloud operation trainings from anywhere in the world.
How It Works
Your Challenge
B2C retailers that sell products or services directly to the consumer are expecting to expand their business across the offline as well as online channels, and are looking for a complete solution of online business processing.
Our Solution
This solution provides retailers complete online business capabilities. Retailers can showcase and promote their products, receive orders, and arrange deliveries; allow their customers to browse products, add products to carts, make an order, check out, and evaluate products through PC or mobiles; connect their customers; conduct business operation analysis by interactive visual interfaces; and eventually grow their customer base.

For eligibility of Free E-commerce Solution for 3 Months, please refer to FAQ at the bottom of the page.
Your Challenge
B2B2C is an e-commerce model that combines B2B and B2C. B2B2C enterprises need technology partners to provide a solution offering a dedicated online marketplace intermediary for third party brands and retailers, supporting B2B2C enterprises to expand their business.
Our Solution
In addition to support all features that the B2C solution supports, this B2B2C solution enables B2B2C enterprises to build and operate an online platform, where third party merchants can enter and sell products to customers.
Your Challenge
A lot of retailers look forward to adopting store pickup and local delivery solutions, which can not only help them build an online ordering system but also help them utilize artificial intelligence algorithms to better schedule deliveries to guarantee freshness.
Our Solution
This O2O solution integrates online with offline, supports retailers to build an e-storefront for their offline stores, implement online payment and reliable delivery, and more. This solution also enables retailers to leverage social media marketing to attract more customers and boost sales.
FAQ
1. Who can apply for the special support?

The programs are intended to support organizations and businesses affected by coronavirus disease (COVID-19), or those who are in the process of working on projects to fight against and cope with the epidemic in their region and local communities.
2. What is the application process?

Apply for the corresponding programs or offers on this page by filling out the application form. You will be contacted by our specialist for next steps.
3. What are required?

Sign up a new enterprise account or own an existing enterprise account on www.alibabacloud.com. Provide a description of your business affected by coronavirus outbreak or how your projects are helping deal with the epidemic.
4. Disclaimer

Alibaba Cloud reserves the right to cancel all and withdraw offers you received from this campaign if we determine that you are not eligible for the campaign according to all your actions on our platform, including but not limited to trying to get more benefit through fraud, illegal activities, or any other activity that conflicts with our terms of service. Alibaba Cloud reserves the right to change or update the terms and conditions of this program without notice. This includes adjusting the rules of the program according to business needs.